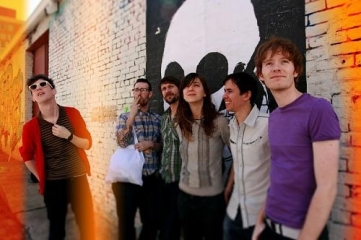 When a band's name derives from Charles Baudelaire novella that was released in 1847, I do not think that calling the members a bunch of bookworms would be an exaggeration. Many of us appreciate fine literature and its influence has fascinatingly proven to apply to more than just writers. Diction, vocabulary, and style are just a few basic things that a writer or poet can take as an influence from quality literature, but what the average reader can take away may be even more impactful. Movies can provide great visual justice as to how life looked in the 1700s, 500s, and 1 BC with costumes, set props, and overdone accents, but can any film truly exceed the historical relevance of literature that was actually written during its referenced period? It's doubtful. Most historians would prefer studying the textual version of Beowulf to seeing the film version, for the reason that no amount of research can be as effective as practically going back in time by reading the thoughts, descriptions, and ideologies of individuals that existed at that specific time. This is the reason why Fanfarlo chose to provide an ode of sorts to Baudelaire's La Fanfarlo, as the period piece is a summation of Fanfarlo's appreciation for all things scenic, engrossing, and throwback.
The London-based six-piece have been through a wide array of books, with the titles ranging from Penguin's History of the World to Kurt Vonnegut's classics, and Fanfarlo allow their historical reverence shine through on a track like "Harold T. Wilkins" History buffs like Colin Meloy and Sufjan Stevens have fared well in the world of indie-rock, but comparing their material to Fanfarlo does not give enough individualistic justice to the six-piece. Apart from the fact that their lyrical approach is never pretentiously inclusive to listeners that wholly understand the historical context, Fanfarlo have a steady pop ideology that distances itself from other contemporaries that opt for intricacy over infectiousness. With this in mind, I guess it is no surprise that a Swede is responsible for the group's origins. Simon Aurell formed Fanfarlo in 2006 with Justin Finch, performing as a duo until five others joined throughout the following years. It speaks enough of the Fanfarlo's potential that the five others joined after seeing some incarnation of Farnfarlo live. After coming away so impressed, there was nothing else to do but join. Mark West left the band in December, making Fanfarlo a six-piece for the February 14th release of their debut full-length album, Reservoir. Prior to Reservoir, Fanfarlo released four singles on a four different labels. Two of the most recent, "Harold T. Wilkins" and "Fire Escape", appear on Reservoir.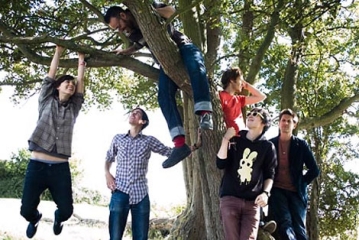 The glittery allure of "Fire Escape" has made it arguably Fanfarlo's most recognizable song up to this point. The six-piece are likely relieved by this too, as the track summarizes their style quite well. Aurell shows off his pop songwriting chops with a majestic chorus that effervescently erupts with horns, bass, electric guitars, and Aurell's balmy voice. The verses benefit from a similar degree of chamber-pop goodness, with a key-led arpeggio found focused under a thick array of electric guitar progressions and prominent bass use. When listening to this, it should make sense to listeners why Fanfarlo made "Fire Escape" the first single from Reservoir; the first several minutes are filled with purely infectious goodness, while the sweeping conclusion of trumpets and strings establish the sentiment that Fanfarlo's vision is too ambitious to be grouped in with the other chamber-pop acts that stick together a few verses and a chorus and call it a day. This is a group that intricately crafts their songs for maximized cohesion, as the conventional structural tendencies that expose their distinctive style of pop music always has a good amount of ambitiousness at its side to make things diverse enough for everyone. Fans of chamber-pop, folk, and Brit-pop will likely be the ones most satisfied with Fanfarlo, but I would be surprised if anyone who enjoyed indie-pop could resist either "Fire Escape" or "Harold T. Wilkins". Both are fantastic tracks that precluded the release of Reservoir very nicely.
The ode to Harold T. Wilkins, an early 20th century British journalist and historian, is more straightforward with its stylistic delivery. The folky, acoustical progression that is introduced along with Aurell's vocals sounded immediately familiar to me, but Fanfarlo's ability to execute melodic transitions allows the song to follow into uncharted territory once Cathy Lucas' backing vocals are incorporated. Like "Fire Escape", "Harold T. Wilkins" features a star-studded chorus that expresses both joy and charisma in its twinkling and melodically astute nature. As for the album's new tracks, "I'm a Pilot" and "Ghosts" are two efforts that show an edgier side of Fanfarlo. A simplistically poppy bass line initially takes control of "Ghosts", quickly to be accompanied by a flurry of strings that seem to act as a representation of tension and chaos. Although both of the album's preceding singles were excellent, it would be hard to argue against "Ghosts" being one of their best written songs. A mixture of horns, keys, and guitars are used to their full potential here as the track separates between instrumental and vocal sections in increasingly effective form. The way that "Ghosts" builds up is extraordinarily and it proves highly indicative of the band's level of talent. The opening "I'm a Pilot" is one of their more dramatic efforts, mixing somber strings with opportunistic keys over a percussive procession that steadily evolves over a repeating piano progression. Just like many other songs on the album, the conclusion is one of the finest points of the song because of the masterful way that it utilizes all previous instruments to orchestrate something moving and convincingly powerful. It is a representation of Fanfarlo's grandiose scope, a quality that makes Reservoir one of the most memorable debuts of 2009.
——————————————————————————————
——————————————————————————————
——————————————————————————————
——————————————————————————————