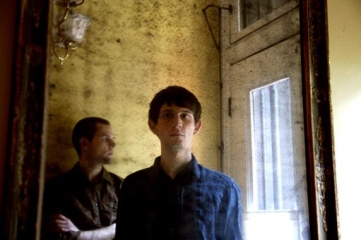 Although they may not realize it, high school students are in incredibly unique circumstances. They have a general comprehension of the occupational process and the basic decisions that mold their future, but their current ideology is often restrained by a state of indecisiveness that makes both their appearance and ambitions a variable that can change at any moment. Unlike adults whose career paths are already defined or children that have little grasp of reputational or occupational advantages, high school students have the privilege of using their sociological and educational experience to actively pursue their most ideal future occupation without it being a detriment to their current standing. This is the primary reason why high school reunions can be so fascinating. Learning that the stereotypical loner developed into a profitable "people person" or that the arrogant prom queen was too embarrassed to show up are just a few examples of the dramatic parallels that end up often occurring. With outcomes like these, predicting someone's future in high school is impractical due to high range of flexibility that one has in defining who they are as a person. This leads to all sorts of analysis; if I were forced to choose the "group" in high school that held onto their beliefs most durably after their graduation, it would have to be the "artsy" types. Whether in the form of music, painting, or photography, it seemed to me that students who devoted most of their free time to an art made it such a part of their life that abandoning it at any time in their future would be unrealistic.
How this ideology is embedded within the general practice of artistry is commendable, as exhibited by artists that we universally deem as influential. Great artists are often so consumed with their work that not creating art in their field is nearly equivalent to starving for them. If you put a canvas and paintbrush in front of an avid painter and told him not to paint, he would likely rather be told not to eat. Although they may have been classified as "those kids that dress in black and listen to weird music" in high school, the two members in Home Video are further proof of this ceaselessly productive ideology embedded into artists. David Gross and Collin Ruffino met in a high school art class, found an instant connection over the topic of art, and instantly began their collaborative process involving art. Ruffino was one of those kids that wore black and listened to '90s alt-rock staples like Smashing Pumpkins and Nine Inch Nails, while Gross was a classically trained pianist who had been sheltered from any type of music created during the twentieth century. Their first collaborative artistic venture was a film that Gross starred in and Ruffino directed, but their musical intentions soon became mutual after Ruffino introduced Gross to contemporary music. Sometimes an artist just needs to be stimulated with a little modernistic relevancy to bring out his true form, and this is exactly what the duo did for each other during the developmentally vital stage of high school.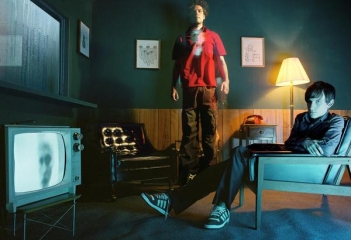 A sheltered classical pianist and a fan of dark alternative-rock is an interesting mixture to say the least, but it was the similar artistic ideologies of Gross and Ruffino that molded the connection between them and brought them recognition less than ten years after their first art class together. Ruffino had showed Gross that contemporary pop music could be just as emotionally ardent as classical music, and Gross' natural music ability aided Ruffino when the duo eventually decided to form their own project. Ruffino was wise enough to show Gross a variety of now-legendary albums like Radiohead's OK Computer and Massive Attack's Mezzanine, exhibiting a mixture between rock, pop, and electronica. College saw the two separate for a bit, with Gross in Boston studying music and Ruffino in New York studying film. Like all good friends though, they hung out during breaks and continued to write music together from time to time. Once the rush of college had subsided, Gross moved to New York and the duo began creating their first material for Home Video. Their first two EPs, That You Might and Citizen, captured the attention of Warp Records, one of the most prominent labels in all of electronic music. That an extremely prestigious label like Warp released their debuting EPs was simply indicative of the great potential that Home Video exhibited through their ethereal interpretation of electro-rock.
After Home Video's EPs and their single, "That You Might", began to attract considerable acclaim in the UK, the recognition started to carry over to the US as well. In addition to being featured in Rolling Stone, they toured with a variety of acts like Blonde Redhead, Justice, and Crystal Castles. Home Video's debut full-length, No Certain Night Or Morning, was released in 2006 and featured plenty of promising material, but most audiences were still waiting for Home Video to capitalize on their undeniable potential. Seeking the transition that would satisfy fans who were aware of their talent, Home Video took a three year hiatus between the release of their full-length and this year's release, It Will Be OK. Looking to acquaint listeners with their stylistic progression before the release of their second full-length, the four-track EP is available for free on their web site. As Home Video must have intended, the result is a magnificent leap forward. While their past material may have encompassed too many clichés to separate them from the rest of the electro-rock world, It Will Be OK appears to be Home Video's first major step forward. The instrumentation never reaches points of startling complexity, but the gradual build-ups and subtle melodic alterations that the duo infuse into each song results in a highly memorable release that takes advantage of their electro-oriented sophistication without ever sounding too overbearing or desperate.
"I Can Make You Feel It", the EP's opener, is immediately indicative of Home Video's growth. I doubt you can find a review that does not compare Ruffino's vocals to Thom Yorke's, but instead of the desperate imitation that was occasionally prevalent on Home Video's past releases, his approach here sounds more natural and adjusted toward Home Video's assortment of evolving percussion, gradual synth accompaniments, and subtle implementations of guitar. The melodic harmonizing within Ruffino's multiple vocal layers is what establishes this song as one of their best yet, as the conclusion that sees an appropriate piano accompaniment cap off the song's most consummate chorus is arguably the EP's most uplifting moment. All of the tracks on It Will Be OK are hardly complex, and an effort like "You Will Know What to Do" remains reminiscent of the driving pulse present in minimalism. "Every Love That Ever Was" is notable for containing the most pure form of synth-pop on the album, even to the point where comparisons to Junior Boys are realistic. The arpeggio during the chorus may not serve as the most innovative in the duo's repertoire, but it certainly does enough to get the listener's emotions running; it is an attribute that Gross deemed impossible in pop music before he met Ruffino, but now both are crafting the formerly impossible. Because of this focused ideology, Home Video appear to finally be living up to their potential as songwriters and stylistic innovators. If this EP is any indication, one can expect Home Video's second full-length to be the album that breaks them out in a big way.
——————————————————————————————
Home Video – I Can Make You Feel It

[audio:http://mineorecords.com/mp3/hvid-ica.mp3]
——————————————————————————————
Home Video – Every Love That Ever Was

[audio:http://mineorecords.com/mp3/hvid-eve.mp3]
——————————————————————————————
Home Video – You Will Know What to Do
[audio:http://mineorecords.com/mp3/hvid-you.mp3]
——————————————————————————————