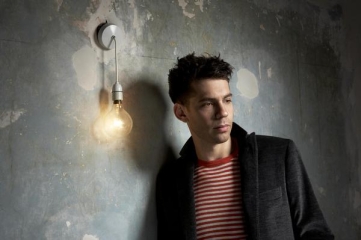 Anti-normative behavior is expected from most successful artists. There is little reason for them to pay much attention to the Top 40, since worthwhile artists do not derive their material from popular opinion. It may seem like a bold statement, but there is little purpose in devoting a large amount of time to a songwriter who sounds like everyone else on the radio. Listeners come to expect innovation but there is often a personal struggle for artists that wish to find the middle ground between accustomed accessibility and staggering innovation. This process often cannot be resolved through practice though, as the proper ideology appears to be embedded within the talented scope of an artist whether it is before they start writing songs or not. If one has a tendency to gravitate toward the unconventional in the early stages of their life, it can provide good indication of such an embedded ideology. When Julian Velard was in his teens and started to become wildly interested in music, one can imagine the social circumstances that surrounded him. Unlike today's auto-tuned R&B and subliminally linear pop music, the 29-year-old experienced the likes of Pavement, Nirvana, and the Pixies when music began to first tickle his ears. He enjoyed the emerging genres of grunge and indie-rock but, unlike his peers, much of Velard's attention was diverted elsewhere: cabaret-style pop music.
While Velard's similar adoration for stylistically contrasting groups like XTC, Hall & Oates, and Rage Against the Machine is indicative of his eclectic persona, his favoritism for piano-based cabaret pop in the vein of Elton John and Randy Newman shows most prominently in his music. However, Velard is not guilty of exploiting the past, as he allows his steady influences to be effected by components of contemporary pop music in order to ease the transition for his modernistic audience. Similarly to Rufus Wainwright, Velard's demanding presence as a performer, vocalist, and songwriter is a simultaneous force that appears both on record and on stage. Hearkening back to the days of cabaret, he is a multi-instrumental whiz who uses his highly melodic vocals, engaging storytelling ability, and key-based instrumentation to construct a wide arsenal of uplifting pop hooks and melancholic ballads. In Velard's case, this force is also inherent behind his webcam. Success has never been immediate for the NYC-based songwriter, but his practice of recording cover songs by the likes of Madonna, Michael Jackson, and Kings of Leon has provided him with nearly one million views on YouTube, being very symbolic of Velard's method of obtaining success thus far. Although he has yet to attain substantial recognition in the US, Velard's online fanbase continues to grow both domestically and internationally due to his personable online presence.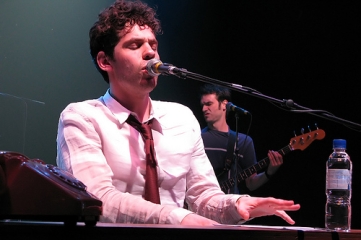 It was through Velard's digitalized awareness that he has become a very recognizable name in the UK. One of the many spectators of Velard's covers on YouTube and his online cult following were a few British music executives that eventually landed Velard a deal with EMI in 2007. Detecting that the British audience would be more receptive to his style of cabaret-pop, Velard moved to the UK and began writing material for his new album, The Planeteer. Prior to this, Velard had self-released three albums that were well-polished but went mainly overlooked. In the UK, however, the opposite was true. There are just certain groups (The Jam come to mind) who find momentous success in the UK and not in the US, and Velard's case is fascinating since the US is actually his country of origin. Even so, it perplexes me as to how no American labels took notice of Velard before EMI picked him up. His style is distinctively accessible, enough so that his twinkling keys and impressive vocals craft hooks that are instantly prevalent and very radio-friendly. If I were to guess though, The Planeteer should be explosive for Velard's stateside recognition. Apart from being his first release on a major label, it finds his excellent pop songwriting chops refined by sharper production, an increase in confidence, and less pressure due to his previous accomplishments (signing with EMI, touring with the likes of Goldfrapp and Ben Kweller, etc.). If both EMI and Velard accomplish what they have the potential to, The Planeteer could be one of the most prominent breakthrough albums of 2009.
Now that Velard has finally been given the opportunity to widely distribute his material, it is hardly a surprise that a few fan favorites are re-appearing on The Planeteer. Both "Jimmy Dean & Steve McQueen" and "Joni" appeared on 2006's The Movies Without You, but they are certainly memorable enough to warrant placement on his first major release. "Jimmy Dean & Steve McQueen" is an irresistible ode to Velard's appreciation of film and the idolized actors in them. Whether he sings of plastic surgery or unrealistic nostalgia, the loss of innocence relayed in "Jimmy Dean & Steve McQueen" is the perfect example of Velard's delivery with its entertaining lyrical quips and assortment of saxophones, guitars, and keyboards. "Joni" is another particularly engaging pop song, being somewhat reminiscent to Ted Leo's "Timorous Me" in its reflectively romanticized approach. The chorus here is marvelous, using an effective assortment of sparkling keys and swift strings to construct what has the potential to be Velard's first stateside "hit." Velard's lyrical content is never particularly complex or thought-provoking, but his words are fun and his infectious melodies supplement them beautifully. As seen on any of these tracks, Velard has an astute ability to judge a pop song. His songs never stray too long or end too abruptly; they are always filled with enough melodic alterations to hook the listener from start to finish. It is a rare skill among modern songwriters and producers alike, and it is likely one that will finally carry Velard to success on a national level.
——————————————————————————————
Julian Velard – Jimmy Dean & Steve McQueen

[audio:http://mineorecords.com/mp3/velard-jim.mp3]
——————————————————————————————
——————————————————————————————
Julian Velard – Love Again for the First Time

[audio:http://mineorecords.com/mp3/velard-lov.mp3]
——————————————————————————————
Official Web Site (this site won awards for a good reason — check it out)