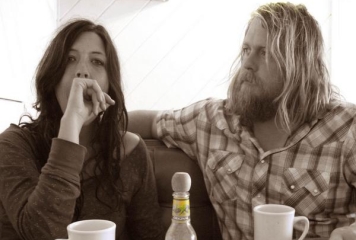 The term "musical entrepreneur" would seem to apply well to Dave Matthies, but he would likely take none of the credit. Over the past decade, Matthies has been a constant force in positively impacting the ability of other artists. He has flown under the radar in providing significant contributions to reputable artists like Phil Elverum (the Microphones, Mt. Eerie), Karl Blau, and Steve Moore (Laura Veirs, Mount Analog, Stembo), taking on various tasks that include producer, engineer, and performer in order to aid fellow talented musicians and get his ideas heard. Despite his impressive resume though, many still are unaware that he is very capable songwriter in his own right with a wide array of differing releases. Under the name of The Gift Machine, he has taken an interesting approach in using his variety of connections within the industry to enlist a wide array of talented collaborators to make each one of his releases enjoyable and uniquely memorable. In his releases under The Gift Machine, Matthies has never been particularly unconventional or experimental in his approach, often opting for the enjoyable three-minute pop song over the epically orchestrated vein of indie-rock. With his deeply solemn voice and ability to turn a simplistic melody into one that becomes unavoidably engrained in a listener's head, his experience in the music industry has certainly allowed him to capitalize on his strengths.
As he alternates between living in Washington and California, Matthies is prominent among Washingtonians for being the owner of Vibe Control Studio, an ex-police/fire station that was turned into a recording studio. In addition to the variety of camps that were offered at the studio for aspiring musicians that wanted to know the basics of production, the studio has hosted everyone from Phil Elverum to Karl Blau, both of whom have engineered their own albums in the facility. As it makes sense since Matthies runs it, Vibe Control Studios is also the location of The Gift Machine's recordings. Considering that he runs a respectable studio, it may seem surprising that Matthies' new album, Goodbye/Goodluck, is the first of five releases that will actually reach the general public. The method of releasing Matthies' past material – three full-lengths and two EPs – was basically where he gave a few copies to friends, associates, and fans at shows and was content. After all, Matthies strikes many as a musician/producer/engineer who is in it for the art form, not for the money or glory. And on Goodbye/Goodluck, these sentiments are more visible than ever. Even though Matthies is releasing this nationally through a label for the first time, he likely understands that the fantastic quality of this record has the potential to stimulate the artistic senses of those that listen to it.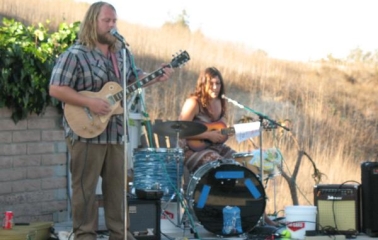 Like all of his prior releases, Matthies has placed the aspect of collaboration as a high priority. He is the sole songwriter and creative engineer on the majority of songs on Goodbye/Goodluck, but the infusion of collaboration plays a heavy role on the eventual style presented on the album. Here, Matthies has enlisted the graceful vocals of Andrea Gruber. She sings in unison with Matthies nearly on every track, resulting in a beautiful male-female duet in a type of which we have all heard before, but Matthies plays with the vocal approach so well that it feels new and invigorating. This can be attributed to his style, which is a suave and subtly infectious form of pop music with audible references to psychedelia and surf-rock. The songs never appear overwhelming with their soft percussion, whimsy keys, or acoustic guitars at the forefront, but Matthies' greatest strength appears to be his ability to make each track structurally cohesive. The melodies always start out simple, but Matthies employs a variety of hooks and melodic alterations to supplement simplicity in the best way possible. This is particularly evident on the delightful "In the Middle", where Matthies and Gruber show off an excellent vocal contrast in Matthies' warmly musky grumbles and Gruber's angelically high-pitched delivery. That their contrasting voices work so well together is part of the song's allure, but it is not the only reason for song's satisfactory nature.
"In the Middle" begins straightforwardly with a very restrained organ and frail rhythm section, but the song serves as the perfect example of The Gift Machine's tendency to expand upon simple pleasures. When the strum of an acoustic guitar signals the emergence of an electric guitar, the intensity in both of their voices increases before Gruber harmonizes with the backing instrumentation on her own. By the time the song ends, it will likely be hard to turn away from The Gift Machine now. Matthies' lyrics are in the first-person on every track apart from "What Do You Require", an apt choice considering the very personable nature of the instrumentation. The verses often take on the format of a haiku, connecting small and simple sentences together to craft something thought-provoking and genuine. The self-titled track is also indicative of the developmental nature of The Gift Machine, as what begins as little more than a single acoustical guitar eventually evolves into something with slide guitars, keys, and some clever harmonizing.
Basically, what these songs should provide is an example of why listeners should give The Gift Machine the time they deserve. Their songs may not grab you instantaneously, but listening to each song in its entirety will almost certainly reward the listener. For instance, "It Had to Be You" may even sound a bit clumsy during its first minute or so, but as it evolves the unique nature of the song results in an unpredictable and highly enjoyable effort. It is particularly impressive toward its instrumental conclusion, where a bunch of twinkling keys form over a key progression to establish a twee-pop type of feel. Goodbye/Goodluck is now available via KNW-YR-OWN Records, a Washington-based label that Matthies helped form. It is just one of the many achievements that he has to his name. Despite all of them though, Goodbye/Goodluck is of such a high quality that it may be his finest to date.
——————————————————————————————
The Gift Machine – In the Middle

[audio:http://mineorecords.com/mp3/gift-int.mp3]
——————————————————————————————
The Gift Machine – Goodbye/Goodluck

[audio:http://mineorecords.com/mp3/gift-goo.mp3]
——————————————————————————————
The Gift Machine – It Had to Be You

[audio:http://mineorecords.com/mp3/gift-ith.mp3]
——————————————————————————————