Posted
April 28, 2009 by Mike Mineo
in Features
God Help the Girl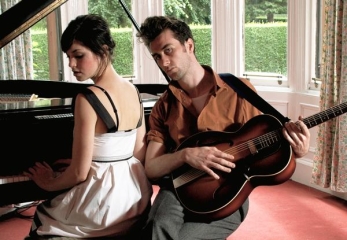 Belle & Sebastian have always been one of the finest examples of how simplicity and intricacy are not exclusive entities in music. The Glasgow-based group's melodies have always been extremely accessible; the arrangements feature consuming assortments of keys and orchestral elements that are smoothly integrated under Stuart Murdoch's wistful, choir boy-like vocals. His delivery is filled with a harmonically satisfying touch of innocence, making his elaborate lyrical content catch many first-time listeners off guard when they come to expect stories of generic romance. Murdoch's accessible exterior is upheld by a thought-provoking interior that has done extraordinary justice on the common perception of Belle & Sebastian. Murdoch is a gifted songwriter and most of his content exceeds indie-pop contemporaries by a long mile, but it is his subtle ambition that has made Belle & Sebastian one of the most recognizable groups of the indie-pop era. Murdoch's touches of conceptual and metaphorical brilliance within an instantaneously accessible vein of pop music has earned them rampant comparisons to Simon & Garfunkel. They were responsible for bringing an accessible but poetically invigorating form of folk-rock to the masses in the late '60s, and Belle & Sebastian did similarly in the late '90s with their blissful interpretation of indie-pop. Their success has continued this decade, and a new project from Murdoch is further indication of his willingness to fuse a simple concept with enjoyable intricacies that are quite easy to overlook.
It is almost painful for music fans to recognize that there are thousands of songs written by legendary artists that will never be uncovered, all because the artist deemed the material not suitable enough for a certain album or style that was synonymous with them or their label. Murdoch has released seven albums and numerous EPs since 1996, so his work ethic is of no question. It also means that, like many other musicians, he likely has a bunch of songs lying around that will never see the light of day. Belle & Sebastian's remarkable consistency shows that they comprehend quality though, so I doubt Murdoch could go without releasing something worthwhile if he has it on his shelf. Murdoch revealed his initial intentions surrounding his new project, God Help the Girl, in August 2007, stating in a blog entry that he was looking for three vocalists (two girls, one guy) to help him with it. Contestants submitted a self-portrait and a recording of their vocals over instrumental versions of two Belle & Sebastian songs, "Funny Little Frog" and "The Psychiatrist Is In." Belle & Sebastian are typically seen as rather low-key in their recording methods, rarely reaching for the grandiose or overly spectacular. But this method, while different, coincides with the group's personable music in that they do not need big names to achieve success. In fact, one of the main stars on God Help the Girl is making her first major appearance.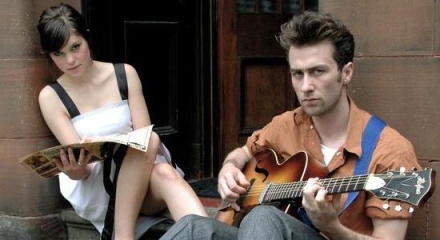 For God Help the Girl, the style of music may be a tinge different, but the level of quality remains the same. The official web site coins God Help the Girl as a mixture of "musicals, sixties' girl groups, eighties' indie and, most of all, classic pop records." The charm of Murdoch's songwriting and the Belle & Sebastian band's background instrumentation is familiar and constantly refreshing, but the additional emphasis on the girl-group pop ideology provides a fascinating flux toward Murdoch's chirpy indie-pop or acoustical tales. Catherine Ireton won the user-submitted grand prize and is the lead vocalist on most of the project's album, presenting an extremely powerful voice that is ardent enough to fit both in the girl groups of the '60s and the fashionable indie-rock of the '80s. If her voice sounds familiar to Belle & Sebastian fans then that is because she provided backing vocals on The Life Pursuit's "White Collar Boy." It is not all Ireton and Murdoch on the album though, as Belle & Sebastian's fame has admittedly awarded them with some privileges. A 45-piece orchestra directed by Rick Wentworth (Withnail & I) appears throughout the album, and The Divine Comedy's Neil Hannon lends his orchestral-pop chops on the highly amusing "Perfection as a Hipster." Hannon and Murdoch, both brilliant songwriters in their own right, provide for a fantastic collaboration that capitalizes on both of their oddball pop appeal. In addition to the excellent collection of songs on God Help the Girl, it eludes to several potential collaborative successes; Hannon-Murdoch, Murdoch-Ireton, and even Hannon-Ireton (as shown on "Perfection as Hipster") are all successful collaborations, which serves appropriate on an album that shows collaboration as an excellent practice when under the watchful eyes of someone as talented as Murdoch.
In regard to the correspondence between Murdoch, Ireton, and their shared girl-group fetish, the self-titled track plays with the clichés of girl groups while maintaining originality, modernistic relevance, and the majestic pop songwriting that one could come to expect on any great Belle & Sebastian album. "There is no way I'm looking for a boyfriend," Ireton begins the track, her vocals prominent over a poppy bass line and a combination of subdued guitars and keys. In typical '60s pop fashion, the strings kick in during the chorus as Ireton unveils the song's hook in excellent fashion. The lyrical content is more straightforward than one would expect from Murdoch, but one has to keep in mind the track's resemblance to girl-group pop. If there were any interpretable tangents, it would have been a detriment. Also, since God Help the Girl is designed to serve as the basis and soundtrack for a Murdoch-written movie by the same name, one would have to assume that all the content is precisely crafted here. The film starts production in 2010 and though no one can say for sure whether it will be good or not, the one certainty is that the film's soundtrack will be great.
"Musicians, Please Take Heed" is another stroke of excellence, being more brooding and developmental than most of the tracks on the album. The transition in mood is reminiscent of how The Shangri-Las were able to infuse a girl-group delivery into songs that were bleaker than the '60s pop stereotype suggests. The elaborate explanation of hallucinogens and drug-induced hallucinations is more indicative of Murdoch's usual intricacies here, and the sweeping strings over the steady woodwinds and brisk bass line provide excellent support for a track that serves as one of the biggest stylistic successes on the album. Upon my first several listens though, God Help the Girl shows that it certainly has what it takes to rank among Belle & Sebastian's finest material, even if Murdoch claims it too be different from his usual material. Regardless, it succeeds tremendously and echoes the similar sentiments of consistency, melodic appeal, and replay-ability that have made Belle & Sebastian household names in indie-pop. If one is a fan of either girl groups or Belle & Sebastian, this one is definitely worth picking up when it is released on June 22nd. And if you are a fan of both, this may end up being one of your yearly favorites.
——————————————————————————————
God Help the Girl – God Help the Girl

[audio:http://mineorecords.com/mp3/ghelp-god.mp3]
——————————————————————————————
God Help the Girl – Musicians, Please Take Heed

[audio:http://mineorecords.com/mp3/ghelp-mus.mp3]
——————————————————————————————
God Help the Girl – Perfection as a Hipster

[audio:http://mineorecords.com/mp3/ghelp-per.mp3]
——————————————————————————————
Mike Mineo
I'm the founder/editor of Obscure Sound, which was formed in 2006. Previously, I wrote for PopMatters and Stylus Magazine. Send your music to
[email protected]
.