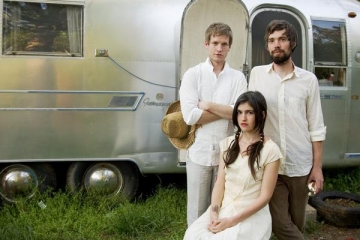 Many musicians, regardless of prestige or intellect, tend to emit an appreciation for many varieties of art. They can stand afar as hobbyists of painting or photography, but few are brave enough to venture into being an actual participant of the art. The word "artistic" seems too broad most of the time, but there is no doubt that certain individuals posses a superior flair for fusing creativity, passion, and knowledge into an audible and/or visual experience. All arts require these aspects in some form, so it is no surprise that many successful artists are eclectically inclined within some fields of art apart from their primary field. In some cases, dabbling in an assortment of arts can eventually lead an artistically inclined but multifariously overwhelmed individual into a field that suits their personal abilities best. Here, a cumulative interest in art brought the initial founders of Bowerbirds together. The North Carolina-based trio has consisted of alternating members since their formation in 2005, but core members Phil Moore and Beth Tacular are indebted to a sense of artistic eclecticism among Bowerbirds' members. Their style is highly indicative of stylistic transfiguration, altering accessible forms of folk and chamber-pop into accomplishedly unpredictable results that succeed after practically every attempt.
Lead vocalist, guitarist, and songwriter Phil Moore began writing songs for a then-unnamed project in 2005, looking toward friends in multi-instrumentalist Mark Paulson and Beth Tacular to provide additional input and initial instrumentation on the material. Moore and Paulson had been friends in middle school and fronted several bands together during their schooldays, including some hilariously ridiculous names like Speed of Sauce, Ticonderoga, and Blast Force. Tacular originally had little experience in music, doubting her ability to sing and perform. However, Moore recognized her potential and artistic ability and she joined the group in 2005. She had taught herself to sing and play the accordion, so her contributions were immediate in April 2006 when the trio began recording their first EP, Danger at Sea. She also has a background in painting and web design, the latter of which pertains to the web design company she and Moore own. After all, everyone needs some kind of day job. For these two multi-talented bandmates, it came in something that catered to both of their eclectic artistic talents. This undoubtedly helped her eventual work with the similarly inclined Moore and Paulson, the latter of whom Tacular credits for his "multi-talentedness." That is a word that describes Bowerbirds as a whole, both in their personal lives and their band's stylistic result.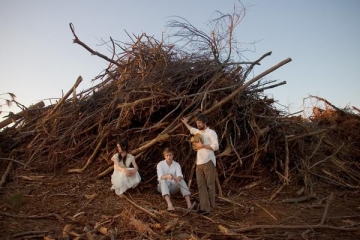 Bowerbirds' debut album, Hymns for a Dark Horse, was released in early 2007 to commendable reviews, drawing many comparisons to the freak-folk movement that was so prominent at the time (with the likes of Devendra Banhart, Joanna Newsom, etc.). The comparisons likely brought some extra fans to Bowerbirds' camp, but I personally found the comparisons somewhat off the mark as Bowerbirds' additional emphasis on pop songwriting and accessibility was contrary to many figures of the particular movement. This is further demonstrated on their new album, Upper Air. This is not music from the typical surveyors of indie-folk with hushed melodies, soft acoustics, and subtle choruses, but rather an inventive concoction of infectious pop and folk that combines for an experience that could be called soothing, refreshing, and impressive. In comparison to a genre like jazz, pop music often lacks a component of subtle variation in which suave key changes are implemented or chords are presented with a certain variance. Bowerbirds' past material opposes these simplistic sentiments, but Upper Air shows them at their true best with unconventional intentions in familiarly accessible territory. There are minimalistic acoustical efforts like "Silver Clouds" and "Ghost Life", but there also stands extremely impressive displays of expansiveness that include the lusty Parisian exoticness of "Teeth" and the ever-evolving franticness of "Beneath Your Tree". These are displays of a band that clearly shows their ambition, but also of one that seems to have few limitations.
"House of Diamonds" plays like a pop gem, plain and simple. The opener to Upper Air certainly sets Bowerbirds off on the right foot, boasting with an irresistible melody being led by acoustics, keys, and Moore's smooth voice. An instant comparison would be to Andrew Bird, but Grizzly Bear's multiple harmonies over lush folk instrumentation remain as another comparison due to the often-simultaneous vocals of Moore and Tacular. The track begins simplistically with its acoustic and keys, but an excellent chorus introduces a great hook as the duo sings, "You are free, you are already free." A string arrangement serves as a portion of the bridge… and in an instant Bowerbirds' resourceful delivery is exposed. They do not adorn their music with unnecessary additives, instead resorting to a qualitative philosophy that opts to utilize additional instrumentation when it truly makes a difference. During this specific moment after the chorus, the strings work beautifully and any additional use would have taken away from its novelty. The same resourcefulness can be said for the other tracks on Upper Air as well. "Beneath Your Tree" sticks to the same instrumental arsenal throughout, but still feels like an ardent success to the group's rhythmic variations, interesting chord use, and superb songwriting. They are all reasons why Upper Air is Bowerbirds' biggest success yet, also proving indicative of their explosive potential and likely breakthrough.
——————————————————————————————
Bowerbirds – House of Diamonds

[audio:http://mineorecords.com/mp3/bower-hou.mp3]
——————————————————————————————
——————————————————————————————
Bowerbirds – Beneath Your Tree

[audio:http://mineorecords.com/mp3/bower-ben.mp3]
——————————————————————————————