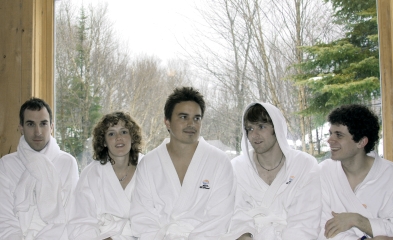 Comparisons are futile for Spencer Krug. His rare capacity to manufacture several releases per year is impressive in itself, but Krug's work ethic is not the direct cause of his esteemed status. His prolific tendencies naturally tend to result in additional opportunities that allow him to dabble in everything from subdued key-based electronica to fiercely empowering rock music; this stylistic multifariousness has enhanced his eclecticism and creativity, not to mention the avid work ethic that created these accommodating circumstances for him in the first place. Consequently, his approach is presented with new variations that have been both subtle and prominent. His main projects – Sunset Rubdown, Wolf Parade, and Swan Lake – all represent differing styles and approaches in some manner, but even the different albums within each project encompass a separate style of instrumentation or thematic focus upon each release. Krug's renown has derived in some part from his eclecticism, but it is his ability to simultaneously remain eclectic and thematically focused that has made his name synonymous with the quality indie-rock of this decade.
To hear Krug's constant brand of eclecticism in action, Sunset Rubdown's discography offers chronological progression at its finest. Each of his albums under the moniker have played cohesively despite their ambitious tendencies, and each album seems to explore new trends while not entirely dismissing the past. Sunset Rubdown's second full-length, Shut Up I Am Dreaming, emphasized a minimalistic disposition of drum machines and synthesizers, while the subsequent Random Spirit Lover beautifully juggled newly exposed art-rock intricacies with the minimalistic trends displayed previously on Shut Up I Am Dreaming. With each passing album, Krug explores new stylistic territory without neglecting his past successes. Some artists remain stuck in the past, while others are too ambitious for their own good (and the audience's). Krug is one of the rare few that have found the middle-ground, making nothing certain about the distinctions of his future works. The only thing we can be certain of is his incomparable nature, as using comparative practices to identify an artist that ceaselessly and successfully alters their output is useless and potentially insulting.
2008 was the first year without a Sunset Rubdown album since their formation, but the absence can be attributed to an arduous work ethic as usual as Krug continued to tour with his various groups and work on the acclaimed sophomore albums for Wolf Parade and Swan Lake. How he managed to find the time to tour and create these three albums should impress even the most active musicians, but what is even more impressive is how all three albums are remarkable in their own right. The album designed for Sunset Rubdown, with the interesting title of Dragonslayer, may take the cake as the most accomplished though. Wolf Parade has long been regarded as Krug's most accessible and commercially successful project to date, while Swan Lake is most notable for its collaborative emphasis on both ambitious experimentation and conciseness. Neither Wolf Parade nor Swan Lake have explored seven-minute epics or altered their stylistic approach significantly like Sunset Rubdown, leaving little doubt as to what Krug's most adventurous project is. Ambitiousness does not always result in success, but Krug has meticulously crafted an album that surpasses all of his previous releases in terms of creativity, focus, and even accessibility. Before Dragonslayer, I rarely heard tracks exceeding six minutes that were completely effortless to enjoy and appreciate. Such focus in an extended period of time is a trademark of Krug's songwriting and Dragonslayer is a near-flawless example of his astute ability.

Shut Up I Am Dreaming toyed with minimalistic electronica and rock, while Random Spirit Loverwas a showcase of multi-layered art-rock expansiveness. Both albums had their stylistic exceptions that did not serve as stylistic disruptions due to their cohesiveness, but the difference in songs between the two albums was clear. For Dragonslayer, Krug resorts to his hardest-rocking repertoire yet and it results in eight very infectious tracks that maintain their flexibility and separable qualities throughout. Contrary to the abundant use of varying effects throughout Random Spirit Lover, Dragonslayer utilizes little in terms of studio additives. In regard to the instrumentation and content, this is one of Krug's rawest albums yet. However, instead of coming across as sloppy or uncoordinated it feels the most alive out of all his releases. The instrumental flexibility has allowed for a higher capacity of expression, and it results in some of Krug's most ardently successful tracks to date.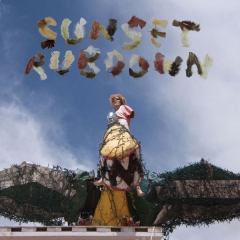 "Idiot Heart" evolves from the rhythmic strum of muted guitars to an anthemic sort of disposition with roaring guitars, chanting xylophones, and a build-up that rivals the likes of "The Men Are Called Horsemen There" (which Krug reminds listeners of before heading into the chorus of "Idiot Heart"). The lyrical-musical juxtaposition is excellent as usual, especially when Krug proclaims the following: "Now I was never much of a dancer, but I know enough to know you gotta move your idiot body around." Immediately after speaking of an inability to dance, percussion appears for the first time and the track reclaims the rhythmic infectiousness that the introduction did not initially emphasize. The line seems ironic at the time since the progression that follows is irresistibly danceable like few Krug efforts before it, just going to show how thought-out and thematically effective the tracks on Dragonslayer really are. Excluding the concise ode to "The Men Are Called Horsemen There" after the first section, "Idiot Heart" has three sections that differ dramatically from one another. Krug's songwriting shines though, as the contrasts find subtle similarities that allow for the cohesive management of each segment. Instead of a song with three or four highly contrastable sections, "Idiot Heart" is an outstanding effort that shows Krug's ability to combine unconventional intricacy with surprising accessibility, resulting in a track that rings with the excitement and ardency that fans of Krug have come to expect.
Dragonslayer's opener, "Silver Moons", does not have the roaring guitars of "Idiot Heart" or the distorted exuberance of "Black Swan", but it stands triumphantly as a masterful opener that combines Krug's soft-spoken balladry with his rock-based enthusiasm. The verse begins with a lush piano and an echoing guitar, with Krug's familiar yelps and quivers topping off a fantastic chorus where Krug and Camilla Wynne Ingr lament over days lost and forgotten. Since the album contains no true ballads to speak of, "Silver Moons" establishes itself as a sentimental favorite from the get-go with romanticized metaphors and piano-centric melodies. In addition to her role in "Silver Moons", Ingr appears more prominently on Dragonslayer than any of Sunset Rubdown's other albums. Her poppy vocals in the fantastic "Apollo and the Buffalo and Anna Anna Anna Oh!" supplement the power of the second chorus, though the song's western-y twang and Krug's outstanding vocal work reach greatness on their own. Calling this track one of Sunset Rubdown's best efforts would not be an understatement, whether one looks to the irresistible chorus or the outro where Krug and Ingr present a series of slick guitar progressions and catchy chants. Like most Krug efforts, the song is fun to analyze and the ambiguity simply adds to the allure. It exemplifies his ability to write accessible gems without resorting to generic simplicity, as "Apollo and the Buffalo and Anna Anna Anna Oh!" succeeds tremendously despite its prevalent hooks and conventional structure.
The length of Dragonslayer is a respectable 49 minutes, but Krug's endless output will likely cause listeners to crave for more once the album's epic "Dragon's Lair" concludes. One could consider this a counterpoint to "Kissing the Beehive", though "Dragon's Lair" is more diverse in its overall structure and thematic touch. The growls of Krug are powerful as he sings "so you can take me to the dragonslayer, or you can take me to Rapunzel's windowsill", preparing the way for an energized guitar solo and a series of high-pitched synths. The "woah"s and "ah-hu"s over the guitar solos are sincerely effective, as is the medieval-feel of the overall track in the primary melody and key accompaniments. "You Go on Ahead (Trumpet Trumpet II)" and "Nightingale / December Song" are both successful in their interesting rhythmic build-ups (muted chords and electro loops), and the latter takes on a brooding Decemberists-like folk feel that has Krug singing of yearning for the Nashville skyline over music that feels like 1700s pirate music. As odd as that comparison sounds, Krug's enthralling vocals and songwriting ability creates imaginative material like this that is both stylistically alive and contemporarily relevant. Krug shows he can create vivid folk on "Nightingale / December Song", nostalgic arena-rock on "Idiot Heart" and "Dragon's Lair", and fist-pumping anthems in "Black Swan", but stylistic multifariousness is not the sole reason for Dragonslayer's apparent success. It is the consistency, thematic focus, and sheer ability throughout the album that makes this one a potential classic. If anything, Dragonslayer will eventually serve as a reminder of Sunset Rubdown's dominance after their days are over. After all, this decade deserves quality representatives. 9.0/10
——————————————————————————————
Sunset Rubdown – Apollo and the Buffalo and Anna Anna Anna Oh!

[audio:http://mineorecords.com/mp3/srub-apo.mp3]
——————————————————————————————
——————————————————————————————