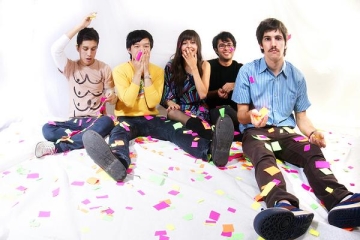 There are some noticeable trends among the music that is sent to me via snail mail. More often than not, my suspicion is raised if a particular artist adorns their submission envelope with glittery excess. I listen to everything that comes my way eventually, so anything outside of the actual album is looked at for informational purposes and little else. Many of these groups appear to spend more time decorating the envelope than working on the album inside of it, thinking for some reason that I will enjoy something mediocre if it is more colorful or sparkling. There has been numerous times where I have felt guilty for throwing out an envelope or press kit that clearly shows at least a half-hour of artsy work, but I am a college student so I do not have the apartment space to let these works of art pile up. When I saw this expressive envelope from Wild Moccasins inside my mailbox, I applied the same rash generalization that a showy envelope does not usually contain something worthwhile inside. After all, why would there be a need to further grab my attention if the music inside the envelope can do that on its own? As the Houston-based Wild Moccasins tend to show, the excitability and youthfulness that emits from their amusing artwork proves indicative of the electrifying energy present in their music, telling me an ample amount about the band before I even knew their name.
This envelope from Wild Moccasins included a moose with a sword in his mouth and some googly-eyed monster with a feather protruding out of his back, causing me to half-expect their music to be a mixture of chivalric odes and woodsy folk. Judging by their implied artistic efforts though, their highly melodic infusion of indie-rock and power-pop seems to be wiser and more depictive of their youthful intentions to acquire recognition. This can tend to backfire on many artists with deep pockets or unwarranted ambition, but by showing that one truly cares about the validity of their submission by playing "arts and crafts" on an envelope did well for Wild Moccasins in this case. They have no apparent PR sponsor and are personalizing these submissions on their own, so immediately I was aware of their DIY intentions. This was especially when I started to play their debut release, Microscopic Metronomes. My expectations were low when I put this one in, but after giving this a thorough listen I find myself thoroughly impressed by this young five-piece from Houston. Their style – a clever mixture of '90s alt-rock with conventional power-pop – is by no means innovative, but the plethora of hooks derived from their excellent songwriting does the group more than enough justice.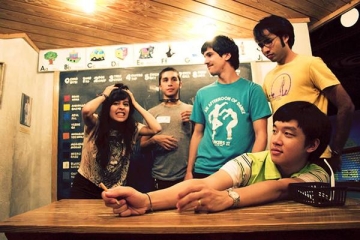 Wild Moccasins are perhaps best known in their native Texas for their uncanny ability to sell-out live shows. Sure, if you are talking about a popular Texas-based band like Spoon then it is no big deal, but for a local group with no major label or releases to speak to consistently accomplish such a feat is worth mentioning. The mere release of their EP, Microscopic Metronomes, actually resulted in some significant Houston press that noted how they are one of the few local acts that have no trouble selling out a show or staging a release party. Considering that their style is not the most innovative in the world and no component of their instrumentation is a technical breakthrough, the explanation behind their passionate fanbase can be found in the one aspect of Wild Moccasins that is most prevalent: their energy. The passion for music that all five members emit both in the studio and on the stage is one to marvel at, as is accessibly shown on Microscopic Metronomes. The five lead tracks on the EP serve as four-minute bursts of energy, never wasting a moment or toying with generic ideas. The result is something that should bring them recognition beyond the borders of Texas, especially since their interpretation of indie-rock is along the same lines as a very successful group in The New Pornographers.
Making comparisons to The New Pornographers is relatively easy for this one. The comparative approach for this specific group is somewhat generic since they borrowed so much from power-pop and indie-rock (two genres that many contemporary rock groups are reliant on), but Wild Moccasins do more than just match the summery indie-pop melodies and male-female duets. Like The New Pornographers, they recognize that hooks often establish whether or not music within their genre is successful. As a result, the five tracks on Microscopic Metronomes do not waste time in subtly convincing listeners to sing the respective efforts while in the shower, at work, or any other places where music cannot usually reach one's ears. The New Pornographers have always made great use of Neko Case's vocals and the country-ish twang that goes along with it, matching her vocals with content that is depictive of her ardent vocal delivery. Wild Moccasins do the same with Zahira Gutierrez, a vocalist and multi-instrumentalist who makes her presence best known on the infectious "Spanish and Jazz." She initially croons with a quiver that is depictive of country and folk, aided by the twangy progression of a quickly paced guitar. The steady percussion also establishes this vein of country and folk, so its role is vital in guiding the transition between this tinge of folk and the explosive indie-rock presented in the chorus. Again, this track and the others on Microscopic Metronomes will not win over listeners based on intricacies or innovations, but instead on great songwriting, youthful energy, and polished instrumentation.
While they certainly have room to grow in their stylistic and instrumental approach, Wild Moccasins undoubtedly have an astute grasp of melody. This is present on the aforementioned "Spanish and Jazz" in arguably the best form on the EP. Regardless, it would be a crime to overlook "My Favorite Die." This effort initially sounds like a campfire sing-a-long, using a couple of diverse vocals over the chirping sound of crickets and the sole strumming of an acoustic guitar. Like the bridge on "Spanish and Jazz" though, the transition into more expansive territory becomes noticeable after the song's introduction. Power-pop and indie-rock guide this track to infectious heights, led by a very fun chorus that finds lead vocalists Gutierrez and Cody Swann singing, "Da-da-dum, ba-da-da-dum-dum-dum," over the flurry of guitars. I never thought that baby-talk could resonate so deeply. After the first few choruses, when lead vocalist Cody Swann picks up the angst in his voice over the simplistically beautiful harmonizing of Gutierrez, I can't help but be reminded of the Pixies in addition to the indie-pop allure of The New Pornographers. The effectiveness of this duet style is also present on "Fruit Tea," which could be reminiscent of Weezer if they were more receptive to using female vocalists during their heyday in the '90s. If a young band like Wild Moccasins can distinctively remind listeners of greats like these, they should certainly have no issues attaining a massive fanbase that extends outside of their native Houston. This EP is simply too promising for fans of power-pop not to take notice.
——————————————————————————————
Wild Moccasins – Spanish and Jazz

[audio:http://mineorecords.com/mp3/wmoc-spa.mp3]
——————————————————————————————
Wild Moccasins – My Favorite Die

[audio:http://mineorecords.com/mp3/wmoc-myf.mp3]
——————————————————————————————
——————————————————————————————