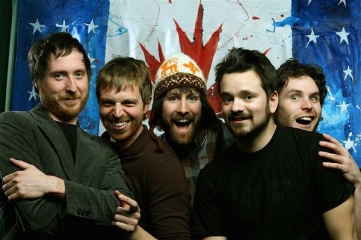 It is always a safe bet to name your band after a great song. The name alone could easily grab the attention of many listeners, as most of us can recite our favorite songs word-for-word and consequently have the title phrase embedded in our minds. Whether the name gets potential fans to listen to one song in disgust or become a diehard fan is irrelevant because it aids in one thing that many musicians desperately seek: exposure. When I saw Caledonia's envelope in my mailbox, the name instantly reminded me of the great song by The Band, "Caledonia Mission." It was not one of their more famous tracks, but the song's brilliant use of both country-folk and bluesy rock 'n' roll always made it one of my personal favorites. The verses are filled with tender vocal melodies and a sullen bass line, a stark contrast to the abrupt entry of rollicking keys, guitars, and ardent howls during the chorus. But the track remains cohesive throughout its entirety, a rare showing of eclecticism in an era where stylistic rigidness was overly prevalent. I would imagine that Caledonia are referencing this song in their name (their MySpace dictates the words "Caledonia Mission"), but I have no proof of this. Either way, I was drawn to them by such an odd distinction, resulting in another excellent but overlooked debut album in my library.

By being lured in by such a simple reference, I opened myself up to Caledonia. There was a connection even before listening to them, prompted by a simple ode to a song that I enjoyed while growing up. As a result, I was eager to hear what the five-piece had to say. Would their lyrics touch me emotionally because we share an admiration for the same songs or bands, or would it merely be a desperate bunch of guys looking to capitalize on twentieth century successes? For Caledonia, their debut We Are America is so personal that it almost reaches auto-biographical territory, resulting in material that anyone could enjoy whether they were initially drawn in by the name or not. Although much of the album was written by the Canadian five-piece in a collaborative effort, certain standouts have fascinating backgrounds that make their end results even more invigorating. In doing so, Caledonia touches upon a variety of topics that are often discovered after going through a negative experience. For instance, "Scott's House" chronicles the journey of personal sovereignty that bassist Zac Crouse contemplated as he attempted to choose between pursuing music full-time or remaining at his desk job. "You can try but you can't keep me down," he repeats over a folky atmosphere of lap steel guitars, banjos, and a hazy organ, perhaps indicating his choice of personal sovereignty with his word choice. Analog synth also begins to subtly appear toward the track's conclusion; they are surprisingly effective and heavily indicative of the group's generally eclectic leanings.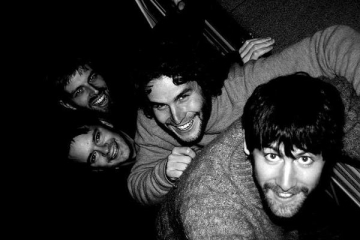 When you compare a track like "Scott's House" to the album's opener, "Restless Year", it seems as if they both come from different worlds. The music here is brooding and agitated when compared to the casually optimistic country-folk of "Scott's House", featuring lashing guitar licks that create a wave of distortion under serenely twinkling keys and Steven Gates' quivering vocals. The musical difference between the two tracks is prevalent, but once again the thematic focus on contemplation throughout We Are America emerges and Gates and Crouse find themselves in similar states with differing musical accompaniments. Just like "Scott's House" though, "Restless Year" is a great accomplishment that serves as a thoroughly exciting opener that introduces Caledonia's infectious array of indie-rock to the listener. "Some years come and they go, and you never know how close you came," he sings, once again touching upon the feelings of regret, anxiety, and hope that the members portray throughout We Are America. The album's primary focus is the harmful nature of self-doubt and how it contributes heavily to blame and an utter lack of morale. It is a topic that they explore effectively, nonetheless helped by an impressive musical backdrop that exposes indie-rock in the way it should be: diverse and ardently effective.
Diversity is one thing that Caledonia tout masterfully throughout We Are America. Check out "Too Old", where keyboardist Ian Bent lends his songwriting chops to the mix. This results in a light '70s pop flair to the tracks, backed by the appropriate overlapping vocal harmonies and breezy demeanor. Bent originally had no plain of joining an indie-rock group, as he found success on the classical music circuit. However, after learning of Caledonia's great potential, he could not resist lending a hand. Like the other four members in Caledonia, his sense of musicianship is wholly impressive but he also has the ability to relay anecdotal matters into wonderfully melodic results. Drummer Steve Reble does this like the rest as well, writing the lyrics for "Friday Night Rock Song" after being inspired by Ah Ha's "Take on Me". Reble's brother had previously collapsed from a viral infection, and while in the hospital Reble had aided him in re-acquiring his voice by singing along to Ah Ha's '80s favorite. While this sounds more in touch with this decade's sound, a similar component can be found in an anthemic chorus that erupts after a build-up of guitars and keys. The chorus sounds like something The Walkmen would attempt, refined by polished guitar solos and tightly interwoven piano progressions. "Don't write me off," he croons during the chorus, summing up the album's theme quite perfectly. They show that confidence is key to success, and this debut album is perfect indication of that.
——————————————————————————————
——————————————————————————————
——————————————————————————————
——————————————————————————————