Posted
June 2, 2009 by Mike Mineo
in Features
Obscure Sound: Best of May 2009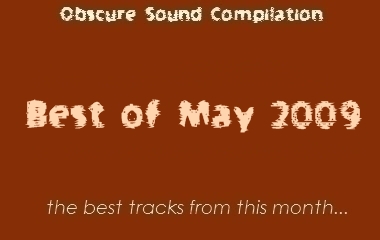 Summery indie-pop, intricate art-rock, and a little bit of blues were the mainstays this month, featuring a bunch of new faces apart from Sunset Rubdown. Their new album, Dragonslayer, is fantastic and their track on this month's best-of is one of the best Krug has ever written, which is quite complementary considering his prolific work ethic. The likes of Klum and Alligators offer up a similar style of art-rock, showcasing plenty of clever hooks with a modernistic edge that grants them plenty of great moments. Pomegranates, Wild Moccasins and Armen Firman offer up a summery style of indie-pop that is suited perfectly for June, while Robert Bradley and T. Nile prove to be more traditional with some soulful blues. Dubious Ranger and Bowerbirds offer up something different, with the former showing some infectious comedic chops and the latter exhibiting some of the most beautiful folk harmonies I have heard all year. Plenty of gems were covered this month, so here's hoping that June is just as strong.

01. Sunset Rubdown – Apollo and the Buffalo and Anna Anna Anna Oh! (post)
02. Klum – Nonbeliever (post)
03. Alligators – Original Fear (post)
04. Bowerbirds – Beneath Your Tree (post)
05. Armen Firman – Porch Dweller (post)
06. Dubious Ranger – Weapon (post)
07. Wild Moccasins – Spanish and Jazz (post)
08. Pomegranates – Corriander (post)
09. Robert Bradley's Blackwater Surprise – Alabama (post)
10. T. Nile – Reverie (post)
Mike Mineo
I'm the founder/editor of Obscure Sound, which was formed in 2006. Previously, I wrote for PopMatters and Stylus Magazine. Send your music to
[email protected]
.