Solo albums usually require a substantial amount of self-sufficiency. There is rarely a source of constancy apart from the main artist's output, and external contributions can be skeptical because they are often for-hire, resulting in a false sense of sincerity that could find the release lacking in chemistry and flow. Many successful solo artists first tried their hand at releasing solo material either during or after their participation in a prominent band, conveniently allowing them to capture the attention of many listeners based on their role in a separate project alone. It hardly matters what their actual contributions were too; even if some bassist in a big rock band contributed little to nothing throughout his band's run, he could release an embarrassing solo album and still see some respectable sales because of his status in a popular rock band. This sort of thing often causes deserving artists to get overlooked. But, as one must remember, the music industry is just as it reads: an industry. To expect quality material to result in recognition is naive, especially as I have learned throughout the years after covering dozens of outstanding artists that would get little recognition in the later years to come. But, in addition to money and reputation, experience also has a lot to do with obtaining success as a solo artist. So, when an independent songwriter like Rishi Dhir releases an excellent debut album based on his own merits and not his previous band's status, it makes the release even more impressive.
It was merely six months ago when I covered The High Dials, Dhir's former band. So, when I received Dhir's first solo release under the name of Elephant Stone in the mail, I figured it was either a nice coincidence or some clever PR marketing (I would bet on the latter). I say it would be nice if it were a coincidence though because of how much I enjoyed The High Dials' most recent album, Moon Country. Specifically, I urge you to check out my post of the band here for a sample of "My Heart Is Pinned to Your Heart", an excellent track that proves indicative of The High Dials' irresistible vein of indie-rock (think British Sea Power meets The Dears). Anyways, back to Dhir. He left The High Dials in 2006, so he was not with them for Moon Country, but still honed his skills with the band for six years and two albums. While with The High Dials, hes howed that he was a strikingly eclectic performer; Dhir played sitar, bass, and contributed some essential background vocals. With this though, one must keep in mind that The High Dials are a good band with a nice release this year, but they are certainly not a brand name. Therefore, what you hear from Dhir and his new Elephant Stone project is the result of his own merits and not the reputation of his past successes. In fact, perhaps one could say he was in the most ideal of circumstances; he played with a very inclined band that gave him some vital experience but they were not renowned enough to give him a false sense of pride and overbearing expectations, which are aspects that often lead to a solo artist's demise.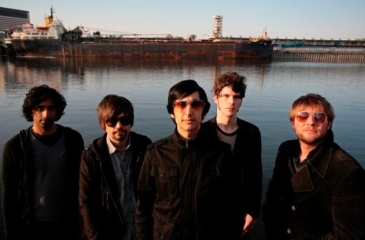 After Dhir left The High Dials in 2006, it did not take long for some of Canada's most respected indie-rock figures to take notice of his chops. Elephant Stone's debut, The Seven Seas, was eventually produced by the widely respected Jace Lasek, who apart from heading The Besnard Lakes has produced other Canadian indie-rock heroes like Wolf Parade, Stars, and Islands. But before Dhir and Lasek came together, Dhir underwent a period of vigorous study that allowed him to expand as a musician and songwriter. He primarily focused on honing his Indian classical music chops, appearing with his sitar on releases by the Texas-based The Black Angels and Manchester-based The Earlies. This period of study obviously rubbed off on the outstanding quality of The Seven Seas, particularly in ambitious efforts like the seven-minute "The Straight Line", where the dominant usage of a sitar paves the way for a eventual dramatic infusion of distorted guitars and a funk-based rhythm section. The track consists of little more than a sitar throughout its first three minutes, but the entry of bass and percussion right before the three-minute mark prepares the listener for a guitar-based eruption of sorts that eventually leads to a fantastic overlapping of electric guitars and sitar. To successfully infuse Indian classical music into modern indie-rock is no small feat, and "The Straight Line" serves as a stellar example of Dhir's musical ability and his ability to implement ambitious musical ideas into styles whose partnerships are highly unconventional. The five-piece of Elephant Stone, led by Dhir, cleverly call this infusion "hindie-rock"; it is a fun term that may be indicative of the recent rise in infusing foreign musical ideas with conventional pop the past few years.

While "The Straight Line" aligns more with Dhir's unconventionally successful ideas, that is not to say that the entirety of The Seven Seas is filled with songs that require as much patience as "The Straight Line". In fact, there are plenty of great pop songs on here that provide for a nice tone on an album with occasional epics like the psychedelically shimmering "Don't You Know" or the middle-eastern influenced "The Straight Line". "How Long" is one of them, demonstrating a perfect mixture of psychedelia and alt-rock to express Elephant Stone's style when they tend to be a bit more conventional. The song actually exceeds in sounding a bit like The Stone Roses, whose influence is echoed in this track's general tone and perhaps literally in the band's name ("Elephant Stone" – one of my favorite Stones Roses tracks). Although Dhir's musical roots are Canadian, he even imitates a similarly British delivery as his reverb-drenched vocals gracefully accompany a thickly reverberating bass line with an eerie guitar progression that evolves from a haunting arpeggio to the concise use of chords. "I know that the sun lies eastward, I know where my heart belongs," he sings during the excellent chorus. "Back home where my love lays waiting, back home where we are one."
What "How Long" lyrically depicts is rather conventional – a man starved for his love across long distances – but the musical content and structural build-up here is what makes the running emotions so sincere and effective. After the chorus, when "day dawns" and Dhir laments that he is still not near his beloved, the reoccurring chorus several instances later sounds even more effective with its dreamy, retrospective approach. The guitar flows more capriciously with an echoing of Dhir's vocal melody, but the lack of emphasis on additional instrumentation during this point stresses importance on the ardent vocals that give this track additional life. Overall, it is a fantastic effort that should remind listeners of the music scene in the UK during the late '80s with its emphasis on psychedelia and post-rock. With its soaring synth pads and crisp guitars, the equally pop-minded "I Am Blinded" achieves success more directly by a different contrast. The verses here are led by little more than the rhythm section, but the chorus is magnified considerably with the string-like synths colliding with stagnant guitars to create something that is highly anthemic. It is a word that I have used often to describe Elephant Stone's impressive debut, but crafting anthemic indie-rock seems to be Dhir's forte. With his added ambition on tracks like "The Straight Line", it makes for an album with plenty of memorable moments.
——————————————————————————————
——————————————————————————————
——————————————————————————————
Elephant Stone – The Straight Line

[audio:http://mineorecords.com/mp3/estone-str.mp3]
——————————————————————————————