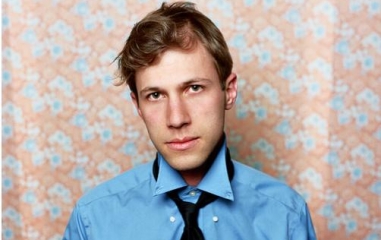 Attempting to juggle two musical projects is like being forced to decide between two best friends. Each one provides great collaborative moments and a level of comfort, but the subtleties are often what determine the final decision. How durable the relationship has been, the amount of changes undergone to maintain relations, and even accustomed tones of voice are all subtle components of a friendship that devise the strength of a relationship's backbone. Since music is often a process that is undeniably collaborative for most of today's artists, the decisions regarding who to work with and what to work on are grounded in a very similar decision-making process. And like friendships, there is often pressure to focus all of one's energy into a singular force. No one enjoys being a spare tire. For Brent Knopf, one-third of the creative power behind acclaimed indie-rockers Menomena, his ambitions are much too lofty to exist in a musical world full of singular demands and mind-numbingly consistent expectations. Menomena's third album and Barsuk debut, Friend and Foe, was released nearly three years ago to glowing reviews, most of them praising the trio for taking accessible indie-rock into uncharted fusions of punk, noise-rock, and funk. Knopf has been with Menomena since the beginning and from their unknown status into one of prestige, leaving a sort of allegiance that is hard to shake off even if your fellow band members are supportive of a solo side project.
As Knopf attempts to simultaneously juggle his primary project (Menomena) and solo project (Ramona Falls), one cannot help but imagine how he is able to produce quality work with the pressures of both projects looming over him. Menomena have been in the studio for nearly three years preparing the follow-up to Friend and Foe, while the debut release from his new solo project contains 11 tracks that contain the depth and focus that fans of Menomena are accustomed to. To say that he has been busy over the past two years would be an understatement, as the development process for an album is grueling and time-consuming (unless you can whip a classic out in a week or so, like The Beatles did numerous times). But Knopf has kept his focus despite the struggles involved in simultaneously being a force in both projects, the struggles being not just the actual physical tasks of songwriting and recording but also the stress that one must feel if friends or band members are not supportive. However, even by simply listening to their music, it becomes fairly evident that the members in Menomena are all mature enough to respect the songwriting process and one's own individualistic means of expression. For an artist like Knopf, this support makes his solo material flourish even more.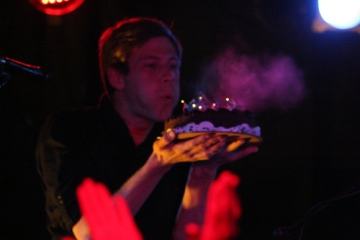 It takes a mature artist to admit a preference toward one specific project. It is always difficult to though, almost like telling a good friend that there will always be someone more reliable and fulfilling than them. But music is not always like life; music is much more flexible. Knopf admits that he initially kept his stronger material saved for Menomena, primarily because he believes in the power of collaboration. It only took a matter of time for Knopf's own solo material to reveal otherwise though. While Knopf remains true to Menomena and continues to work on their new album, he has transformed his solo output into something of equal effort, satisfaction, and time. With his solo alias being named after one of his favorite childhood hiking trails, Knopf's Ramona Falls has released a debut that is reflective of Menomena's innovative tendencies while remaining completely original in style and tone. Like his initial work, Ramona Falls' Intuit reveals a sophisticated vein of Knopf's pop music that is enriched by everything from delicate piano progressions to the screeching of synchronized samples. He remains a pop songwriter at heart, but his interweaving and acoustical and electronic components are a gift for all listeners, especially those that are already Menomena fans.
Intuit sports plenty of guest appearances (The Helio Sequence, Mirah, Loch Lomond…) but Knopf is clearly the main audible force. What is amazing about this album is how polished he makes something sound with such little means; the majority of Intuit was recorded in DIY fashion with little aid from the studio. "I Say Fever" boasts a messy arsenal of interweaving guitars that seem to enjoyably crash and burn over the delicate twinkles of keys, while "Salt Sack" takes advantage of edginess by constantly alternating the rhythm section in accordance to Knopf's melodic variations. These do not sound like DIY efforts, but Knopf's ability to turn even the simplest of ideas into something extraordinarily grandiose should be unquestioned by now. Even the tracks that do sound lo-fi – like the build-up of acoustics in reverb in "Bellyfulla" or the stripped-down "Diamond Shovel" – are excellent additions to an album reigned supreme by constant innovation. "I Say Fever" is not quite minimalistic, but its evolution from a bluesy guitar progression into an epic with roaring guitars and squealing brass is boisterously impressive. Rarely has the birthing of stylistic fusions been so enjoyable.
With a croon that possesses the same nasally excellence and sincerity of a Michael Stipe sound-alike, Knopf also delivers a countless number of hooks in tracks like "Melectric" and the astonishing "Russia". The constant use of keys makes this comparison even more apt, as the warble of acoustics and keys in the opening "Melectric" paves the way for brilliant bursts in rhythmic and vocal content that are quite reminiscent of similarly influenced '80s alternative-pop acts, even recalling Celtic folk in the process. "Russia" may be the best thing he has written, featuring musical snippets more abundantly than a conventional structure. They all combine to form something beautiful though, complete with string arrangements and revolutionary percussion. To say the least, it is the most epic three-minute song you are bound to hear. Knopf's talent is extremely evident throughout Intuit but one must not forget how important his gifted support system and multifarious focus was toward this outstanding album's final result.
——————————————————————————————
——————————————————————————————
——————————————————————————————
——————————————————————————————