Posted
July 14, 2009 by Mike Mineo
in
Wild Beasts and Two Dancers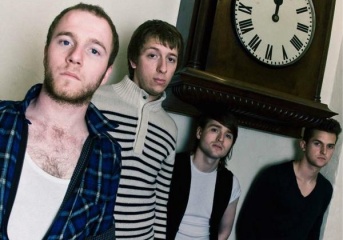 Distinction will never be an issue for Wild Beasts. With a voice like Hayden Thorpe's, it almost seems as if the English four-piece could put any arrangement under his dramatic delivery and the result would sound great. A stylistically distinctive vocalist can bring a new group soaring to great heights, as a natural ability like this tends to compensate for musical richness and cumulative innovation among critics that are satisfied by stylistic ambition alone. Luckily for new artists like these, the rampant tendency of critics to proclaim an artist as the next big thing based on stylistic accomplishments alone leads to recognition that is often undeserved (though this plight is common in the music industry regardless). There is often a disregard for the effectiveness of songwriting and cohesiveness of the respective release, prompted by a certain characteristic embedded in the artist's sound that drastically separates them from their influences and contemporaries alike. In music, compensation for the insufficient is a manipulative process that results in artists either reaching their pinnacle or becoming forgotten by any indication of a fan base. Certainly there are some artists that dabble in perfection and never need to undergo this developmental process, but in this day and age where creativity is dampened by an excess of influences it is hard to look past a style that either creates feelings of extreme detest or excitable captivation among its listeners.
Unlike most other indie-rock newcomers, Wild Beasts probably were not the most desperate for a fan base right away. Most groups that successfully hearken back to a nostalgic style hardly are. It would be easy to slide Wild Beasts into a grouping that includes British Sea Power, Glasvegas, and perhaps even Franz Ferdinand. While Wild Beasts are generally darker and more distinctive in tone, these are all acts that wear their influences on their sleeves, showing no reluctance to bring out theatrical vocals in the vein of Queen or Sparks over eerie guitar progressions deriving from '80s post-punk. Classifying British Sea Power and Franz Ferdinand in this niche may be a slight reach though, as their roots tend to be more reflective of this decade's art-rock push than the somberness of post-punk. Their voices though, whether it is Alex Kapranos or Yan, tend to emit a similar croon that is both deep in its audible and figurative meaning. The difference between these groups and Wild Beasts is quite simple though. The groups like Franz Ferdinand have lately striven for commercial access, releasing perfectly capable material in that regard but hardly breaking through any stylistic boundaries. Wild Beasts are so impressive because they are devoid of this pop-fueled desire, instead opting for the teary-eyed dramatics that made legendary post-punk acts like The Chameleons UK, Joy Division, and Billy Mackenzie so memorable. This authenticity is one of the reasons why their songwriting may be overlooked, which would be positive if they were generic songwriters. As it turns out though, the work on their new album is exceptional.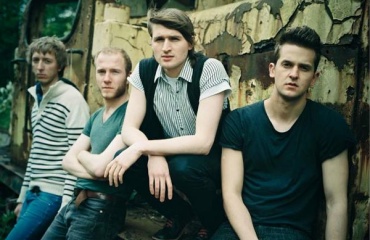 The most quirkily enjoyable thing about Wild Beasts is the juxtaposition of their varying influences. Thorpe's lead vocals are strongly reminiscent of the quivering cries for help that Billy Mackenzie made famous in the realm of post-punk, but their music often hints at lights of optimism that are rare in a genre that encompasses such an enjoyably sullen haze. But while Thorpe makes post-punk the most oblivious practice on their second album, Two Dancers, but their tendency to use unconventional practices like chirpy guitar progressions or exhilaratingly anthemic choruses is what creates their signature sound. They are able to reach into the depths of sadness without coming across as melodramatic, just as they are able to scale the dizzying heights of pop elegance without coming across as too desperate for fame and fortune. These tendencies result in a sound that borrows neither too much from the past nor excess from the present, resulting in a sound that is fresh and engaging without being classified into the ridiculously flexible genre of art-rock. Two Dancers is a tremendous growth in development from Wild Beasts' 2008 debut, Limbo, Panto, that sees the four-piece expanding upon a nostalgic sound that is revitalized by fresh pop hooks and an unforgettable voice that reminds us of a few musical treats from the decade of greatest excess, the '80s.
Falsettos have recently been tied to comedy or musical spoofs, with most artists too afraid of the delicate tactic to actually implement it into their sound. It seems to come natural for Thorpe though; he flawlessly flaunts it on practically every song. Like Antony and the Johnsons though, it is perfect for the style. "Hooting & Howling" contains just enough energy to show off Thorpe's ability, but maintains the lush and relaxed composure of the general album with steady percussion and sporadic piano additives. Thorpe retains a sort of seductiveness that pertains more to the revolutionary performers of the '50s, even if the African-inspired percussion and thick guitar progression sound distinctively from within the past 25 years. This is him at his most upbeat, effortlessly eluding the stereotyping of melodramatic post-punk with a youthful, finger-snapping impression that prepares their style for a generation full of romanticized drama kings and queens.
"When I'm Sleepy" or "All the King's Men" is more apt for that sort, being more direct in their respective descriptions of death and desperation over mumbled vocals that weep and yelp over anguished guitar lines. The bass lines are subtler than typical post-punk, but the dramatics of the distorted guitars and weep-y vocals are still there, stuffed with pop-oriented theatrics that make the style more accessible for those somewhat opposed to the dramatics of Joy Division or The Cure. "We Still Got the Taste Dancing on Our Tongues" finds Thorpe's most theatrical crooning uplifted by guitar tremolos and sprinkles of haunting keys that coincide with his vocals to craft a sound that is as elegantly uplifting as it is haunting and serene. And this is what Two Dancers is; it serves as phenomenal album that quickly follows up a debut to prove that Wild Beasts are more than clever stylistic imitators. Most importantly, it shows that they are great songwriters and producers in their own right, leading to the credibility of all forthcoming recognition.
——————————————————————————————
Wild Beasts – Hooting & Howling (video)
[audio:http://mineorecords.com/mp3/wbeasts-hoo.mp3]
——————————————————————————————
Wild Beasts – All the King's Men

[audio:http://mineorecords.com/mp3/wbeasts-all.mp3]
——————————————————————————————
Wild Beasts – We Still Got the Taste Dancing on Our Tongues

[audio:http://mineorecords.com/mp3/wbeasts-wes.mp3]
——————————————————————————————