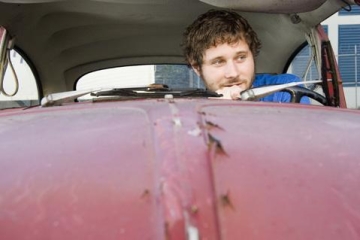 An artist who sports a scruffy beard, sings about "indie queens" and kings, and names their album after a Kurt Vonnegut quote is bound to create a memorable first impression. It may sound like the definitive stereotype for all these independent artists I write about, so smug with their tastes and beliefs that their own art sometimes ends up reeking of old influences and re-hashed ideas. The problem is, these flaws tend to appear with time and not in instantaneous fashion. I sometimes go back and listen to groups I wrote about two or three years ago. Some I admired for their songcraft, others for their style or innovation. But there was never a case in which a new artist achieved perfection, even if they came painstakingly close to it. Seeing a likable band that is new today in the future could either be devastating or triumphant. One of the most rewarding things about writing for this site is seeing how bands I featured in the past grow, remain the same, or disintegrate all together after their first or second release. The growers are receptive to change in both a minor and dramatic sense, while the stabilizers appear content with consistency in artistic development, financial income, and the fluctuation of their fan base. Both can falter at any moment, but the risks are obviously higher for those not fearful of change. For them, their biggest enemy is the two-sided realm of criticism.
When artists pursue a certain lyrical or musical style that is unconventional, there opens an opportunity for outspoken criticism to prevent an artist from evolving into a transitional songwriter, rather than one who is satisfied with placidity and not artistic stimulation. Dan Mangan has always been a talented and genuine storyteller, and to coexist in an industry where visuals and exploitation reign in the mainstream must be difficult. The pressure must mount, but Mangan has always remained unfazed. On top of that, the 26-year-old sings about topics that are both emotionally sensitive and culturally contemporary, ranging from the loss of cell phone service in "Robots" to the loss of a loved one in the excellent "Fair Verona". He criticizes certain components of society, like the tendency of tasteless elitists to push their tastes upon others in "The Indie Queens Are Waiting", but applauds others, like the wisdom that love can offer in "You Silly Girl" or that old stories can offer in "Basket". Through it all he maintains the utmost focus and relevance to his own sound, his raggedly enthralling voice being complemented beautifully by a range of twinkling keys, hushed acoustic guitars, lush pianos, and accompanying harmonicas.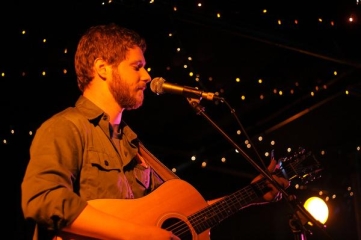 Mangan's lyrical delivery is influenced by one of his favorite writers, the late Kurt Vonnegut. Like Vonnegut, he relays life's most utmost complexities into a literary form that is simple to grasp. It hardly takes the elusiveness out of the product though, actually adding more to its enigma because of the clever analogies or playful visuals. Mangan's sophomore album, Nice, Nice, Very Nice, borrows a line from Vonnegut's Cat's Cradle for its title. "Oh, a sleeping drunkard up in Central Park, and a lion-hunter in the jungle dark," the quote goes. "And a Chinese dentist, and a British queen – all fit together in the same machine." It is an apt reference and allusion, especially in Mangan's case. "Nice, nice, very nice," it concludes, "So many different people in the same device." As Vonnegut channeled the unified mechanisms of society into a simple analogy, Mangan moves to our modern world in combining his unique melodic ability with a lyrical delivery that showcases his adoration for literary devices. He tackles cell phone reception and the harsh complexities of reality, all on one album that is diverse enough both lyrically and melodically to resonate with most social demographics that are willing to listen.
Nice, Nice, Very Nice is yet another fantastic folk release from Canada, proving Mangan to be a songwriter with durability and prevalent ability. Despite it being the antithesis of commercial success, his ambitious lyrical approach and tendency to avoid generic pitfalls shows that he will certainly be one to look out for in the coming decade. "Robots" sports a very nice acoustical arrangement and passionate vocal display under snazzy brass accompaniments and active percussion. "And I spent half of my life in the customer service line," Mangan sings, "flaws in the design, a sign of the times." Society's obsession with technological automation has been touched upon before, but this is a clever and worthwhile song nonetheless thanks to its refreshing approach. Those looking for a deeper and more artistically invigorating song should turn to "Fair Verona", one of my favorites on the album. Listening to both "Robots" and "Fair Verona" should provide listeners with a good representation of Mangan, as his strength as a diversified songwriter is one that should certainly be valued.
With occasional bleeps of synth and sporadic chimes of electric guitar serving as the only consistent instrumentation over the steady rhythm section, this song is built for Mangan's voice and storytelling ability to take over. The music sways accordingly to the romanticized tale, one of how the phrase "carpe diem" needs to be valued more in relationships. Brass is the first to become a truly established instrument, only to fade again before lush strings take over their place. Each occurs during a solemn and strikingly appropriate moment for their entry, with Mangan introducing fun alterations of the verses and chorus along the way. "Pine for Cedars" and "Set the Sails" close out the album with a transcendental tone, alluding to nature as the most harmless source of moral salvation. The amount of content on the album cannot be defined by length, as Mangan packs a punch from beginning to end by exposing the world's intricacies in the only way we can understand them. He delivers them in the simplest and most apt way possible.
——————————————————————————————
——————————————————————————————
——————————————————————————————
——————————————————————————————