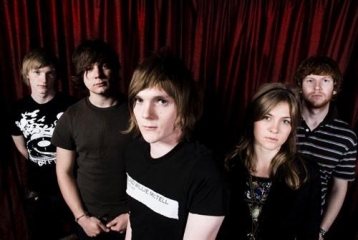 Emitting a wide range of emotions is one of the most complex maneuvers in music. Not only because it requires sophistication and a little bit of selfishness, but also due to the varying perceptions of certain feelings among listeners. Some audiences tend to relate to screaming and discordant guitars the best, while others seek solace in classical compositions that rely on powerful arrangements and revolving structures to get their message across. Like a favorite artist, one's method of obtaining a sincere and audible emotional expression varies by the individual. It is hard to say that this is the most vital factor in determining one's favorite musical style, but it certainly is a factor. To spice things up a bit and differentiate themselves from the rest, contemporary groups often strive to deliver an emotional punch that is somewhat parallel to their independent ideologies. Like great songwriting or solid musicianship, presenting an innovative approach to the art of expressing emotion and supplementing narrative description prompts a listener to form a distinctive opinion of the specific work, for better or for worse. With Chris Turpin's distinctively anthemic voice, a flurry of hectic strings and other orchestral accompaniments, and a style that brings duets to new heights, Kill It Kid will certainly make a lasting first impression that owes its debt to their unique way of conveying emotions.
One of Kill It Kid's more noticeable trends is their ability to gracefully develop coarse melodies into sprawling emotional epics, as much in their vocal performances as their fury of instrumentation. Turpin and Steph Ward, a pianist and fellow vocalist, create some of the greatest vocal interplays you are bound to hear this year. The five-piece took their name from Blind Willie McTell, a Piedmont blues legend, and Turpin's vocals pack a similar sense of rawly invigorated passion that is widely associated with the gritty blues-rock of today that is clearly influenced by the bare styles of blues in the past. Ward complements Turpin's coarsely powerful vocals well, opting to contrast his vocals with a simultaneously angelic and rapturous croon. In the midst of their most powerful duets, it almost sounds like a clash between good and evil. Both vocalists are damn good here though in a qualitative sense though, as if the highly impressive mixture of strings, guitars, and furious percussion was not enough. The group's blues leanings may lead some to assume they are from the States, but like Bruce Peninsula they show that blues does not have influence strictly on American artists. Kill It Kid hail from the UK, the members growing up around the areas of Bristol and Bath and meeting at the latter's Bath Spa University. With influences both foreign and native, they have released an album that should amass them a large fanbase with an expansive array of excellent songs that showcase their musicianship, songwriting, and ingenuity in masterful form.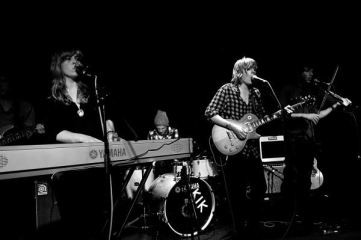 Now that Kill It Kid are signed to one of the UK's most consistent labels in One Little Indian, success seems imminent. They released their debut single, "Send Me an Angel Down", in May and have been generating hype ever since. Sporting a graceful arrangement of strings by the talented Richard Jones, "Send Me an Angel Down" was a pretty interesting choice for a single when one considers its depth and structural ingenuity for a debut single. But this is the stuff I love to see out of a young band, taking a risk and choosing to showcase the best representation of their songwriting over one that is potentially the most radio-friendly. This marvelous track grows from a sullen Turpin croon and a soft string accompaniment into one roaring with guitars and percussion, erupting shortly after Ward makes her subtle but important vocal appearance. How the strings gradually go from leading fiddle to collaborating with the guitars and rhythm section is a marvel to witness, as is how both the vocal deliveries of Turpin and Ward tend to variate as the track progresses with youthful glee. It shows that this is a band not afraid to take innovative steps in unveiling their most sincere and forbidden emotions. For a debut album, it is something rare and extraordinary.
For a sound so distinctive and fulfilling, Kill It Kid could have easily provided little diversity in their songwriting and still have resulted in an enjoyable album. But for a group with their apparent ambition, these are inaccurate expectations. "Private Idaho" is one of the few moments where Ward stars with her lead vocals, proving herself to be just as effective as Turpin in the right circumstances. She obviously does not fit as well in the bluesier arrangements, but a nice country-folk number like "Private Idaho" or the dance-room country shuffle of "My Lips Won't Be Kept Clean" show Ward at her best. The latter is an enthusiastic and fun track, which contrasts some of the album's strongest material. "Burst Its Banks" plays extraordinarily with the contrast between anthemic string ballads and high-powered guitar anthems, often transitioning unexpectedly but in a way that is unconventionally cohesive. The effort works with extreme precision, specifically the key-aided chorus where both Turpin and Ward relay one of the album's best moments over a series of twinkling keys and brilliant strings. The string solo that proceeds that is also a spectacle, a technique echoed in the equally powerful "Ivy and Oak". With its consistency and wondrous array of great moments, Kill It Kid is easily one of the most memorable debuts of 2009 for me. Any fans of folk, blues, or Americana should be in bliss with this album; its confidence and vision is extremely rare for a band of Kill It Kid's youth.
——————————————————————————————
——————————————————————————————
Kill It Kid – Send Me an Angel Down

[audio:http://mineorecords.com/mp3/kkid-sen.mp3]
——————————————————————————————
——————————————————————————————