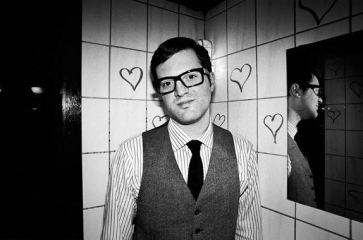 In an age where audible masculinity is often associated with loud guitars and aggressive screaming, you are really putting yourself out in the open (and taking a few commercial risks) by shaping your vinyl records in the shape of a heart. Sociological standards have changed just as much, if not more, than music in the past seven decades, and to associate hearts with music nowadays seems to either involve Disney's latest abstaining sensations or overly adorable indie-pop. Thus, to expect something modern-sounding out of Drew Cohen, better known Mayer Hawthorne, might be premature. After all, this is the same guy who asked his label, Stones Throw, if they could press his debut single like Bobby Caldwell did in the early '80s, when his vinyl was pressed into the shape of a heart. The reason? Simply because the songs dealt with love. Taking a cue from a blue-eyed soul songwriter like Caldwell seems apt for Cohen, even if his his primary influences are actually scattered throughout the '50s and '60s. What is amicable among these soul songwriters, though, regardless of whether they originated in the '50s or '80s is the prevalence of ardency, even if it takes away a lot of the masculinity that rock 'n' roll instills. But for those music fans that are truly fans, this should be irrelevant. In the case of Cohen, the lack of self-concern is a breath of fresh air.

Detroit's prominence nowadays mainly arises from high crime rates, but anyone without knowledge of the city's illustrious musical history has a lot of great acts waiting for them (most of which they probably know). In that sense, it is one of the richest cities in the nation. The city has seen plenty of great rock acts – from Iggy & the Stooges to The White Stripes – emerge over the past couple decades, but perhaps Detroit's most embodied sense of musical history was its role during the explosion of R&B and soul in the '50s. Motown Records, important for both its role in racial desegregation and massive corporate success, is home to Detroit, as were artists like Smokey Robinson and The Temptations. The role of Detroit in building a foundation for future soul artists was integral. As a result, you can imagine the influence it had on the Detroit kids that were growing up in the '50s and '60s. Being surrounded by such a stylistically invigorating phase must have been invigorating and utterly memorable. For the artistically inclined growing up in Detroit, seeing the simultaneous abundance of rock 'n' roll, R&B, and soul from the early '50s toward the late '70s must have left a unique impression, one that perhaps made their future endeavors considerably more eclectic and nostalgic than their peers.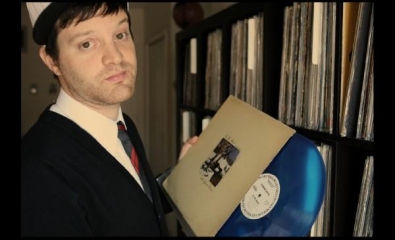 Growing up just outside of Detroit in Ann Arbor, Cohen's childhood was surrounded by music. And although he was born too late for Detroit's legendary era of rock and soul (he grew up in the '80s), his father was not. A full-time owner of an auto-parts store and part-time musician, Cohen's father introduced Motown to him at a young age. They would listen to Motown together on his way to work, with the younger Cohen asking his father dozens of questions for each song that came on the radio. The father would gladly respond with all the answers, igniting his son's passion for music in the process. The '80s was not an era when Motown was being played continuously on the radio, but we can all thank Mr. Cohen for being a bit behind the times and exposing his son to music that would eventually separate him from his peers in his musical career. It is ironic how something deemed as "outdated" can lead to freshly concocted ideas years afterward, perhaps showing that influences are never really outdated at all. Cohen's father still unsurprisingly plays in a band back in Detroit, while he has been turning heads with his Mayer Hawthorne project. Originally started for pure fun, playing soul favorites for family and friends evolved into something more for Cohen. Considering Cohen had spent most of his time prior working as a DJ for underground hip-hop group Now On, some could say that his foray into soul music was like discovering a latent talent for the first time.
A fan of everything from hip-hop to grunge, Cohen's interpretation of neo-soul on his debut A Strange Arrangement borrows both modernistic and retro components of pop and Motown to establish a release that separates itself from contemporaries like Raphael Saadiq and Lee Fields. The self-titled track is one of the album's most stunning, taking the signature layers of Motown orchestration to produce a smooth and heavily seductive mixture of brass, piano, and guitars incorporated into a stunning rhythm section. The rhythm sounds casual and slowly paced, but the way it leads and develops the track's peaks under Cohen's absolutely stunning vocals is unforgettable. The main hook, signaled by the abrupt descending of bass notes, recalls The Stylistics and other Philly soul groups that treated listeners with smooth subtleties and lavish orchestration. "But I can't stand by while you break my heart in two," he laments during the hook, solidifying the timeless and old-fashioned gripes of unrequited love in ways so sincere that today's youth is hardly familiar with it. This track is extremely reminiscent of the past, but many others on the album do assume a more contemporary standing.
"Just Ain't Gonna Work Out" was the first song completed for the album and the one that prompted Stones Throw to commission Cohen for a full album. This one applies more swiftness and gradual guitar work, with the falsetto and backing vocals being more up-to-date with modern blue-eyed soul artists like Jamie Lidell. Meanwhile, "Maybe So, Maybe No" utilizes some crisp brass incorporated with funk (à la Matthew Herbert) to showcase some very intelligent songwriting. "Green Eyed Love" is quite fascinating for its hazy keyboard lead and updated production, sounding more along the lines of a stripped-down Gnarls Barkley than a '60s soul artist. It always works though regardless of contemporary standing, and that in itself justifiably shows why A Strange Arrangement is one of the most enjoyably accessible debuts of the year.
——————————————————————————————
Mayer Hawthorne – A Strange Arrangement
[audio:http://mineorecords.com/mp3/mhaw-ast.mp3]
——————————————————————————————
Mayer Hawthorne – Just Ain't Gonna Work Out
[audio:http://mineorecords.com/mp3/mhaw-jus.mp3]
——————————————————————————————
Mayer Hawthorne – Green Eyed Love
[audio:http://mineorecords.com/mp3/mhaw-gre.mp3]
——————————————————————————————