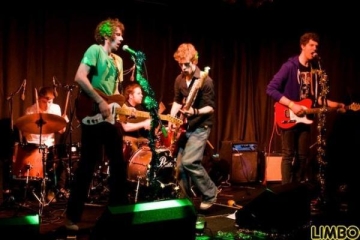 Identifying the differences between concise indie-rock and avant-garde developments are more complex than analyzing track's duration and selection of instrumentation. There are supremely talented musicians in each spectrum, with their method of choice usually being dependent on inspirational or influential precedents. But when we try to compare the Spoon's and Phoenix's of the world to a group like Animal Collective, it is more ideal to simply say that two produce indie-rock and the other puts out experimental indie-rock. To define something as experimental is usually subjective after all, though the ambition of certain artists will always remain indisputable. But when we use that term, it tends to designate an artistic technique that is either derivative and manipulated to wildly innovative means or entirely original in that it accomplishes something singularly unique despite some minor miscues (which are to be expected, as they can eventually unfold as a contributory entity). Each spectrum occasionally overlaps with one another, but for the most part the concise rockers and audible scientists remain consistent in separating themselves in the fact that experimentation has little to no commercial allure. I am not referring to the readers of this site or others similar, as they tend to exist outside commercialism's grasp, but rather the ones that rely on advertisements and incomplete samples to form an opinion surrounding their potential interest in an artistic topic.
As consumers we tend to eliminate the mere idea of trying something more than once if the previous endeavor was not worthwhile, leaving many musicians with an unfair disadvantage in selecting their stylistic output. There is a generalization to group all music that surpasses commercial expectations in the realm of experimentation, which is quite rash considering it is one of the only genres where no prior template is possible to work off of. Sure, you could say Animal Collective borrowed components from The Beach Boys and Paul Simon among others, but there is no exact science in determining whether an artist has utilized the precise same template as a peer. It may be similar to another, but like a fingerprint there is not one exactly like it. Jesus H. Foxx could say that their influences had a role in their sound, but their uniqueness comes in their ability to border between punchy indie-rock and thought-provoking experimentation with seamless precision. The result is one of unparalleled, ceaselessly exciting awe. It sounds familiar and nostalgic while concurrently providing refreshing ideas to pop music that have delighted my ears in addition to the majority of critics that have stumbled across the British septet thus far.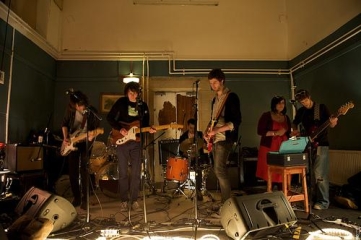 Originating in the summer of 2007, Jesus H. Foxx was primarily the remnants of several fallen bands around the Edinburgh area. The collection of longtime released their debut 7", Tightt Ideas, in 2008 as a five-piece in before acquiring two more members. They now consist of two drummers, three guitarists, a bassist, and a cornet/glockenspiel player as a result. Self-admitted fetishists of American experimental indie-rock in the vein of Animal Collective and Deerhoof, they appear indebted to groundbreaking innovations equally to accessible, psychedelic-minded pop music. This remains particularly reminiscent of Arthur Russell, whose work was so uniquely ambitious that it would be impossible to hear it prominently within the work of others unless they were sloppily ripping him off. His influence on this group, like the others, is more subtle and only prevalent to those familiar with his work. But like Russell, you can hear the seven members of Jesus H. Foxx aligning their pop ideologies with otherworldly, impressively intricate structures and developments.
Jesus H. Foxx's new release, Matter, expands upon the impressive territory of Tightt Ideas by diversifying the six tracks on the release. To begin with where it ends, the last two songs on Matter are particularly reminiscent of this aforementioned Russell influence, particularly in the way they both use reverb and unconventionally tuned instrumentation. The self-titled track sees little more than a mumble initially to serve as a vocals, but as the track progresses with the echoes of an acoustic guitar overlapping beautifully over twinkles of keys and spatters of percussion it becomes apparent that Jesus H. Foxx is a group that plans meticulously. The rest of Matter is divided between accessibility and experimentation, with "I'm Half the Man You Were" and "Trying to Be Good" almost stealing the show. Both show a clear Talking Heads influence, in the vocals obviously with the deep oh-so-cool Verlaine tone but more prominently in how the track builds on infectiously concise guitar progressions and pleasurable eruptions deriving from the rhythm section. With female vocals coo-ing behind the snazzy Tom Verlaine-Michael Gira hybrid lead, it makes for a remarkably addictive effort. Jesus H. Foxx takes cue from songwriters like these, who apply strong pop foundations with intricately bizarre influences to create music that is sometimes confusing and a bit overwhelming, but for the most part Jesus H. Foxx are excitedly progressing into an act that we would be wise to keep an eye on.
RIYL: Animal Collective, Talking Heads, Deerhunter, Atlas Sound, Pavement, Arthur Russell
——————————————————————————————
Jesus H. Foxx – I'm Half the Man You Were
[audio:http://mineorecords.com/mp3/jfoxx-imh.mp3]
——————————————————————————————
Jesus H. Foxx – Trying to Be Good
[audio:http://mineorecords.com/mp3/jfoxx-try.mp3]
——————————————————————————————
——————————————————————————————