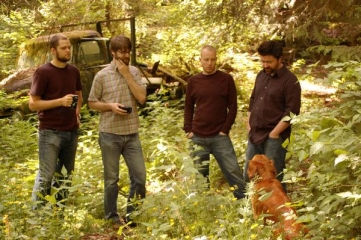 We are all part of a certain generation, whether it involves flower children or hair-metal. I was born in the late '80s, so I found myself in between the phases of hair-metal and the revolution of home gaming consoles. What many of us remember so fondly about our childhoods are the hobbies that captivated us, no matter how embarrassing or odd they were. Along with baseball, playing Super Nintendo was one of mine. It is rare when something captivates parents and children alike, but being able to play complex video games in your home was something I remember amazed both my parents and I when it hit in the early '90s. Along with the rest of the gaming world, Street Fighter was one of the games I played to death. And although I have not been interested in video games for a few years, I can still recall some specifics that made my 12-year-old mind spin with delight. Maybe this is why M. Bison were so brilliant in choosing their name. As a bunch of 20-somethings, what better way to appeal to your target audience by naming your band after a video game character that will immediately instill nostalgia to the bulk of your potential audience? A looming video game character that aspired to be the world's next evil dictator, M. Bison was hardly the cuddliest hero from the childhoods of most kids that grew up in the '90s. But as a band that grew up in the era, who wouldn't want to take advantage of that?
Songwriters Brian Kinsella and Jeff Grant were friends in high school, but the commencement of M. Bison did not occur until after their college days. Both had recorded demos in the seclusion of their dorms and eventually combined to release their debut EP, Not Bad!, in late 2007 with bassist Chris Jones and drummer Daniel Braithwaite. Below are a few tracks from their debut full-length, set to be dropped in December. As the bubbly infectiousness of "All Things to All People" indicates, M. Bison's sound is modern and accessible, with guitars empowering a polished fusion of synth-pop and indie-rock that resembles Ozma, Weezer, and other acts specializing in power-pop hooks with backings of synth-pop and indie-rock. In this track, the bridge that joins synths with guitars embodies their motive in eventually readying for utter cohesion, indicated here by the unbiased use of piano. Its catchiness is irrefutable, and should lead to some airplay on college radio as a result. "Elves Sing La La La" is too full-bodied and dexterous for that type of exposure, but in showing the group's songwriting and performing strengths it is highly impressive. Its tireless, energetic type of spontaneous guitar-led rock reminds me of early Sparks albums like Indiscreet and Kimono My House, a testament to M. Bison's wide array of influences from the '60s (The Beatles) to the '00s (Dr. Dog).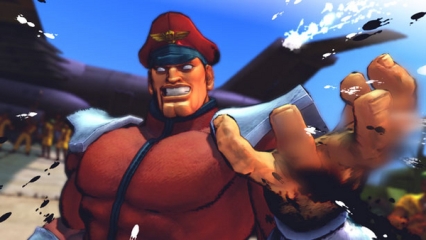 "Going Home Soon" plays to their more sincere side, using little more than an acoustic guitar and percussive hop to establish the feel-good acoustic harmonics of a Jason Mraz or Jack Johnson. It is a pretty elementary pop song but Kinsella and Grant offer some phenomenal vocal harmonics to spice things up a bit. It is probably the weakest of the samples, if only because of a song like "Samurai Showdown" shows that the group can create some majestic works that tower in comparison. This one falls along the lines of The Flaming Lips or Avalanches in their alignment of outdated clips with futuristic takes on electronic music. The latter part of this song shows this with its clips from "Kids Say the Darndest Things!" meshing with a variety of synth progressions, but prior to that it falls with '60s pop revivalists in the vein of Dr. Dog. The middle of the track uses the flimsiness of the introduction to introduce great expansion in the form of intensified guitars and greater vocal melodies with even greater intensity. The melody is distinctively throwback, but what makes M. Bison so nostalgic is not only their name. How the same group is able to produce "Going Home Soon" and "Samurai Showdown" traces back to the days when the word "eclectic" was not used as a rare complimentary word, but rather a common characteristic of most active artists during pop's heyday.
——————————————————————————————
M. Bison – All Things to All People
[audio:http://mineorecords.com/mp3/mbis-all.mp3]
——————————————————————————————
——————————————————————————————
M. Bison – Elves Sing La La La
[audio:http://mineorecords.com/mp3/mbis-elv.mp3]
——————————————————————————————