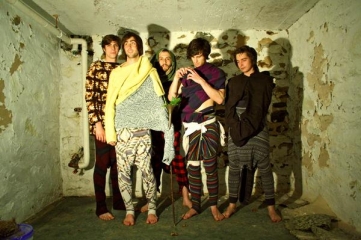 I was a bit weary when Bishop Allen began their EP project, where they released an EP once every month for the entirety of 2006. Why rush artistic integrity and spoil the chances of a full-length masterpiece in the process? Many listeners probably had a similar first impression, but when hearing the type of content that the Brooklyn-based duo produced throughout these 12 EPs it began to make sense. They almost resembled lo-fi bedroom recordings with their amiable DIY dedication, their infectious indie-pop being led by an array of crackling guitars and pianos. Although the sporadic stream of releases prevented much press since most music publications would not dare review the same band every month, the concept alone generated plenty of recognition that brought acclaim for both the band's work ethic and stylistic focus. To keep listeners coming back every month for a release that hardly varied in style was quite an achievement, and in doing this it represented the duo's cunning songwriting ability. After the finale of this EP project, it was hardly a surprise when Bishop Allen landed a respectable label deal with Dead Oceans (which involves people from Secretly Canadian and Jagjaguwar) because of this new acclaim.
A Brief Smile are another group out of NYC attempting a similar concept, except this time without the major indie backing and promotion that Bishop Allen had. A Brief Smile has already released three EPs this year, one each on the first Friday of May, June, and July. Whereas Bishop Allen had previously established substantial recognition with a full-length debut in Charm School before undertaking this adventurous approach, A Brief Smile are generally unknowns still looking for their breakthrough. An short 7-track debut, R.E.S.T., was released in 2005 before a full-length album, Now We All Have Horns, appeared in 2007, but there remains a vague enigma surrounding this group. Each of their three EPs this year represent varying stylistic approaches, leaving a sense of unpredictability that can only be positive for a group as young as A Brief Smile, who all met while attending NYU. The estimations surrounding their next album cannot be conventionally hypothesized, as bassist John Carnes explains. "These albums are all different from one another sonically but I think if you really listen to the lyrics, you'll find commonalities – a kind of narrative that goes from creation to destruction to creation." This kind of stylistic multifariousness that A Brief Smile have shown despite a limited number of release is what makes them so promising for the future.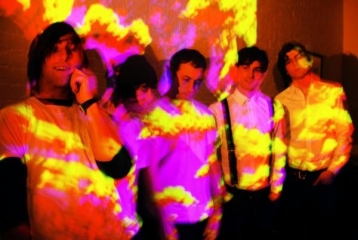 A Brief Smile's absence from touring since August can likely be contributed to whispers of a full-length release. The five-piece is now at work on "a dance record" that uses "dark chugging synths" to pave the way for a return to the band's pop roots, set to be released sometime in 2010. This return to their pop roots is in reference to their earlier material, which is in slight contrast to the tinge of indie-psychedelia displayed on Sunshine State, the most recent of their three EPs this year. "Animal Magnetism" shows off this psyche side quite well in addition to the five-piece's versatility. "Do you believe in the hope of a magnetic soul?" DL Tashjian sings over impulsive stuttering of keys, assailing guitar riffs, and bursts of tuned-up bass. Tashjian's vocals are crisp and delightful, adding melodic variations of vibrato similar to that of Jim James, though comparisons to the powerful quiver of Brandon Summers (The Helio Sequence) is more apt due to the shared uses of soaring melodies within a sparkling blend of indie-rock and electronic-rock. A track like this can be accredited to indie-rock with its conventional structure and length, but at times the soaring guitars make it feel like more of a post-rock effort. When all the instruments condense in the last minute over the hectic pattering of percussion and Tashjian's echoed moans, it feels as if a ten-minute epic had just concluded. I mean this in the best way possible too; it is a song that makes time move slower due to its psychedelic leanings, while hardly abiding by the stereotype that enjoyment is best identified by time passing quickly.
"Bigger Lies" continues to tout its psychedelic influences like "Animal Magnetism" did, promoting its 4:20 length quite nicely. This is an extremely developmental effort, with a bass-keyboard fusion providing a leading melody that is no more than four notes. This unfolds as expected though, and judging how effective A Brief Smile are in exposing . You can just feel the anthemic section of "Bigger Lies" unfolding as the track progresses, the rhythm section hinting at possible bursts of melodic variation. Tashjian's vocals continue to solidify any lack of variation that may occur during the track's early goings, providing plenty of dramatic flair before interesting harmonic combinations and rhythmic appliances are utilized to establish "Bigger Lies" as one of the most convincing efforts of A Brief Smile's career thus far. It should be the first of many monumental successes for this group . I honestly believe that this tracks will go overlooked simply because songs on 3-song EPs from unknowns generally tend to be disregarded. If these were perhaps put towards their eventual full-length then more exposure would have been imminent, but looking at these three EPs it was clear that A Brief Smile did this for their growing fanbase and not for commercialized potential. With A Brief Smile now hard at work in the studio, we have a gem like Sunshine State to tide us over until their dark, synth-savvy follow-up is released in 2010. Download a few of their EPs for free here or there until then; this level of quality is rarely distributed for free so take advantage of it.
RIYL: The Helio Sequence, Dirty on Purpose, The Happy Hollows, My Morning Jacket, Snowden, Annuals, The Main Drag
——————————————————————————————
——————————————————————————————
A Brief Smile – Animal Magnetism
[audio:http://mineorecords.com/mp3/smile-ani.mp3]
——————————————————————————————
A Brief Smile – Honeycomb Shrinking
[audio:http://mineorecords.com/mp3/smile-hon.mp3]
——————————————————————————————