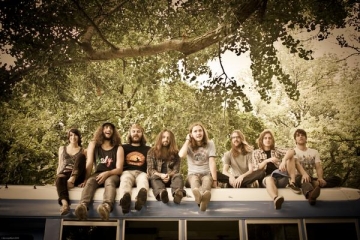 To describe Aficionado as a sudden output of energy would probably the most accurate, as I doubt many bands possess the cumulative energy of this aspiring ten-piece from upstate New York. Ten members who play everything from exotic woodwind instruments to roaring guitars is not a common group composition after all, so when Aficionado takes the stage I can only imagine what goes through the audience's minds. It would appear to have such a high potential for sloppiness or thematic pretentiousness based on the visual presentation alone. Laura Carrozza, backing vocalist and flute player, stands apart from the rest of her band members, most of them looking like a mixture of truckers and '70s revivalists with their long bears and sloppy exterior. What resonates from this collective turns out to be to the contrary though, as this group impresses through a series of highly excitable tracks that embody original ideas and delicious hooks without ever treading too long or too intricately.
Taking a cue from punk acts of the early '90s like At the Drive-In, Aficionado may initially impose whispers of post-hardcore and/or emo that may scare off many listeners accustomed to indie-rock. What I hope is that listeners give Aficionado a chance, as further listening shows that their ambition spreading across several genres makes them more comparable to groups like Slint, The Pixies, and Chavez. These, of course, are all artists that were integral to the development of today's indie-rock. Aficionado are simply infusing a slight touch of early '90s punk (though only the good kind). They make it easy for the desperate journalists by calling their special blend "progressive-indie". Forming in 2004 amongst a group of close friends, Aficionado blended these influences with tight chemistry and emerged with a well-received album, Circus Music, in 2008. Critics noted the release for its enjoyable energy and strong musicianship, even if the songwriting did not correlate with the potential quite yet.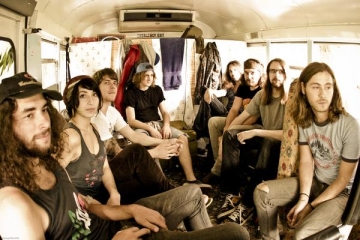 Their new EP, The Myth About Real Life, was produced by Don Fury in Troy, New York, which is about a ten minute drive from their native Albany. The opening, self-titled track is one that possesses the energy of favorites from Circus Music, with an even more expansive approach that results in newly cohesive song structures in alignment with the impressive multi-instrumentation. The initial brass sounds like an intro to a ska track with its thumping progression, only until a saxophone emerges with a seductive whimper to accentuate the jazz influence. The lead vocals of Nick Warchol emit a nasally, whimpery croon that shows a surprising amount of range among the powerfully alternating structures. The group's ability to sound anthemic is inarguable. Carrozza's backing vocals apply to this standard on both the self-titled cut and "The Same Original Idea".

"The Same Original Idea" increases the dramatics with its introduction as Carrozza frequents more solos and verses over the fragile progression of a piano and delicate woodwinds. What sounds like a potential ballad eventually turns into the same balls-out, rock-filled atmosphere of "The Myth About Real Life"'s heightened moments, only this time with more unpredictable guitar-based transitions that resemble the progressive-rock of Yes, King Crimson, and other prog-rock forefathers. "It was a million and one of the same goddamn thing," Warchol gripes. The intensity is raw and pure, only eclipsed by the powerful instrumentation and angelic interruptions from Carrozza. "I Don't Believe We Met" continues in this fusion of post-hardcore, indie-rock, and progressive-rock, showing some epic ambitiousness in the use of keyboards and guitars similar to "The Same Original Ideas". And although some ideas on the songs tend to repeat themselves in use, the varying approaches make it impressive enough to enjoy with ease. Catchiness and musical chops may eclipse groundbreaking stylistic integration for Aficionado, but with the chops of ten similarly-minded musicians at your disposal it is probably for the better.
RIYL: Slint, At the Drive-In, Yes, Kansas, The Hold Steady, King Crimson
——————————————————————————————
Aficionado – The Myth About Real Life
[audio:http://mineorecords.com/mp3/afic-myt.mp3]
——————————————————————————————
Aficionado – The Same Original Idea
[audio:http://mineorecords.com/mp3/afic-sam.mp3]
——————————————————————————————
Aficionado – I Don't Believe We've Met
[audio:http://mineorecords.com/mp3/afic-ido.mp3]
——————————————————————————————