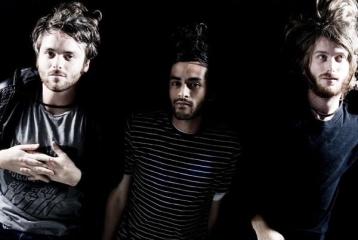 It would be nice if all New Yorkers were given next week off for the sake of new music. CMJ's Music Marathon is already intimidating enough with hundreds of artists on the roster, so with classes and work getting in the way it would be pretty nice to devote a whole week to new music instead. This nutty but alluring proposal aside, many of the groups playing next week are getting their first big break, a treat for audiences to be involved in. As a result, those attending will likely be more receptive to the potential and effort the artist may display or put forth, rather than instantaneous quality. Yesterday's feature of Tim Williams was exemplary of an artist who put his first taste of CMJ exposure five years earlier to good use. Although he has yet to become a brand name, watching an artist live that you hypothesize to be prominent in a few years provides a unique feeling that is only rivaled by the discovery of a release produced under similarly deprived circumstances. Artistry is one of the few aspects of humanity that permits hunger and desire as beneficial forces and, although we never want well-deserved artists to go by unnoticed, we assume an unspoken role as listeners to spread the word about quality music. This site itself is a representation of that attempt, and comprehensively accessible festivals like CMJ are able to provide the wonderful feeling I get after writing about a band that I am positive will be adored by most that pass by this site.
Another great thing about CMJ is the amount of related e-mails I get for it. Since the majority of these groups are simply looking for exposure, the amount of invitations I receive is a nice source of entertainment for awhile, even if it makes me somewhat weary. Not so much because it is flattering, but instead due to my own time constraints and the many artists that have the potential to be breathtakingly original (if they have not reached that point already). To miss out on one because my inbox is full would be quite unfortunate. I have no clue what to attend during CMJ on the days I actually am available, so going through and listening to the artists beforehand is really the only form of judgment I and others can go by. This is what I do regardless though, so stumbling across a group like Midnight Juggernauts thanks to a CMJ invitation demonstrates how live appearances have both a direct and indirect effect on an artist's exposure. Even if I were to not attend due to disinterest or personal conflicts, the mere fact they are appearing in the festival led me to their latest release, an EP by the name of This New Technology. Judging by the concise but impressive showing of the EP, perhaps I should clear my schedule for one of their CMJ shows.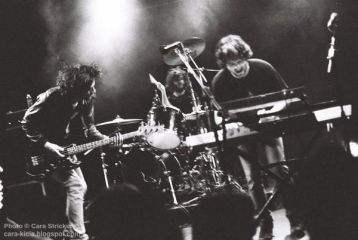 Quite simply, Midnight Juggernauts are worth it. The title of their EP is good indication of their advanced stylistic trends, simultaneously emitting a fury of dance-rock in the vein of Cut Copy and hazy '90s alt-rock reminiscent of early Suede or Manic Street Preachers, when drugs were influencing a sound influenced by both psychedelia and glam. Drug use is hardly advised but in some artistic instances it can serve as a beneficial supplement, shown throughout the recording of Suede's Dog Man Star or even The Beatles' transitional stage into works later classified as psychedelia. You can find a similar sort of revised psychedelia in the work of Midnight Juggernauts, even though they remain more sample-friendly and uptempo than many of these predecessors. Their pulsating bass work is more reminiscent of layered synths than anything, but the interesting decision to implement organs, varied guitar work, and a vocal delivery that would fit more aptly in the world of arena-rock make Midnight Juggernaut something of an unconventional success. Their debut, Dystopia, showed their blend of synth-pop and alt-rock for the first time in 2007, serving as one of the few electro-rock debuts that were polished full of confidence. The Tough Alliance and Cut Copy come to mind for this decade, but since the days of Massive Attack and Depeche Mode electronic-rock has dwindled into a more predictable entity that allows considerably more room for error.
Midnight Juggernauts defy such limitations on This New Technology, starting with the gorgeous self-titled cut. "This New Technology" already made a big splash in the blogosphere in late September, but this should do well in tiding you over until the EP's release in November. A jaw-dropping effort, its integration of bubbly synths into chirps of brass and reverbed guitar licks may sound on paper like another typical indie-rock effort that mocks Cut Copy, but the advances this trio has made here makes for more than that. On Dystopia the group were often criticized for making their song structures too predictable, with verses often relying on vocals and choruses using more melodic forces of instrumentation. "This New Technologhy" rides on similar utilization of bass as the debut, but the interaction between guitars and organs here is what establishes it as a uniquely phenomenal effort. The vocals are also noticeably more empowering than on the debut, and the group's newly acquired experience with structural alteration truly shows here as it makes the seamless transition between punchy dance-rock and hazy psychedelia. "Fantastic Valleys" is strictly instrumental but goes far in showing the listener even more stylistic growth, as the percussive intricacy and avant-garde keyboard work are new improvements for the trio. I am not quite sure whether it would sound more appropriate for the Goonies soundtrack or a film set in 2500, but those keys sure bring out feelings of both elusiveness and futurism in their unpredictable placement and synthetic tone. Midnight Juggernauts have made obvious improvements that should drive plenty of hype in anticipation for their forthcoming full-length album, set to be released sometime in early 2010. At the very least, they made me and others want to clear their busy schedules for a few CMJ appearances.
RIYL: Cut Copy, Manic Street Preachers, Suede, Giorgio Moroder, Scissor Sisters, Air, The Rapture
——————————————————————————————
Midnight Juggernauts – This New Technology
[audio:http://mineorecords.com/mp3/mjugg-thi.mp3]
——————————————————————————————
Midnight Juggernauts – Fantastic Valleys
[audio:http://mineorecords.com/mp3/mjugg-fan.mp3]
——————————————————————————————
Midnight Juggernauts – This New Technology (Emperor Machine Remix)
[audio:http://mineorecords.com/mp3/mjugg-thir.mp3]
——————————————————————————————