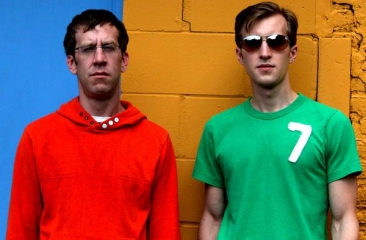 We are producers. We make music for you. This is what UltraChorus convey on their web site, almost sounding like they cater to artists more than listeners in doing so. Such circumstances have the likelihood of create hazardous listening barriers, but in the realm of electronic-pop music it can actually make the process more seamless and enjoyable. Their "for-artists, by-artists" approach primarily relates to the handful of remixes the Minnesotan duo has released thus far, the artists including Phoenix, The Presets, and Daniel Merriweather to name a few. It would be easy to call UltraChorus – and other recent acts focused on remixing – a desperate plea for artistic individuality in the skewering of one's work to compensate for your own lack of creativity, which is of course true for some. But in UltraChorus' case, their first full-length release of original material shows how their experience with remixing contributed to an enjoyably individualistic sound that undoubtedly benefited from both practiced working and listening methods.

Electronic music, like any genre, requires practice and trial-and-error to increase one's skill. However, considering that the genre relies on more intricate technology, one could make the argument that a melodic ear and great songwriting craft are not as prioritized as one's technological grasp. In experimental music this can easily be the case, but when keeping in mind the implementation of pop music there remains a sense of simultaneous attentiveness that would result in generic placidity if ignored. Hot Chip, Chromeo, and Phoenix are a few examples of artists that maneuvered these waters successfully, and UltraChorus follow their footsteps in relaying a fun and infectious form of electro-pop that blends seductive R&B with tinges of art-rock and dance. This blend has been mashed together before, but UltraChorus' prior familiarity with the practice of remixing leads to certain components that one would be hard-pressed to find in most other electronic acts. With this arises a question of whether UltraChorus or more electro-pop (Hot Chip) or art-rock (Phoenix). Perhaps certain technology at their disposal can reveal this.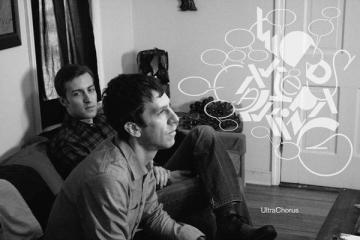 Vocoders have been damned to hell by most "savvy" listeners by now. I agree with them for the most part, except when an artist executes it like UltraChorus have done on Ultra-Def. An example like this brings to mind how it is not the technology we detest that results in failures, but rather the culprits that misuse a device or method and provide it with a negative stigma. Listening to Ultra-Def in full will reveal UltraChorus as one of the good guys, using the vocoder not as a means to disguise melodic flaws but rather as a stylistic additive and songwriting tool. The opening "Scarlet Eyes" is shrouded in disco-infused bass lines and fragile piano progressions, making the vocoded element somewhat of a flash toward modernity. Like Pet Shop Boys, UltraChorus are able to turn electronic-pop into a meshing of several decades, this case being a fusion of '70s pop and general balladry. The vocoded element is subtle and used somewhat sparingly in accordance to the track's respective hook, and when it is utilized it provides a surprisingly refreshing take on electronic-pop without sounding too desperate for commercial attention.
Fans of the previously featured Pacific! are bound to fall in love with UltraChorus. That same sort of Swedish electro-pop wizardry with its glistening synths and heavily danceable rhythm section is prevalent, even if these two guys are from Minnesota. The same simultaneous focus on technical and pop-minded ideologies is evident though, as the diversity on Ultra-Def can show. "Bestin the Farther" tends to expand into flourishes of strings over its rigid keyboard progression; the vocoder is again featured to spice up the chorus' emphasis on synthetic constructions. The subsequent bridge, featuring sped-up vocals over warbled synths, also tend to benefit from the device in its translation to a rhythmically complementary component. Swanky efforts like "Yucatan Peninsula" and "HouseParty5" benefit from sparse keyboard arrangements that are complemented by occasional bursts of bass, which always seems to be at its lowest tone possible. How the high pitches of twinkling synths collaborate with the lower resonates of bass is outstanding in crafting a serenely supreme atmosphere, paving the way for plenty of hooks in the process. "Hope that someday we'll meet at that little cafe at the end of the street," the vocals hopefully implore during the track's final moments, attempting to make the daydream less of a dream by subsequently asking cream or sugar. The musings are simple and easy to understand, but the music resonates deeper than expected.
Although a mere three tracks are sampled here, I would strongly recommend all fans of electronic-pop to pick up Ultra-Def by Ultrachorus for the rest. What may sound like just another vocoder-aided electro-pop act will provide a treat upon extended listens. This is the rare type of pop music that emerges most prominently after familiarity reigns. Once you become accustomed to the album's efforts, the element of predictability seems to coincide beautifully with the album's concept of straight-laced hooks, simple-minded relations, and irresistible bouts of infectiousness. Ultra-Def is a remarkable effort by a Minnesotan duo that is poised for success.
RIYL: Pacific!, Hot Chip, Phoenix, Squeeze, Chromeo
——————————————————————————————
——————————————————————————————
——————————————————————————————
UltraChorus – Bestin the Farther
[audio:http://mineorecords.com/mp3/uchorus-bes.mp3]
——————————————————————————————