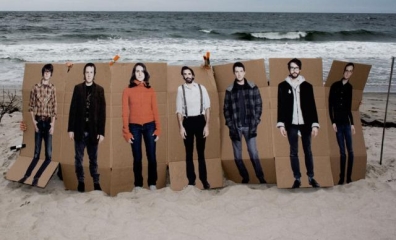 I was so enamored with The Silent League's second album, Of Stars and Other Somebodies, that I wrote about it twice within several months. I rarely feature an artist more than once in the same year, but the lack of awareness surrounding Justin Russo's project was alarming considering its unlimited potential. Although its focus was a delightful interpretation of orchestral chamber-pop, Russo's eclectic stylistic tendencies often pushed through to add elements of psychedelia, alternative-rock, and folk music that differentiated the material from its similar contemporaries. Tracks like "Let It Roll" mixed elements of country with brisk folk-driven pop for the project's most common form, with a rich twangy sound reverberating with the youthfully sullen vocals of Russo. Previously best recognized as an occasional keyboardist for '90s psyche-rockers Mercury Rev, Russo has been accustomed to genre-bending innovation for decades already. He has worked with the best of the best, particularly since many Mercury Rev members went on to become successful producers (bassist Dave Fridmann with The Flaming Lips, specifically). When realizing this shared mixture of uniquely invigorating experience and pure melodic talent, one should rationally expect giant leaps from Russo in his quest as a solo artist.
The Silent League's third album, …But You've Always Been the Caretaker, is a rather appropriate way to kick off this century's second decade. It applies futuristic themes like IBM-manufactured love and holograms with gurgling synths and occasional vocoders, but it also pays ode to Russo's rock-oriented past with influences like David Bowie, Todd Rundgren, and even Mercury Rev popping up. Reaching for the future while holding on to the past is a common characteristic of most upcoming artists, who have more technology than any previous decade but are skeptical of the consequential public reaction. Music fans develop attachments to certain genres or artists, and if an artist focuses on one linear genre then they would exclude all potential fans resistant to the genre. It is not a very good way to gain exposure, so many are not afraid to wear their influences on their sleeve. Russo's fascination with electronica has noticeably increased with …But You've Always Been the Caretaker, but the release also contains some of his most explosive ideas in regard to genres like glam-rock and psychedelia. It sounds almost like his past experiences clashing with an urge to stylistically advance, producing a mostly successful result that contains several brilliant moments.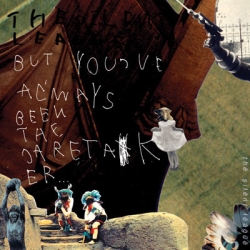 The Silent League's third album opens somewhat conventionally, introducing the listener again to Russo's string arrangements and percussive build-ups in "When Stars Attack!!!" Its thundering presence is enough to generate some excitement for its subsequent tracks, but on a whole it is merely a tease of Russo's full ability. For that, the majestic "Here's a Star" showcases both growth and stunning achievement as a songwriter. Like "Let It Roll" it begins as a simple piano melody that suggests balladry, which later is found to have no relevance on the track's true composition. This one soars and keeps flying, serving as Russo's most ambitiously entertaining effort. The Bowie imitation toward the latter half is pretty great, as the messy guitar solo and echoing twinkles of synths are reminiscent of an age where the hooks were just as flashy as the clothing. Russo's voice, which usually sounds like a higher-pitched Michael Stipe or The Pet Shop Boys' Chris Lowe, follows an untraveled path into inimitable madness. His voice was previously the most predictable element of The Silent League's tracks, but a masterful effort like this in its combining of glam-rock and orchestral-pop has made Russo's presence just as memorable. A stunning achievement, for sure, and one that is easily the album's best.
There are more positives than negatives on this album, but some tracks feel rushed or too bare. "The Ohio Winter Conventioners" initially sounds like a lullaby despite its clashing of percussion with keys and strings, where Russo's sonorous voice leads to an conclusive stomp with a percussive mess of various brass. It never goes anywhere, though, and it sounds more like novelty than melody. "Rule of Disengagement" does not have much to enamor either, serving basically as a joint collaboration between cascading pianos and distorted percussion. Its creepy melodic presence is notable, but its lack of variation is not. This is an issue on some tracks throughout …But You've Always Been the Caretaker, but there are certainly more highlights than not.
"Yours Truly, 2095" does not have the intricate breadth of songwriting that "Here's a Star" or "There's a Caretaker in the Woods" has, but the ELO cover is surely the most pure fun on …But You've Always Been the Caretaker. Russo takes advantage with his high-pitched voice with a vocoder, which considering its minimal presence throughout the album finds a rare case in acceptance because it actually makes sense on "Yours Truly, 2095". In a vocal-led digital postcard of sorts, Russo narrates a tale of robotic love in which an IBM-manufactured robot has reminded him of someone else who is real and true. The AI looks and acts the same as his neglected human love, but possesses a distant coldness that reminds us of the importance of purely human facilities. His writing to her suggests a time-traveling shift, and the pulsating keys alongside the vibrant synths pack an infectious punch that is simultaneously anthemic and danceable. It is prevalently futuristic and makes us ponder like how Yoshimi did, but almost as exciting as our technological future is the one of Russo.  An album like this, despite some rough edges, is a step forward for Russo. His musings concerning the futuristic advancements are interesting, just like the potential of his own.
RIYL: Field Music, Mercury Rev, The Pet Shop Boys, The Flaming Lips, Elk City, The Czars, Calla, Clearlake
7.5/10.0
——————————————————————————————
The Silent League – Here's a Star
[audio:http://mineorecords.com/mp3/sleag-her.mp3]
——————————————————————————————
The Silent League – Yours Truly, 2095
[audio:http://mineorecords.com/mp3/sleag-you.mp3]
——————————————————————————————
The Silent League – When Stars Attack!!!
[audio:http://mineorecords.com/mp3/sleag-whe.mp3]
——————————————————————————————