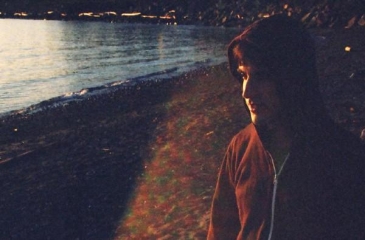 Repetition and pretentiousness are sometimes aligned in music, especially when something not even worth hearing once is repeated continuously. Listeners do not want artists forcing anything on them, especially when it is a frustratingly linear loop. The increasing abundance of quality artists like Animal Collective and Air France suggests that the genre is attaining more respectability, as this sample-led vein of pop has had more flops than successes so far. Lately though there has been an outpouring of quality from this movement, propelling it to supreme recognition in the independent scene. Psychedelia has been a primary influence in recent loop-based works, which include the recent induction of "chillwave" with the likes of Washed Out and Neon Indian. Their style is more rooted in electronica, while others like Animal Collective provide a more natural source of instrumentation in addition to their eclectic use of samples. Big Spider's Back seems more influenced by the methodology of the latter, though fascination with electronica is certainly not hidden. The one man behind the project, Seattle-based Yair Rubinstein, specializes in his variety of musical interests; his interest in everything from upbeat surf-pop to distorted noise is what makes his debut EP so captivating.
Traditionally ignited as a lo-fi bedroom project in 2007, Big Spider's Back has evolved into a stunningly enjoyable creative overflow that is collected for our delight on Warped. His debut was just released on Circle Into Square Records and is already receiving some great press. This is hardly surprising considering the style Rubinstein is specializing in, which should sound delightfully familiar to any fans of sample-led psychedelia or Swedish-sounding electro-pop. The recent surge of this suggests Rubinstein may have his album on several lists by the end of the year. Judging by the effort alone though, it is entirely deserving. Much like Air France's No Way Down EP in 2008, Big Spider's Back teases its listeners into wanting more of its gorgeous pop music before year's end. Its mere five tracks show plenty to warrant recognition, all possessing a distinctive flow despite differentiation rooted in eclecticism and melodic variation. The latter is extremely subtle though, as development and growth are the two most important attributes of Big Spider's Back. The songs on Warped develop with such precision and imagination that getting there is part of the great journey itself.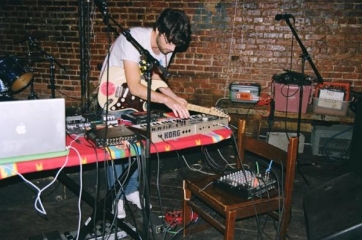 Field recordings, psychedelic production, and ethereal vocals are the prime components at work on Warped. Rubinstein employs his talents distinctively and proportionately to make all five efforts on the EP soar with ambition. The self-titled cut works around a fluttering base loop, one resembling summery indie-pop with its acoustic glow and Avalanches-like tropical enigma. This song shows how interesting Rubinstein's vocals are as well; his nasally croon is found more in rock than spaced-out pop, but the unconventional fit provides for many enjoyable moments. His voice sounds like an odd hybrid of Billy Corgan and Tom Verlaine and this creates a unique vehicle for his vocal presence. Imagine either of those two's eccentric tendencies incorporated with summery indie-pop, which is what the loops on "Warped" seem aligned with. Pulsating bass, glistening synths, and chirpy keys concoct images of greenery and sunshine as the track's atmospheric presence. Hearing Rubinstein emit his soaring croon within these circumstances is part of the allure. His pitch is more reminiscent of Verlaine, but his actually delivery falls more in line with Panda Bear. Plenty of reverbed cushion, semi-yodels, and anthemic bursts of effervescence ring from his vocal chords and it finds perfect accompaniment in tracks like "Warped" and "Perfect Machine".
The acclaimed "Perfect Machine" is more demonstrative of their developmental songwriting. Somewhat similar to how "Summertime Clothes" mastered looping a crunchy guitar loop for the masses, "Perfect Machine" is a gorgeous succession of complementary loops that are primarily grounded in acoustic and electric guitar. The first to emerge is a simple acoustic strum, followed by some light palm muting on an electric guitar. The two complement one another beneficially, fusing together rather than fighting for the spotlight. The sequence of spacey keys then emerges and does two things: it sits there and sounds pretty, and it distracts the listener as the acoustic strums subtly form a very capable rhythm section. Rubinstein's vocals enter as the keys become lower in pitch, his vocals now emitting a light, airy tone that reflects the . The undercurrents of gently plucked electric guitars provide for intricacy that is revealed in full upon future listens. A similar replay value can be said for "Don't Make Me Laugh", another phenomenal effort that applies excellent sample-based percussion with the twinkling, spaced-out bliss of The Flaming Lips' more subdued material. His vocal resemblance here to Wayne Coyne is pretty entertaining as well, and the pulsating minimalism of the track serves as an overall excellent closer to a greatly atmospheric EP. Be on the look out for Big Spider's Back; the quality of Warped makes it clear that Yair Rubinstein is here to stay.
RIYL: Animal Collective/Panda Bear, The Flaming Lips, Jesus H. Foxx, Le Loup, Air France, Ball of Flame Shoot Fire, Alias Pail, The Walkmen
——————————————————————————————
——————————————————————————————
Big Spider's Back – Perfect Machine
[audio:http://mineorecords.com/mp3/bsback-per.mp3]
——————————————————————————————
Big Spider's Back – Don't Make Me Laugh
[audio:http://mineorecords.com/mp3/bsback-don.mp3]
——————————————————————————————