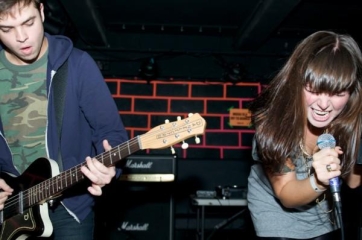 by Jay Mattson
If you haven't heard Sleigh Bells yet, you haven't been listening hard enough.  If you have heard Sleigh Bells, your hearing (and speakers) have already taken quite a beating.  In late 2009, Derek Miller and Alexis Krauss rose out of the mist of the CMJ Music Marathon and dropped a treble-saturated bomb onto the underground music world.  The band's first single, "Crown on the Ground",  is a monstrous song; it surges with an energy rarely seen in today's indie scene.  It's not surprising, though, as Miller used to be a member of hardcore outfit Poison the Well.  What is surprising is about Krauss' musical background is her involvement with girl-pop group Rubyblue.  Somehow, one part hardcore guitarist + one part pop princess = gritty, infectious noise-rock.  CMJ was the beginning of the Sleigh Bells onslaught, but it was just that: the beginning.
In early 2010, Sleigh Bells was confirmed to play both Coachella Music & Arts Festival and Pitchfork Music Festival.  Overlapping acts between Coachella and Pitchfork isn't uncommon (see Beirut in 2009 and Pavement this year).  Miller and Krauss, though, succeeded in booking two of the major indie music festivals this year without a proper release of any sort. With only a single (technically unreleased) CD-R under their belt, Sleigh Bells still managed to catch the attention of anyone who heard them.  In love-it-or-hate-it fashion, some listeners have trouble getting past their utterly forceful jams, others can't get enough (myself included).
The third track on their demo disc, 2HELLWU CD-R, "Beach Girls", shows how versatile Sleigh Bells aims to become.  While not veering from the over-the-top treble work of "Crown on the Ground", it is a different kind of noise.  Synthesizers play a heavy roll on "Beach Girls", which adds to the motif of the track and feels like a dystopian version of what a beach jam should be.  With "Infinity Guitars", yet another facet of Sleigh Bells is revealed to the tune of murky, dirty '90s rock mixed with a beat-conscious producer.  My favorite track on the CD-R has to be "A/B Machines", a song that swells with a twisted, gnarled melody that would make Jesse Keeler and Sebastian Grainger cringe with excitement.  Oddly, the 'title track', "2HELLWU", is the most soft-spoken, tender track of the bunch, with only minimal backing for Krauss' impeccable vocal style.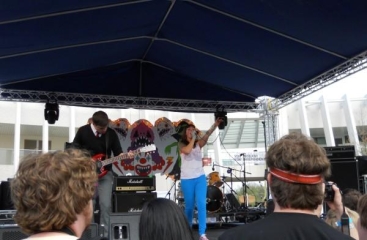 Recently, Miller and Krauss released the first single from their debut album, Treats. Aptly named "Tell 'Em", it is a confident showing of excellence.  Seeing as this track will probably be the first Sleigh Bells song heard by a broader audience, it delivers a sincere and powerful representation of the material we've already heard.  Power-guitars and smoldering drum work succeeds in destroying my speakers (yet again) while pulling me in so hard that I can't turn it off, even to save my poor Korean-brand sub-woofer from certain doom.
It's hard to categorize Sleigh Bells.  Today, a venerable volcano of lo-fi indie pop/rock has been erupting from the New York scene (see Vivian Girls, Cymbals Eat Guitars, etc.). Miller and Krauss have taken elements of this scene and infused a grandiose sense of noise and rock so succinctly that it feels effortless in the face of so many down-tempo acts who rigorously attempt to provide their own uniqueness in a sea of similar bands.  If Treats doesn't deliver, it might be one of the biggest letdowns of the year.  But that doesn't seem likely.  Sleigh Bells has, thus far, shown impressive ability to create amazing music, and that momentum doesn't seem to to be slowing down any time soon. Treats is out May 11th on N.E.E.T and Mom + Pop Records.
RIYL: Dum Dum Girls, Best Coast, Toro y Moi, Neon Indian, Real Estate, Beach Fossils, Phantogram, Smith Westerns, Titus Andronicus, Beach House, Zola Jesus, Girls, Penguin Prison, Delorean, Eternal Summers
——————————————————————————————
——————————————————————————————
——————————————————————————————
Sleigh Bells – Crown on the Ground

[audio:http://mineorecords.com/mp3/sleigh-cro.mp3]
——————————————————————————————