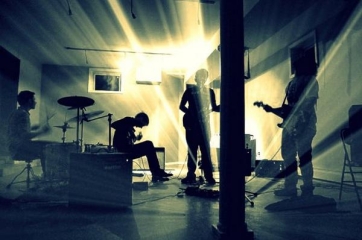 There is something very likable about Slothbear, even in addition to their name. Their sound recalls the best parts of vintage college-rock, which is presented with clarity through the band's surprisingly adept methods of self-production. The feel of restraint that is often associated with home recordings is absent on Slothbear's debut EP Qids, and instead a feeling of spontaneity is present that in every way recalls something nostalgic for the 20-something crowd. The band's four members, who are just that, are four good friends based out of Long Island. Their demeanor at this point is wonderfully playful and in no way indicative of a band with unharnessed ambition, joking that "they hope to get a 9.2 on Pitchfork" for the reason of not having to go back to Stony Brook University in the fall. This is humorous enough and probably said tongue-in-cheek, but it is also a rather apt depiction of the general thought process for college-aged bands on the heels of a debut they were very dedicated to. In the case of a release like Qids, where the band's ferocity and prevalent melodic abilities are on display, one could easily see why they would rather pursue a musical career for the time being instead of sitting in lecture halls. Unlike many other groups in their vein, they actually have a legitimate case for the pursuit.
Formed in 2008, Slothbear are still growing into their own skin after steadily improving the past two years. Early recordings, from what I heard, were typical of a new band attempting to uncover the strengths and cloak their weaknesses. The growth exhibited on Qids makes me very excited for the band's future, which seems somewhat stabilized by a mixture of creative and technical minds. Qids was produced by one of the band's members, Doug Bleek, who is graduating from NYU with a degree in recorded music this spring. He took care of the engineering and mixing, while Craig Heed, Josh Ginsberg, and Ian Miniero refined the group's sound over the period of a year-and-a-half. In that time, sharing the stage with bands like Real Estate and earning the approvals of Mike Watt and Craig Finn were a few of their accolades. They even almost got their song featured in MLB 2k10, and their exclusion is somewhat surprising since many of Slothbear's tracks are better than anything on that game's soundtrack. Nonetheless, the consideration of a band without an official release for a major video game is representative of the general perception Slothbear provide, which is that of hefty potential being steadily fulfilled through a sound that satisfies, plain and simple, without any smoke and mirrors.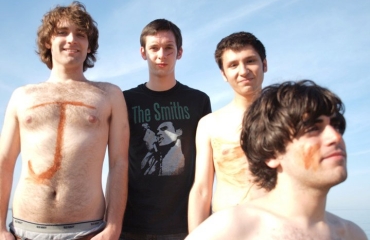 "White Christmas" in no way recalls the serene snowfalls of winter, instead offering an infectious take on holiday-themed mishaps that finds guitar licks oozing with spontaneity and vocal performances abundant with energy. Their youthful energy is predictably one of Slothbear's biggest allures, but it is their ability to manage their songwriting within this inexperienced ideology that impresses me most. "Slash the polar bear, make off with the reindeer," states a chorus complemented by the dynamically collaborative vocals of Heed and Ginsberg. "Yank the cord, emasculate. There will be no white Christmas." The hooks throughout the album are heavily prevalent in this manner, with playful verses extending into ignitions of dual-vocals, insertions of additional guitar progressions, and imminent percussive intensity. The songs make do entirely with guitars, bass, and drums, which along with this compatibly vintage style of songwriting is bound to bring up comparisons to Guided by Voices, Television, and Sebadoh.
The vocals on Qids are unconventionally melodic and somewhat similar to Tom Verlaine or Isaac Brock in their delivery. They show no hesitation to flaunt an abrupt snarl or impulsive spoken-word segment, which under any other style of instrumentation may have faltered. The influences here are so immediate though that it comes across as cohesive thanks to prior recognition, though tracks like "Don't Taunt a Tiger" blends a few of these together to create something special. When the "away-ay-yay-ay-yay" kicks into the chorus, the song resembles slick power-pop in the vein of (old-school) Weezer. The chorus on the other hand, with its repetition being guided by a bridge of intensifying percussion, sounds a bit like lo-fi electric folk in the vein of Dan Bejar (at least when they comment on Tatiana's martyr status). Qids finds several other favorable cuts as well, like "Spacey". This is an interesting stream-of-conscious spur over glistening guitar progressions that excel in their arpeggio format, somewhat avant-garde for Slothbear but still lovably accessible like the rest of their efforts. Songs like "White Christmas" show a lot of this in a nostalgic sense, while others like "Don't Taunt a Tiger" is representative of creative fusion at work. Both are just as enjoyable, and Slothbear certainly have a bright future in furthering their creativity while retaining a sound that is already familiarly enjoyable.
Download the album in its entirety for free here.
RIYL: Guided by Voices, Television, Times New Viking, Sonic Youth, Apples in Stereo, Psychedelic Horseshit, Sebadoh, Charalambides, Weezer, Real Estate
——————————————————————————————
Slothbear – Don't Taunt a Tiger

[audio:http://mineorecords.com/mp3/sbear-don.mp3]
——————————————————————————————
——————————————————————————————
——————————————————————————————