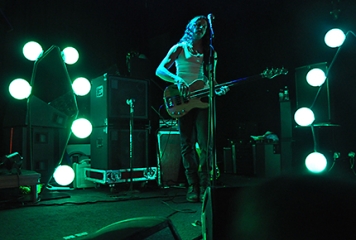 by Jay Mattson
There have been a lot of great albums this year, and it's only May.  Accordingly, from those albums have come some great songs: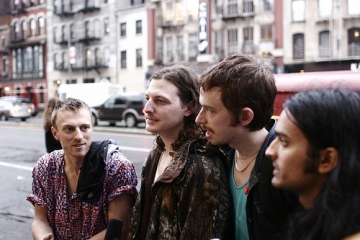 Yeasayer
Technically, this track was released as a single in 2009, but Odd Blood was indeed a 2010 release and "Ambling Alp" was the seminal track that brought Yeasayer out of indie rock obscurity and into the sights of a much larger audience.  This track's upbeat melodies, uplifting lyrics and all-around excitement inspired three incredible remixes (by DJ/Rupture, Memory Tapes and The Very Best), a week of repeated listens on my iPod and dance party inclusions.  It's hands down the best track from Odd Blood and continues to make me want to dance every time I hear it.
—————————————————————————————————————–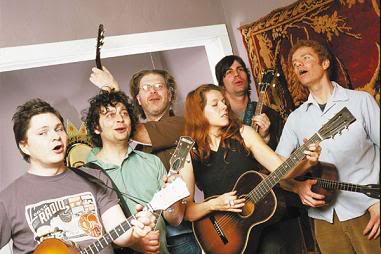 The New Pornographers
Though this album just came out at the beginning of May, "Crash Years" was all over the internet weeks prior to the release.  Like "Ambling Alp", this track is one of the finest on Together, the return-to-form album for Canadian rockers The New Pornographers.  Putting Neko Case on lead vocals was a smart choice, as her powerful style fits this song perfectly.  Whistling (a New Porno's staple) makes a prominent appearance along with a Mass Romantic-feeling melody with an insanely catchy chorus that brings the exhilaration of the New Pornographers to a level of tempered energy that translates to excellent listening.
—————————————————————————————————————–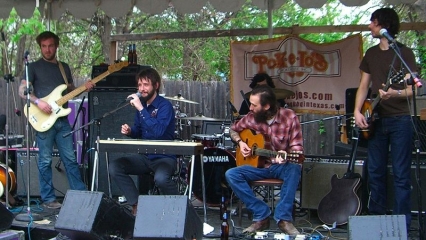 Band of Horses
Waiting for a new Band of Horses album has been one of those things that brings indie kids together.  Their last album, Cease to Begin, came out way back when in 2007 and they've been touring (seemingly) non-stop since then.  And though I've wanted a new album for a while, it was still surprising to hear that there was one coming.  I got the news by watching the video for "Compliments" and being blown away.  It starts out slow enough, but at the 20 second mark, Ben Birdwell and company crash into a bigger sound than Band of Horses has ever expressed.  Some were taken aback by the outright rock feel to "Compliments". But to me, it felt right. It felt natural for them to progress to a level of energy rarely seen before.
—————————————————————————————————————–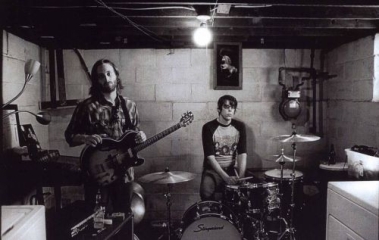 The Black Keys
I love The Black Keys.  Thickfreakness (2003) might be one of my favorite albums ever.  But I wasn't totally impressed with Brothers.  The change of pace from full-blown, raucous blues rock to down-tempo, sultry blues rock was, at least for me, disappointing.  I love the energy, the gritty, unabashed rock that Dan Auerbach and Patrick Carney can deliver.  That being said, "Tighten Up" is one of the more energetic songs on Brothers, and for that I enjoyed it wholeheartedly.  It's still not on the same level as Thickfreakness or Rubber Factory, but it highlights Carney's drum work better than many other tracks on this album.
—————————————————————————————————————–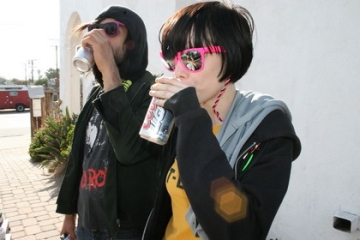 "Doe Deer"
Crystal Castles
I still miss Death From Above 1979.  Until I heard "Doe Deer", no band had come even close to reproducing DFA1979's penchant for loud, ridiculously perceptive dance-rock.  Even at 1:38, "Doe Deer" is one monstrous song, blaring forth with a force reminiscent of Jesse Keeler and Sebastian Grainger's defunct project.  Akin to "Pull Out"s length and energy, "Doe Deer" attacks the senses, but in a good way.  While the rest of Crystal Castles (II) takes it's points from the duo's first album, "Doe Deer" stands out as an abrasive, rebellious track amongst a group of songs that are simply more evolved versions of tracks we heard in 2008.  Let me clarify by stating that this fact is, by no means, a bad thing.  Both Crystal Castles albums have been phenomenal and (their personal behavior aside), this duo understands how to make infectious music and they do it so, so well.
—————————————————————————————————————–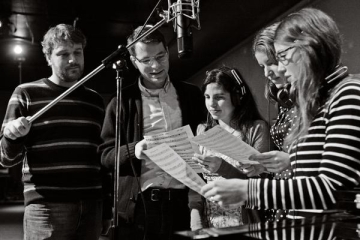 "Alone on the Pier (with Rose Melberg)"
Gigi
One of my favorite new acts of 2010, Gigi released a magnificent album of late-60s inspired songs that feel nostalgic without sounding pretentious.  It's a hard medium to achieve, but Gigi has done so with sophistication, excellent production and a slew of great guest vocalists.  While many of the tracks from Maintenant are list-worthy, "Alone on the Pier" stands out with poignant back-up vocals and unexpected lyrics about heartache coupled with an infectiously upbeat melody.
—————————————————————————————————————–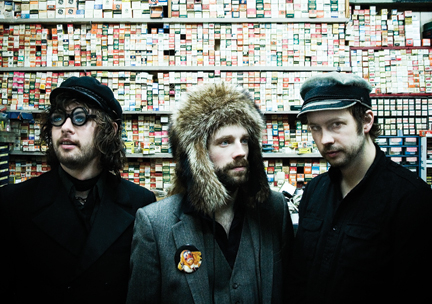 "Tom Cruz"
Plants and Animals
One of the more overlooked bands from the past few years, Plants and Animals have carved out a niche sound that's vaguely reminiscent of the Polyphonic Spree; there are fluttery vocals, sweeping big band-esque melodies toned to stoner wavelengthsm and lighthearted lyrics.  With the release of their sophomore album, La La Land, Plants and Animals find themselves delving into experimental territory, which for them sometimes sounds more tuned to rock-inspired tendencies.  Case in point: "Tom Cruz" utilizes the electric guitar better than almost any other song they've released thus far.
—————————————————————————————————————–
"Scissor"
Liars
Like tip-toeing through a minefield, "Scissor" opens Liars' newest album, Sisterworld, with haunting precision.  After a suspenseful few moments, "Scissor" blasts forth with all the force we've come to expect from Liars.  But unlike many earlier tracks, "Scissor" has a unique semblance that gives it form where there was none before.  "Scissor" slips from fury to patience and back and forth so eloquently, it's like moving into the eye of a storm and back out again.  One of the most delightfully chaotic tracks Liars has ever produced.