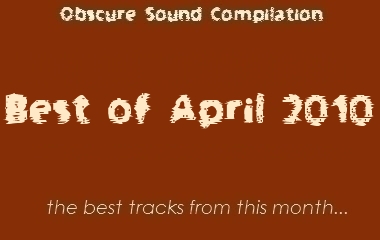 These two weeks, in addition to the two prior to Christmas, are always the busiest of the year for me. Finals are not even here yet and I already have a significant load on my plate… last night I finished writing 5000 or so words on parental incarceration. An interesting topic, for sure, but it is difficult to write about the effect of maternal incarceration on children at 4AM. Loud music and caffeine are always reliable in these instances, and while the 'Best of April 2010' includes some acts that sound hyper enough to elicit a sugar rush (Sleigh Bells and Gogol Bordello, namely), it is primarily a collection of more subdued material from artists specializing in the recent chillwave (!) movement, in addition to those like Slothbear and Librarians that are making great summer-friendly indie-rock.
I posted about Ariel Pink at the beginning of the month, mainly because I believe his introduction to be essential toward a recent stylistic trend that many consider irrelevant or are entirely misinformed about. He epitomizes, at least to me, the value of songwriting within a movement that is particularly wound up in vintage production. Many artists looking to follow suit just want to "sound" like artists like Pink and Washed Out, appearing indifferent to the qualitative factor of hooks or ambition that these artists so effortlessly display. Its glossy, reverb-heavy presentation is what has given chillwave its name, but those who will remain in this category are ironically not those who will continue to rely on this replication of past production. Instead, it will be shimmering pieces of songwriting like "Let's Build a Campfire There" that have the potential to mark one of this decade's first trends in independent music.
Bands like Secret Cities, Grimes, and Librarians present a similar ideology to that of Pink, with each of the bands' songwriting shining with potential that has been illustrated by their unanimously positive reactions on this site. They are excellent examples of the movement's flexibility, to which many relegate as restrictive due to limited types of production. With their innovation and precision though, in both their songwriting and presentation, artists like these are excelling with plenty of deserved attention. The tracks from Ariel Pink and Slightly Stoopid are both a few years old, but still are relevant (the latter solely for its summer vibe). Two other new acts, Sleigh Bells and Slothbear, received an extremely impressive reception on the Hype Machine.
Additional thanks to Jay Mattson, Max Fishkin, and Lauren Tischler for their contributions the past month. I am looking forward to reading their future material, as I hope you all are. Summer is almost here and it should be a great one.
01. Ariel Pink's Haunted Graffiti – Let's Build a Campfire There (post)
02. Sleigh Bells – Ring Ring (post)
03. Secret Cities – Pink Graffiti, part 1 (post)
04. Grimes – avi (post)
05. Slothbear – Don't Taunt a Tiger (post)
06. Slightly Stoopid – Nobody Knows (post)
07. Gogol Bordello – My Companjera (post)
08. Librarians – So What? (post)
09. The Mynabirds – Let the Record Go (post)
10. Ariel Pink's Haunted Graffiti – For Kate I Wait (post)
11. Librarians – Cranberry Palace (post)