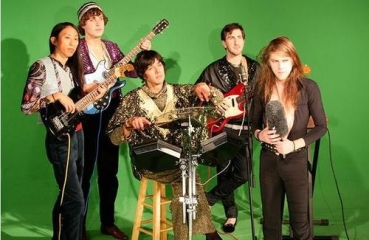 by Mike Mineo
Despite ambition's positive impact on art in general, an artist can face a large obstacle in managing to present this ambition without an ill effect on the work itself. This is applied specifically to artists that are consummate individualists, opting to record every instrument and aspect of production in their basements. These artists are trailblazers of personality on record, a stark opponent to the corporate-bound machines of today. Ariel Pink is certainly a personality on record. He is a rare exhibition of DIY recording with a technical likeness to artists that excelled in this personalized format; there are many examples of this ideology – from Todd Rundgren and Joe Meek to R. Stevie Moore and Jandek – even if their sounds are not remotely comparable. As such examples show, reclusive behavior and enigmatic presences are common characteristics of so-called "outsider artists." Pink's personality is much too boisterous for this grouping though, and this is why it becomes such an essential part of his music, for better or worse. His whimpers and yelps have no regard for conventional tone, his arrangements are almost never in ABA form, and his style of production emphasizes a demeanor that is both earnest and painfully personal. These aspects are usually indicative of avant-garde leanings, and while Pink is certainly avant-garde, he possesses a rare knack for melody that is superior to his peers. His songs manage to be infectious or, at the very least, interestingly successful even in the face of anticipated ambition. His utilization of home recording and resourceful songwriting creates an impression that is rare for DIY artists, being that of an inimitable likeness early in their career.
There is little for me to expand upon in regard to Pink's background (since I did so here), but if there was only one word of advice I could give someone about his material, it would be to focus on the music more than the demanding personality on record. One could go on about his influence on emerging genres like chillwave, and that is certainly a fine point, but I hope that aspects like this and his audible personality do not overshadow the music for some people. When listening to any of Pink's previous albums it can be an initially daunting task to focus on such, especially considering Pink's mixture of mouth-beat percussion and cassette-like production that remain far from conventional polish. How they add to a dizzying array of musical styles, from the whimpering '60s pop of "Among Dreams" to the brooding post-punk of "Haunted Graffiti" and "Gray Sunset", is consistently exceptional. And these are only examples from his breathtaking debut album, The Doldrums. The releases that followed brought more of the same innovation and variation, his gauzy production being the only constant in a thunderous unveiling of creative techniques and melodic wizardry.
Ariel Pink's Haunted Graffiti represents Mr. Pink (real name: Ariel Rosenberg) and his backing band, which until the recent release of Before Today was not utilized with the utmost precision in a studio environment. Here, he pushes aside his tendency of working alone and strikes up collaboration with a very proficient band and producer. The results, as expected, are a far cry from Pink's earlier material, production-wise. '60s cover "Bright Lit Blue Skies" eases listeners into this sharper production with an extraordinarily catchy song, even if it is precisely the same as the original. If anything, the accessible is a great lead-in to "L'estat (Acc. to the Widow's Maid)", the first true test as to whether Pink's ambitious songwriting can fit seamlessly into clarified production. "Bright Lit Blue Skies" is a stark contrast to what listeners expect from Pink, as it utilizes a very predictable structure, yet its appearance is almost essential in allowing the constant variation of "L'estat (Acc. to the Widow's Maid)" to flow and flourish.
Anyone who was fortunate enough to focus on the actual music of Pink's past material should not be surprised that this song, and several others on Before Today, do not suffer from increased clarity. In fact, many benefit from this. Pink demonstrates precisely the same amount of quality here as on predecessors like The Doldrums and House Arrest. Unlike the lukewarm response of those though (which I respectfully disagree with), the critics are due to eat this one up because it represents what they have been anticipating: a version of Ariel Pink that retains his unparalleled ambition, but with a greater sense of clarity that is implemented efficiently enough as to not dilute the creativity that has built his reputation up to this point. The most fearful qualm I had about Before Today was that it would be an example of over-production, like if Steve Albini produced for a band that relied on mellow keyboards as opposed to roaring guitars. The production team of Pink, Rik Pekkonen, and Sunny Levine (Quincy Jones' grandson) work magic here though, and the delicate transitioning from humble lo-fi bedroom pop to glossy sleekness could not have been conquered better. Pink did not write music different for a different mode of production, and his own confidence in his songwriting is what makes Before Today a commendable feat.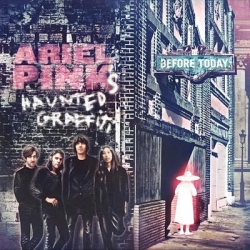 As reviewers have already mentioned, a prior introduction for Before Today is not necessary unless you wish to experience the production transitioning. This album is no sequel per say, which could have been argued for any of his prior releases. Before Today seems like a new step altogether, even if Pink threw in a handful of old songs on the album. One of these, "Beverly Kills", is inferior to its original, and this has nothing to do with the quality of production. Like the original, the chirpy synths complement Pink's alternating falsetto and spoken-word with a successfully vintage '80s feel. However, the hook here – "can't stop the press!" – is significantly less ardently spoken than the original and probably does not even require the exclamation point in this instance. The plan was to add more subtlety to a track with some swift melodic moves, but it instead dampened its biggest punch. And while the re-workings of "Can't Hear My Eyes" and "Revolution's a Lie" are nice, they are mainly unnecessary and the latter is the dullest effort on the album. As for the other re-working (if you can even call it that), "Round and Round" is probably known to you already as one of the best songs of 2010. A far cry from its original "Frontman/Hold On (I'm Calling)", it finds the perfect balance between suave lo-fi electronica and soaring rock anthems. It is generally faultless and I wish more pop artists would follow suit in making pop songs both infectious and adventurous. One cannot foresee the track's structural future despite accurately and enjoyably singing along. How could a pop song be better? For Ariel Pink, it can't.
Two of the most interesting new songs are "Butt-House Blondies" and "Menopause Man", which in their titles alone evokes Pink's tendency to hold nothing back; as long as it fits within the context of the song, it is fair game. "Butt-House Blondies" lives up immensely to its name by being arguably the most rocking song in Pink's discography, recalling grunge specifically but also Queens of the Stone Age's blend of hard-rock and neo-psychedelia. Pink's coarse verses clumsily find their way over repeating guitar riffs, preparing for an energetic chorus that finds a little more than a groan accompanying extreme distortion. It works surprisingly well for Pink, who has touched upon elements of rock in songs like "Haunted Graffiti" but never quite in the hard-rocking vein of "Butt-House Blondies". Easily the song's best moment comes around the minute-and-a-half mark, where one of the finest guitar solos I have heard in from a new artist in years takes place. These type of solos are a dying breed in ambitious rock music, and when someone like Pink decides to tackle it and achieve extraordinary success you can't help but yearn for the days when such solos were customary. Now, it usually appears as extraneous filler that simply reflects the vocal melody, but not for Ariel Pink. His ambition is too ahead of that, and on "Butt-House Blondies" it shows over the grunting of a sexually pleasured woman. Hey, and while Pink is far from a sex symbol, concisely excellent guitar solos can make some women do almost anything.
"Menopause Man" is easily the most reminiscent of Pink's early material. A placidly thumping bass line and sporadic scattering of keys help churn out one of his metaphysical tales of gender transformation, as listeners again find unique topics and understated production go hand-in-hand. "Rape me, castrate me, make me gay," he sings after the soul-tinged chorus. "Lady, I'm a lady from today." When he cries out "make me menstrual!" you probably won't even be surprised, simply because the first reaction is usually toward the music. The verses, while subdued, usher in an exceptional chorus that borrows some elements of soul in its falsetto-bearing loop. This track is quite exceptional, and addictive enough that even homophobes will shout out "Rape me, castrate me, make me gay!" with gleeful confidence. Reminiscences" is somewhat of a throwaway and "Hot Body Rub" is more for suave feel than melody, but their instrumental additions are not a detriment to the album. In fact, nothing here is really a detriment apart from the dull "Revolution's a Lie". So you can simply pretend the album is 12 tracks instead of 11 and have little reason to skip over anything.
Ariel Pink's emergence has been a slow but steady process over the past decade. With Before Today he has solidified his impending importance this coming decade, thanks mainly to the attentiveness of the Pink/Pekkonen/Levine production team. It was clear this album is not more polished sounding because Pink wants more radio airplay; if he did, there would be more songs in the vein of "Bright Lit Blue Skies" included. Here, his songwriting is as innovative and unpredictable as ever, except with a more cohesive vision and style of production that allows this ambition to flow freely and without restraint, which even with great songwriting was sometimes the case with the weaker moments of his previous material. To Ariel Pink fans there was never potential to fulfill, since that fulfillment was already accomplished immediately with the ever-durable The Doldrums. Still, to elicit a serious response there was acknowledgment that a more polished product would be demanded, one that did not sound like bedroom demos despite how seamlessly that technique fit within his songs. Before Today is a nearly flawless representation of an artistic transitioning, all while retaining the quality aspects that provided the artist with recognition in the first place.
9.0/10.0
RIYL: Washed Out, Neon Indian, Frank Zappa, John Maus, R. Stevie Moore, Nite Jewel, Ducktails, Panda Bear, Wavves, Ganglians, The Chameleons UK, Todd Rundgren, Joe Meek, The Smiths, Caribou, Interpol, Phantom Power, Memory Cassette, Real Estate, Girls, Memoryhouse, Animal Collective
——————————————————————————————
Ariel Pink's Haunted Graffiti – Round and Round

[audio:http://mineorecords.com/mp3/apink-rou.mp3]
——————————————————————————————
Ariel Pink's Haunted Graffiti – Bright Lit Blue Skies
[audio:http://mineorecords.com/mp3/apink-bri.mp3]
——————————————————————————————
Ariel Pink's Haunted Graffiti – Beverly Kills
[audio:http://mineorecords.com/mp3/apink-bev.mp3]
——————————————————————————————
ARIEL PINK DOWNLOADS (scroll down  a bit)