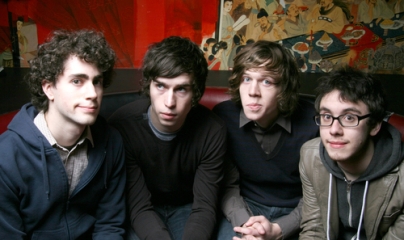 by Max Fishkin
Tokyo Police Club are a four-piece that hail from Canada, home to many indie artists such as Arcade Fire and Wolf Parade. These guys don't have the same stigma attached as the previously mentioned bands. Instead, Tokyo Police Club are the indie garage heroes you hear about on the local nightly news, saving the world one show at a time. Joking aside, they really have grown comfortable in their own sound. Our interview with the band's keyboardist, Graham Wright, could suggest as much in regard to their recording ideology alone. As you can see by that conversation, the reason why they are "heroes" is because they enforce a very straightforward garage-rock sound with very little pretension, contrary to the intricate electro-rock fusion of Wolf Parade or the epic anthem-like demeanor of Arcade Fire.
Such artists seem a bit inaccessible to certain listeners, who see that vein of songwriting conflicting with an innocent yearning for straightforward garage-rock. The songs on Tokyo Police Club's previous releases, A Lesson in Crime and Elephant Shell, were relatively short and more vigorous in this garage-rock vein, while their new album Champ clocks in at 35 minutes and hosts a more mature but still energized band. When the promo copy for Champ came in the mail, I furiously ripped open the packaging and fed it into my CD player and it hasn't moved since. For the past three weeks, I spent more time enjoying and listening to Champ than even thinking about writing this review.
The opening track, "Favourite Colour", is a great summation of the band's sound on this record: personal, melodic and lively. The glitchy synth intro unfolds into a spotlight on acoustic guitar and vocals. With lyrics like, "You were looking back on your days/how you spend them all in a blur/when they asked if you were for sure/let sugar melt down your throat/cuz you know its sweet getting old", these guys are aware of taking the title of champ as they age, which is aptly depicted throughout the album. What could be better than playing in a kick-ass band and living life as you please during your 'greatest years', as most nostalgic parents remind us?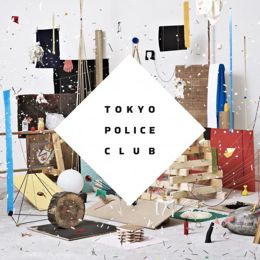 The single on Champ is "Breakneck Speed" and will serve as a great setlist staple while Tokyo Police Club tour with Passion Pit this summer. After catching a tight performance at All Points West last summer, I eagerly wait seeing their set at Bonnaroo this Friday. My next favorite track, "Bambi", features a glitch-echo guitar effect that settles into a flurry of notes. Vocalist and bassist Dave Monks really understands his range and role as singer, which really lets all of the songs shimmer throughout Champ. But the track "Hands Reversed" shows a different side of Tokyo Police Club without completely making an about-face. This video, filmed about six months ago, strips the song to its core of guitar and vocals. The band's contribution to the song on the album cut is subtle but very effective. The sluggish drums and bold synths develop the dynamics of the song, gradually building and releasing tension in rewarding fashion. The greatest part about Champ is that, in an age where most albums are half-filler and no-killer, this CD is a promise that rock 'n' roll will never die.
RIYL: We Are Scientists, Born Ruffians, Ra Ra Riot, Foals, Vampire Weekend, Arcade Fire, Broken Social Scene, The Maccabees, Metric, Minus the Bear, Wolf Parade, Harlem Shakes, Land of Talk, Death Cab for Cutie, Cold War Kids, Matt & Kim, Hot Hot Heat, The Futureheads
——————————————————————————————
Tokyo Police Club – Favourite Food
[audio:http://mineorecords.com/mp3/tpc-fav.mp3]
——————————————————————————————
Tokyo Police Club – Breakneck Speed

[audio:http://mineorecords.com/mp3/tpclub-bre.mp3]
——————————————————————————————
Tokyo Police Club – Hands Reversed

[audio:http://mineorecords.com/mp3/tpc-han.mp3]
——————————————————————————————