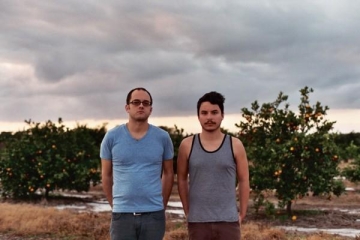 The vocals on Viernes' debut full-length, Sinister Devices, rarely escalate beyond a whisper. This technique is a recently trendy choice within electronic music's spreading sub-genres, many of which are renowned for a soothing, echoey sound whose structure resembles waves crashing on a beach. Apart from beach-entwined samples, the development of the songs are texturally dependent rather than being melodically entrenched in trends of commercial-seeking pop music; it resembles a shoreline in the unpredictable yet strangely cohesive pattern of waves. It makes sense that Viernes list Robert Fripp & Brian Eno's collaborative 1973 debut, No Pussyfooting, as one of their favorite albums. Both pioneers of textural-dependent experimental music, Fripp & Eno were renowned prior to that release, which was essentially a demonstration of their revolutionary production techniques. Fripp was known for his vital work in King Crimson already, while Eno's participation in the first two Roxy Music albums had already shown his stellar presence.
What both musicians had in common before even working together was a stubborn admiration for the unknown, particularly in the blending of pop music and textural experimentation to create a sound that echoed this ideology. Eno had issues for years with Bryan Ferry about the creative direction of Roxy Music, so both No Pussyfooting and his solo debut Here Come the Warm Jets a year later served as a culmination of Eno's quest to find his sound. It took a few years, but now he is renowned as one of the pioneers of electronic music for good reason. No Pussyfooting was the first display of a sound called "Frippertronics", in short for Fripp's innovative methods of tape looping that involved two reel-to-reel tape recorders placed side-by-side. This method elicited a reverb-like effect that was particularly useful for manipulating guitar sounds. Eno had quite some fun with the method, perhaps serving as its most popular implementer in his use of it within his revolutionary vein of ambient music. Daryl Hall's excellent solo debut, Sacred Songs, stands as one of the most accurate contemporary uses of Frippertronics. Check out the two Fripp contributions from that album – "Urban Landscape" and "NYCNY" – below.
Viernes' Sinister Devices takes a page or two from Frippertronics, though not to the point of excluding the influence of pop music in its entirety. It implements pop in the way artists like Animal Collective or Air do, placing catchy melodies within a texturally competent recording practice to create both an infectious and atmospherically demanding product. It is easy to tell this from the opening "Glass Windows", which manages to work a clickity-clackaty electro-drum to some surprising cohesion under a fluttering array of keys and synths. The drum machines throughout the album are used well, especially when the arrangements evolve from modest projections into epic revelations, like in the anticipatory jungle-juiced sound of "Ancient Amazon/New Fashion". The songwriting process sounds developmentally organic, which in a style of music that is often dependent on machinery can be a daunting role to fulfill. Like their heroes Fripp & Eno though, they stand by what works and make the movement's forefathers proud.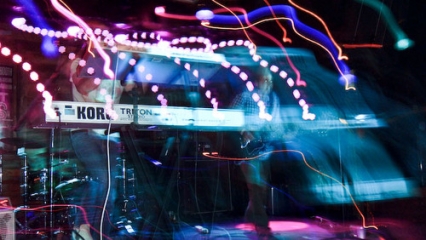 While tracks like "Liquid Tunnel" and "Swimmer's Ear" are acid-induced near-instrumentals that rely on harmonizing through tape-induced vocal patterns and keys that go from whispering to squealing in tone, efforts like "Glass Windows" and "Entire Empire" offer a somewhat poppy take to invite listeners into their gauzy sound. A few straightforward guitar riffs conquer the latter's intro, just as a trickle of keys signals the wave of eventual bliss that a buzz-saw bass and harmonically intertwined vocals will create. Although repetition sounds like a predominant factor, anyone used to Fripp or Eno's recordings should already be a slave to details. These accomplishments are immense walls of sound that demand repeated listens and Viernes make it a lot easier on the listener by providing a moving mixture of psychedelic-pop and Frippertronic-influenced experiments, all with minor but effective details that offer a wealth of ideas.
Those that find the novelty of 20-minute electronic epics to be too overbearing yet still possess a desire for left-field electronic-pop should be enamored with Viernes. There is a lot of great stuff on Sinister Devices and the lack of pretension displayed on it for this type of music is laudable. A great audible atmosphere is not reliant on a three-second loop that sits immobile for five minutes, but rather a proper display of musical wits that can make even the most complex musical layers combine and communicate with ease. Viernes are noticeably in possession of this wit and use it to create one of the more fascinating electronic-pop albums of the year thus far.
RIYL: Brian Eno, Robert Fripp, Daryl Hall, Roxy Music, Steve Roach, David Sylvian, Aphex Twin, Here We Go Magic, Atlas Sound, Neon Indian, Teengirl Fantasy, Joy Division, New Order, Big Spider's Back, Holiday Shores, Tanlines, The Ruby Suns, Caribou, Lemonade
——————————————————————————————
——————————————————————————————
——————————————————————————————
——————————————————————————————
——————————————————————————————
——————————————————————————————