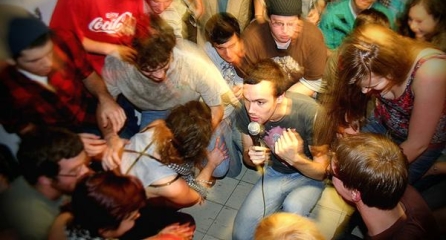 by Lauren Tischler
The sound of Ghost Mall is indescribable. But the band, made up of college roommates Pierce, Alex, Cody, and Jimi, give it their best shot. "Garage-y ramshackle pop/ethereal," lead singer Pierce Lightening struggles, attempting to put a label on his own music. With a lead singer named Pierce Lightening, and influences along the lines of "Babes, Springsteen, Comic Books, and Star Wars," you are naturally drawn to the quartet. What is surprisingly more interesting than the band members themselves is the music on their first album, Goons.
The album, produced by DJ Teenwolf of Ninjasonik, features five well-done and oddly classy songs. The EP starts out with the marijuana-induced "40 Nugs", and while I would have chosen a different track for the first, it sets an appropriate tone to the album without giving away their mysterious style. Next is "Senile Felines", setting a dark synthesized tone that lures the listener further in. The next couple of tracks are "Young Liars", followed by "Balloon Idea's", which captures an eerie essence while keeping it light; it samples a few lines from Biz Markie's "Just a Friend" with convincing maneuvers. The final track, "Johnny Appleseed", serves as a near-perfect ending. It is more of an anthem than anything, providing the listener with a soft sort of closure.
The album itself is a work of art, but it is clear that Ghost Mall are about performance art more than anything else. Ethan Barnett, a fan, describes a show in full detail. "The first time I saw them, it was in the basement of SUNY New Paltz. It was one of the coldest nights of that winter, but as soon as I got into the basement and Ghost Mall was about to begin their set, I began to sweat because there were about 75 people packed into a small classroom. They began their first song and the room turned into a beehive, with everyone dancing in every direction. The lead singer was lost in the crowd, and all you could see was one of his hands. By the time they began their second song, the keyboardist and guitarist were lost in the mess too. Midway through their set, Pierce was thrown up into a crowd surf, and he held onto a water pole that was soaking wet from condensation. After the final song, "Johnny Appleseed", everyone ran out the exit covered with sweat. Head to toe."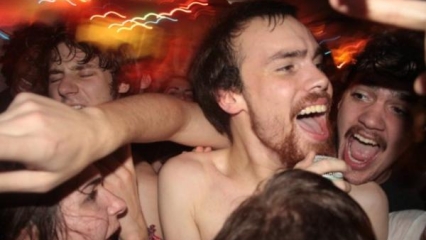 "I don't know what we're trying to achieve," Pierce says about his band's music. "We're just being honest. Sometimes it's about our specific friends, sometimes it's about how everything should be. Mostly, our songs are about the end of the world. So maybe they're a warning."
You can catch Ghost Mall on September 24th at 323 Wall Street in Uptown Kingston, New York.
RIYL: Japanther, Penguin Prison, Male Bonding, Urinals, Latterman, Cloud Nothings, Abe Vigoda, Times New Viking, No Age, The Mae Shi, Parts & Labor, Psychedelic Horseshit, AIDS Wolf, Wavves, Lightning Bolt, Jay Reatard, NODZZZ, Sic Alps, HEALTH, Arab on Radar
——————————————————————————————
——————————————————————————————
——————————————————————————————
Ghost Mall – Johnny Appleseed (acoustic version)

[audio:http://mineorecords.com/mp3/gmall-joh.mp3]
——————————————————————————————