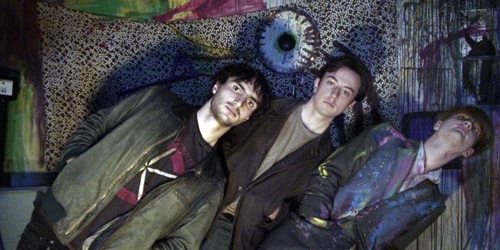 Continuing the surge of experimental-pop from Montreal, Pop Winds excel in diverging colorful psychedelia and indie-rock to create a sound that is familiarly addictive, yet still relatively incomparable. On "Owl Eyes", the trio's vocals combine for multiple harmonies over squirts of brass and synth arpeggios, the wide variety of synths sliding and squirming all over their creative palette to create a sound that is more majestic electro-pop than 16-bit SNES tributes. It would be fairly easy to compare Pop Winds to Animal Collective's more accessible works, recently "My Girls" and "Summertime Clothes", simply because they specialize in similar arsenals and are able to show their experimental chops while keeping it initially engaging. But it would be more justified to name The Helio Sequence instead, as Pop Winds certainly show more pop than psychedelia through song structures that are traditional and somewhat restrained, even if percussive and melodic elements travel with greater ambition than most pop groups.
An obvious appreciation for brass infusion into electronica is shown in both "Owl Eyes" and "Drowning in the Dark", but unlike the pathetic abundance of unnecessary brass solos (which even the likes of Junior Boys are guilty of), these are additions that expand the initial composition into an even more worthwhile state. The three members of Pop Winds – Austin Milne, Devon Welsh, and Kyle Bennett – are adept at collaborations and certain mutual appreciations like this show their chemistry well, as they tread just the right line between automated-sounding electronica and completely organic pop music. The 8-bit drum machines or samples that are often used as percussion only work because the other arrangements are so impressive, with "Drowning in the Dark" taking on its own evolutionary form through glittery synth arpeggios and "Owl Eyes" seizing the concept of anthemic with a chorus bursting with exuberant yelps, brass, and synths. It can really get you going, like most tracks on the trio's newest album on Arbutus Records, The Turquoise.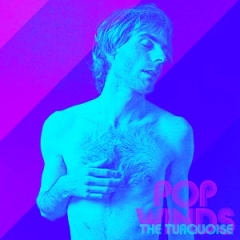 "Feel It" is most dependent on the brass, as it actually serves as the lead melody initially. This is of course not the case for long, as fluttering synths eventually align themselves perfectly with the trio's vocals (which – as stereotypical as it sounds – does sound like a meshing of Panda Bear, Brandon Summers, and Fred Schneider). But as the trickle of synths quickly descend and ascend, the success and originality becomes apparent. The afro-pop vibe here is extremely noticeable as well, especially when the vocals cry out "No! no! no! no!" in a rhythmic combustion that could be likened to Paul Simon. Of course, since electronica aligns with afro-pop and indie-rock in the most seamless of ways, the comparisons will be a bit more contemporary than Mr. Simon, even though he remains an integral influence today with this emerging hybrid. Pop Winds is one of the few artists that enable this formula to sound fresh. The other artists are all brand names in indie-rock at this point, and if they keep it up I would not be surprised to see Pop Winds achieve the same status.
RIYL: The Helio Sequence, Menomena, Animal Collective, Rogue Wave, Annuals, Vampire Weekend, Ambulance LTD, Earlimart, Fruit Bats, Pinback, Stars of Track and Field, Matt Pond PA, Aqueduct, Minus the Bear, Local Natives, The American Analog Set, Viva Voce, Enon, The Rosebuds, Mellowdrone, Sea Wolf, Maritime, Band of Horses
——————————————————————————————
——————————————————————————————
——————————————————————————————
Pop Winds – Drowning in the Dark

——————————————————————————————