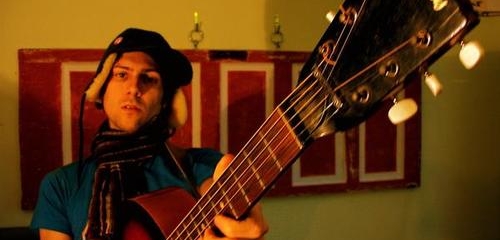 Three years removed from his last full-length album, Canadian sensation Jeremy Fisher follows through with his most complete album yet. Released on October 25th, Flood is an outstanding collection of indie-folk tunes that will leave you craving more from this Dylan-esque singer-songwriter.
Jeremy Fisher began his musical career with the independently released Back Porch Spirituals in 2001. Essentially a tribute to Fisher's greatest influence Bob Dylan, each track features lively acoustic guitar melodies and an accompanying harmonica. There is even a tune found here called "Song For Robert Zimmerman". The sound, however, is raw, and most of the songs are pretty similar. A terrific debut, but Fisher would have to break away from his imitation of Dylan if he wanted to make an impact on the music world.
Moving along, his next work, Let It Shine, was released in 2004 to a smattering of fans, but this album would push Jeremy Fisher into the limelight for the first time. He finally broke away from traditional folk, employing a variety of instruments to supplement his superb guitar riffs. Several Canadian radio stations awarded his single "High School" significant airplay over the next year, spreading his name to the masses.
With an ever-growing fan base, Jeremy Fisher did well to keep his followers in awe with his third full-length album, Goodbye Blue Monday, released in 2007. Simply put, this is one of my favorite albums of the past couple years. Every song hits me like a delicious Thanksgiving dinner, and I feel completely satisfied after listening. The choruses are innately addicting, but unlike modern pop songs these do not get tiring or overplayed.
Like many Jeremy Fisher listeners, I was curious how one could possibly follow up such a masterpiece as Goodbye Blue Monday and, to be honest, was not expecting a comparable encore. Jeremy is now shoveling my words back into my mouth. Flood is fantastic, and it is clear now that Jeremy Fisher has fully grown into an expert singer-songwriter. His lyrics are clever and rich, while his melodies are still intoxicating. It is impossible not to sing along to his catchy choruses as well. It's hard to imagine that former Bob Dylan-wannabe Fisher could transform his sound so completely into an individualized act. Now that he has found his own voice, this Canadian journeyman definitely has the talent to rise to the top of the indie music scene.
The album opens with the single "Shine A Little Light", a delightful track that lends itself to being the single as it is probably the most conventional song of the collection and, therefore, fit for a wider audience. But that does not mean the song lacks spirit or energy. What makes the song even better is Jeremy Fisher's homemade music video, featuring his iPhone.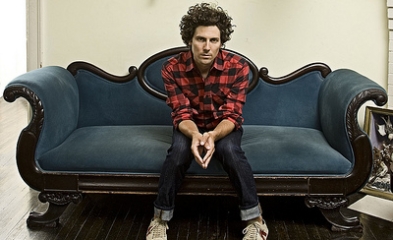 The next track is called "Naked Girl" and is about exactly that. Despite the near immaturity of the song's topic, Fisher is surprisingly able to blend profound lyrics with incredibly poppy ones. In one moment, Fisher sings, "Everybody wants to see a naked girl," which I hope needs no explanation. Later on he sings, "The shadow of a shadow is the sun itself," which had me thinking for a while after I heard it.
Next is the tune "Laissez Faire," which is less of a critique on Western political-economic systems and more of a Vampire Weekend-like reggae-rock track. Once again, the chorus pulls the song together, and we now have three songs which are all in the running for the best on the album. What follows is the ukulele-driven "Come Fly Away", which is best described as fun to listen to. It may seem like a lazy adjective to use, but once you hear it you'll know what I mean.
The fifth song on the album, "Nothing to Lose," sounds like it's straight off Bob Dylan's Infidels album. Fisher's piano playing matches his talent on the guitar in this slower, uplifting ballad. The lyrics, "Life is just a speck in the sky, a teaspoon of honey, the blink of an eye," bears a striking resemblance to Dylan's simple yet enlightened verses.
"Alison" comes next and might be the best song on the whole album, although I could say that about every one. The infectious chorus carries the tune and leaves you wanting more. It's gotten to the point where terrific and catchy choruses are just expected from Jeremy Fisher songs. How does this man keep churning out these unbelievable refrains song after song? Every band takes a track off here and there in order to fill in the gaps of an album, but Fisher maintains quality throughout.
Next we find "Morning's Broke," a beautiful and brilliant piano piece which offers a relaxing three minutes of listening. After that, however, Fisher reverts back to his immaturity with the track "On A Monday," a song about "getting messed up on a Monday." Once again, the chorus is supreme and lyrics down-to-earth, forming a tune that's thoroughly enjoyable.
The simplicity of "Summer Rain," Flood's ninth track, is refreshingly uplifting and bound to put a smile on your face. Next is a traditional folk jingle, "Umbrella," which might easily be found on the Juno soundtrack if it were written a few years ago. Then, at the 02:40 mark of the song, Fisher switches drastically to a sing-a-long chorus which could have been a terrific song in itself. Jeremy Fisher ends strongly with "All We Want Is Love", a song with a strong bass line and, (do I even need to say it?) a great chorus.
As a full compilation of tracks, Flood is extraordinary, drawing from a wide range of influences, and will hopefully cement Jeremy Fisher as one of the premiere indie artists to emerge this year. I fully recommend that you download this album. But be warned, once you listen to these songs you will be hooked on this Canadian musical talent for some time. Once believed to be a Bob Dylan impersonator, Jeremy Fisher has now found his own unique sound and should continue to impact the music world for a long time.
RIYL: Bob Dylan, Matthew Sweet, Kings of Leon, Kasabian, The Kooks, Tallest Man on Earth, The Dead Weather, The Black Keys
Jeremy Fisher – Shine A Little Light