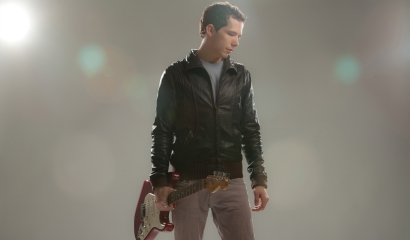 by Josh Taylor
Where does jazz fit in the contemporary music scene? Gone are the days of the beats and backalley jazz clubs that epitomized "cool." While the jazz great like Ella Fitzgerald, Louis Armstrong, and Sarah Vaughan are still embraced by musicians, they are for the most part overlooked by the under-30 crowd.
Does the genre have anything new to offer without being, well, something our parents would listen to? Armed with his eponymous debut EP, John Nagle is aiming to find out if jazz would still be relevant if it took on a modern edge. Nagle's neo-jazz sound – a la Michael Bublé – perfectly accommodates his whisper drenched vocal. And unlike Bublé, he isn't trying to pass off Frank Sinatra's technique as his own, or Bobby Darin's or Dean Martin's, for that matter. John Nagle makes his sound accessible by keeping the best elements of jazz and making it familiar by adding some pop elements and a modern instrumentation.
Musically, the EP is acoustic guitar-driven, with the majority of the songs featuring a mellow tone representative of the selection. The opening track "The Fire" has more of a backwoods feel, and feels out of place on the EP. It feels even more out of place because it's the opening track and rather than setting up the mood, it's setting up false expectations for what's to come. The song is also more quickly paced than all the others, and the song that follows it, "Deeper", is one of the slowest. The effect is more like a sudden halt than a gentle lull.
The second song, "Deeper", introduces some jazzy horns halfway through the song and really brings them in at around four minutes in. For me, that's when the song really gets interesting, but the wait is more than I would like.
"Keep It Cool" is more compelling than "Deeper," particularly because the vocals are more emotionally involved. The harp accenting the chorus is a nice touch too and the dynamics keep the song from feeling as long as it is (4:40).
"On My Way" stands the best chance for widespread appeal. It has a Jason Mraz quality that makes it instantly accessible and it is quickly paced so it has a sweet little bounce to it. Nagle really shines when he achieves this subtle balance between pop and jazz.  He has the same cool panache, but the song as a whole has a modern feel. I'd even go so far as to say it's pure pop if he continues in this vein.
"Mortal Love" is a great track to follow "On My Way" and reinforces the more upbeat mood that the EP is building toward. Right after that, "China Town" brings everything down a few notches, but to keep the EP from ending on a bland note it steadily introduces instruments left off the rest of the album. The synths are a welcome surprise and, after a brief vocal break, really come in full force. To some people, the synths might be out of place, but I think the song is long enough for it to afford some experimentation to keep it from getting tedious.
John Nagle is currently working on a full length album entitled Distractions. For the full length album to have some really strength, I'd appreciate some more distinctive hooks in his songs and some more solidified choruses. The way I see it, John Nagle the EP was trying to find direction and near the end, it has a pretty firm idea of where it wants to go. If Nagle can find that same perfect balance of pop and jazz, Distractions could be everything you wish contemporary jazz was: stylish, suave, and actually entertaining.
RIYL: Elvis Costello, Michael Bublé, James Morrison, Norah Jones, Peter Cincotti, Frank Sinatra, Chris Botti, Colbie Caillat, Jason Mraz, Robbie Williams, John Mayer, Diana Krall, Natalie Cole, George Michael, John Legend, Dean Martin, Take That