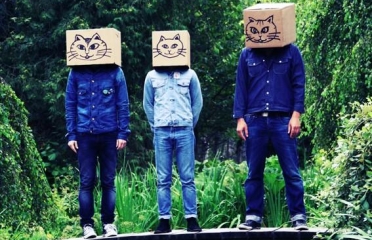 My anticipation for Magenta Skycode's second album, Relief, has been building for years now. The Finnish group was one of the first featured artists in the history of this site, and in my first "Top Albums of the Year" feature I lauded it as being the best debut from that year, 2006. There were few indie-pop debuts as memorable. A few weeks ago I also called IIIII an ideal album for autumn, emphasizing a variety of colorful and vibrant sounds mainly elicited from twinkling keyboards and jangly guitars. The album's diverse set of moods was another reason, with anthemic builders like "People" and "Luvher Oh Hater" expressing optimistic glee and more retrospective gems like "Go Outside Again" showing some catchy melodrama with a touch of bitterness. With handclap-led percussion, soothing airy vocals, and utterly beautiful guitar/keyboard progressions, it was not hard to fall in love with IIIII and the variety of sounds on it.
The mood on Relief is more consistent than the merry-go-round of emotions on IIIII. The group appears more focused in this sense, even if it sacrifices some ambition in the process. The flurries of buoyant twinkling keys and acoustic guitars – reminiscent in several ways of both post-punk and indie-rock – are still present, but they are sugary and more accessible than before. Instead of bringing to mind innovative crafters of pop hooks like The Cure or Paul Simon, Relief offers a more by-the-book indie-rock approach that brings to mind acts like The Shins, Delays, or The Brother Kite. All respectable acts, for sure, but their deliveries become increasingly grating due to the linearity and sameness of their work. The songs on Relief tend to be more elementary than the anthemic build-ups on IIIII. Whereas a track like "Red Eyes" would evolve cohesively from a Kraftwerkian series of whirring synths and illuminating pads into contagious post-punk riffs, the tracks on Relief appear content in staying true to the style it begins in.
Sentiments of easy-listening are more in focus than ambition, which in the world of pop is not exactly an ideology to criticize. But when one is capable of the accomplishments on IIIII, the over-simplification of strengths is a detrimental endeavor. The faults of Relief are quite simple: the band do not permit their songs the proper expansion and improvisation as before and, quite simply, they do not rock hard enough. There is little on here resembling the dark, moody turns of "Compassion" – with its quick guitar swipes and excitable fervor – or the mercurial build-up in the gleeful "Luvher Oh Hater". The intended stand-outs on Relief seem dumbed-down and forced, like "The Simple Pleasures" which is driven by a monotonous key progression that depends entirely on a nasally falsetto to allow the hook to soar. The highlights on IIIII had emotive vocal performances like this, but the track's strength was not dependent on them like it is here.
The simplified dullness of "The Simple Pleasures" finds brethren in "King of Abstract Painters", a tedious track that has some truly irritating vocal passages that remove any mystique the band is capable of. The repetitive riffs and complementary keys are, once again, dependent on the vocals' capacity to raise pitch and trigger emotion. The music is incredibly bland. Most of the efforts on IIIII were majestic enough to be memorable as instrumentals, and this over-reliance on vocals reminds me too much of bands like Vampire Weekend and Delays that force listeners to rely on the so-called exuberance of vocals, rather than the resourceful musical progression of a work. Perhaps I would not be so critical on this over-reliance if Magenta Skycode had not already showed the opposite in their previous material. It appears being criminally overlooked may have caused some desperation to appear in the band's songwriting.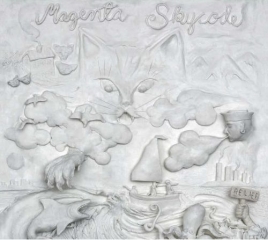 Bland efforts like "The Simple Pleasures" and "Kipling" are actually grouped together for the listener's benefit, as several efforts on the latter half of Relief are significantly improved from the first. "Montag" is excellent; its piano crescendos and sweeping flourishes of strings remind me of vintage Brit-pop in the vein of Pulp's "This Is Hardcore". Finally, we are greeted with a track that is not fearful of the stylistic dexterity Magenta Skycode already showed mastery of on IIIII. We find a slight psychedelic alteration about 3.5 minutes in, where an anxious piano progression supplements lyrical yearning for a lover's return. The howling vocals resonate wonderfully in the closing verses, finding the perfect intermediary between excellent instrumental prowess and apt vocal implementations.
"Night Falls on the Rifle" is more of what Magenta Skycode do wonderfully. It makes a stunning transition from an arsenal of percussion and keys into one with bells, roaring guitars riffs, and eventually a slick guitar riff that brings post-punk influences into play. As the band repeats the song's title, fans of IIIII may think they are listening to the debut again. This packs the same darkly anthemic punch that the epic gems on IIIII do, and it is certainly one of the best efforts on Relief. The subsequent "Sometimes" is delightful enough, as it neither overpowers nor dominates, but still has the same problem of repetition that efforts like "The Simple Pleasures" and "Kipling" do. The riffs sound tastefully dainty, yes, and the vocals soar with enthusiastic glee, indeed. But that does not prevent it from overstaying its welcome. It is literally not until nearly a minute left that "Sometimes" actually shows the strength of the band's songwriting, when actual variation occurs.
It is not a surprise that length is usually a qualitative indicator of a Magenta Skycode song on Relief. Longer songs – like "Night Falls on the Rifle" and "Montag" – are stunning and sweeping, with little to no fault found in their gorgeous arrangements and memorable hooks. Shorter ones, on the other hand, seem to lack ideas and progression for the sake of sounding sugary and accessible. This is a bit odd considering some highlights on IIIII, like "People" and "Luvher Oh Hater", were under four minutes and still exceptional. As I said though, frustration is bound to occur when a band as talented as Magenta Skycode goes generally unnoticed. The result is an album with the doses of ambition that made IIIII one of the best indie-pop debuts of the decade, but more sparingly so in favor of desperation for radio-friendly dullness like "The Simple Pleasures". Efforts like that are not atrocious, but mediocre. And for the exceptional Magenta Skycode, who show their flashes of brilliance most prominently through epics, this is disappointing. Relief is a good indie-pop album with its share of highlights, but die-hard fans of IIIII will be let down, even if it is understandably difficult to follow up such an amazing debut.
7.5/10.0
RIYL: The Cure, The Shins, Paul Simon, Jens Lekman, The Brother Kite, Liekki, Viola, Risto, Regina, Broken Bells, Vampire Weekend, Rogue Wave, Belle and Sebastian, Field Music, The New Pornographers, Spoon
Magenta Skycode – Night Falls on the Rifle
Magenta Skycode – The Simple Pleasures