Albums for Autumn, Pt. 2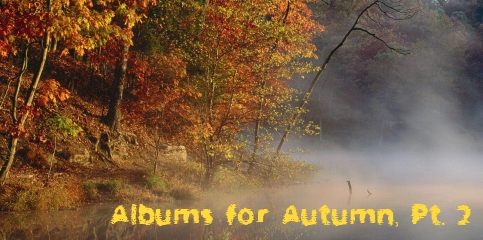 Here we go again. The first "Albums for Autumn" feature went well, providing a good variety of albums new and old that are best suited for autumnal listening. As I said in that post, these albums are recommended to be listened to in their entirety. The MP3 snippets are just to get you going.
Wire – Chairs Missing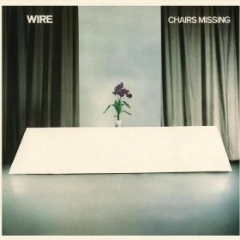 Wire's emergence in the UK almost coincided with The Ramones' in the U.S.. At such an early stage in punk, both groups were doing interesting but varied things; British punk up-starts like Wire and The Jam played with less urgency and ferocity than American counterparts like The Ramones and The Germs. Despite drawing from the same garage-rock influences and sounding distinctively punk-rock, the artistic choices from both sides of the sea differed enjoyably. Punk fans could give a shit where a quality punk band came from, even though most could tell by sound and subtle style alone whether one was from the U.K. or U.S..
I find Wire to be one of the most fascinating punk groups of them all. Their brilliant debut Pink Flag was the most original debut in first-generation British punk. 21 songs comprised 36 minutes, and Wire did not waste one moment with their brilliantly spontaneous punk-rock minimalism and twisted power-pop. It is their second album though, Chairs Missing, that is my autumnal choice. Just as brilliant as the debut, this 1978 masterpiece found Wire expanding from minimalist punk to fleshed-out, atmospheric post-punk. The brooding development of "French Film Blurred" shows Wire at their darkest, a series of whirring guitar crescendos complementing Colin Newman's scraggly vocals with brilliant appeal. "Practice Makes Perfect" and "Another the Letter" show the hurried punk minimalism of the debut, but with more expansive development where tempo is slower and ideas are more plentiful.
At times, Chairs Missing resembled psychedelia more than punk. It contained revolutionary production that would serve as a standard for punk-minded innovators, along with arguably the best presentation of Wire one will ever hear. The dark and somber tone of the album, with frosty trickles of guitars and synths prevalent with downcast samples, makes it an ideal album for autumn or winter. The morbidity of the album is enjoyably present in more ways than one, and an amazing album like Chairs Missing wears that on its sleeve well.
————————————————————————————————————————————————–

Disco Inferno – D.I. Go Pop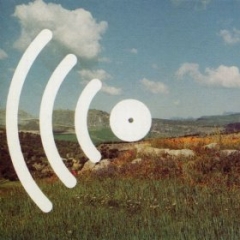 Speaking of Wire, the late-'70s punk greats were a heavy influence on many – including Disco Inferno. The Essex-based quartet also sounded distinctively British, but with the modern bite of sampling and electronic soundscapes to later serve as influences themselves. That is not to say Wire was never proficient in that regard, as another one of their landmark albums – 154 – played with synthesizer-laden production long before it was conventional in punk or rock. You can hear the tinge of punk in Disco Inferno's work – along with a vocal delivery containing a similarly concise snarl to Wire's Colin Newman – but the singular originality of both groups is dominant. This is especially true today, where Disco Inferno's influence can be heard in a wide variety of artists, from Animal Collective to most Damon Albarn projects. If you ever heard Gorillaz's Iceland tribute "Stop the Dams" then you should have proper expectations for Disco Inferno's sound. Just add some startlingly innovative and cohesive sample use, with an even higher emphasis on experimentation, and you have the sound of these Brit-pop pioneers.
The select work from Disco Inferno would be their second album, D.I. Go Pop. This 1994 release is sprawling in what makes Disco Inferno so pivotal in molding future indie-rock; their astute grasp of sampling was incomparable at the time among their stylistic niche, and their experimental tendencies never overrode the clever pop hooks that maintained accessibility (note the ironic use of the album title). The sound of crashing waves in both "In Sharky Water" and "Even the Sea Sides Against Us" may bring to mind summer on its own, but when combined with Disco Inferno's muddled guitar riffs, cold and remote sonar-like keys, and Ian Crause's half-monotone delivery, one receives a sound more characteristic of autumn. Even on the warmly translucent keys that "Footprint in Snow" thrive on, the blurred production seems to position itself as an actual forerunner on "chillwave" genres associated with the likes of Neon Indian, Washed Out, and others. Their ornate instrumentation nearly hides itself under fragmented bits of rhythms and sampes, always meshed in a sort of serene quality best characterized as a cross between idiosyncratic post-rock and early shades of lo-fi pop.
Disco Inferno are far from a lo-fi band, but the cloaking of their intricacies with regard to the prevalence of hooks makes it seem as such. D.I. Go Pop is not one of those conventional autumn albums – like Van Morrison with his naturally progressive allure – but the mood and atmosphere of Disco Inferno within certainly fit well. Enjoy this one with an Imperial Stout as the leaves start to change colors, and then the album should begin to unfold beautifully.
Disco Inferno – Footprints in Snow
Disco Inferno – Even the Sea Sides Against Us
————————————————————————————————————————————————–
Interpol – Turn on the Bright Lights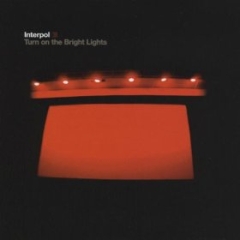 I know, I know. You already heard this album, saw the band follow it up with a number of disappointments, and put it in the back of your mind. That does not take away from Turn on the Bright Lights being one of the top-three indie-rock debuts of the past decade. For the only time in their career, Interpol was able to diversify themselves from the hordes of Joy Division imitators, who shamelessly rip off Peter Hook's concisely impactful bass lines or Stephen Morris' hypnotizing percussive fills and scatter boring indie-rock riffs over them. Interpol wrote songs though. Gorgeous ones. The album's longest effort – the six-minute "Stella Was a Diver and She Was Always Down" – mixes a devastating guitar build-up with cleverly pessimistic metaphorical imagery, its chanting chorus bringing to mind Joy Division's "She's Lost Control". Like many other songs on the album, it combines the post-punk of Joy Division and noise-rock of Sonic Youth to produce an imaginatively unique sound that resounded with clamoring emotion and voracious riffs.
Two fairly underrated efforts – "Hands Away" and "The New" – show best why Turn on the Bright Lightsis an essential album for autumn. These tracks are dripping with mood propelled by brilliant instrumentation; vocalist Paul Banks takes a back seat to these bustling arrangements, which in "Hands Away" evolves from a singular guitar tremolo into a combination of serene synth pads and echoing bass lines, all of which support the initial tremolo. If someone passes any sort of judgment on Interpol without listening to their remarkable debut, their outlook is absurdly linear. Even if Interpol never releases an album close to the quality of this again, they certainly made their mark.
————————————————————————————————————————————————–
Lower Dens – Twin-Hand Movement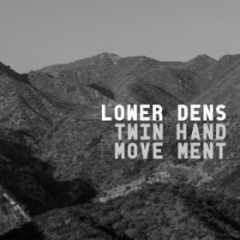 Lower Dens have received heaps of praise since they released their debut, Twin-Hand Movement, in July. Perhaps the lack of further recognition was just seasonal, as Twin-Hand Movement is brimming with nocturnal atmospheres, rhythmic ambiance, and lulled guitars. Perfect for autumn! The leader of the Baltimore group, Jana Hunter, is known in freak-folk circles for her collaborations with Devendra Banhart. Her creative tendencies take on a coherent vision on Lower Dens' debut, with a more polished and direct sound reminiscent of dream-rock than her past material. Unlike the past, Hunter does not toy with over-ambition. The darkly intense atmosphere of Twin-Hand Movement is propelled by expectation in that their songs could go anywhere; a concise pop hook seems just as likely to occur as an epic outro of polyrhythm and multi-guitar experimentation.
"A Dog's Dick" powers on with heavy reverb on both guitar and bass, the latter of which pronounces itself with a tender push reminiscent of Pixies or Guided by Voices. A slick guitar lick follows, with multiple tonal frequencies taking on a melody that evolves in both distortion and rhythm placement. Its pace is placid in a sense, but also with enough vigor reminiscent of Pixies or even The Smiths with its sparking guitars and pivotal bass drenched in reverb characteristic of early-'80s mod revival. "I Get Nervous" has that sort of dream-like buzz in its production that brings to mind the likes of Beach House, Grizzly Bear, and Tamaryn, but perhaps more accurately borrows from the type of production that The Joshua Tree made famous. In fact, this sounds like U2 back in their heyday, if not for Hunter's serenely calming voice of course.  If Hope Sandoval sang for U2 instead of Bono during their heyday, it would probably sound similar to this. Add the excellent hook that occurs right near the 01:55 mark and you have an excellent song, full of brilliantly constructive visions of dream-pop and post-rock that coincide beautifully with the crisp feelings of fall.
————————————————————————————————————————————————–
Gotye – Like Drawing Blood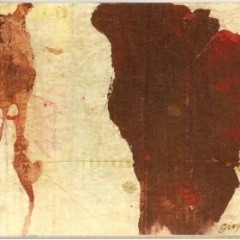 I wrote about Gotye's Like Drawing Blood several years ago, also calling it the 24th best album of 2006. I prefer to leave a feature like this for albums I have not written about before, but this album remains criminally overlooked and still sounds great so this provides a nice opportunity. Mainly I want to again mention "Hearts a Mess", an absolutely beautiful song that should appeal to fans of Jens Lekman, The Divine Comedy, or any other powerful songwriter with a knack for orchestral triumphs. Like Drawing Blood contains styles ranging from New Orleans jazz to Ennio Morricone-like acidic orchestral backdrops, but frontman Wally de Backer's shining moment comes in "Hearts a Mess". Here, he laments softly, "Let me occupy your mind, as you do mine," before an explosive string arrangement comes to the forefront. You can learn more about Gotye in this feature, but all you really need to hear is "Hearts a Mess" to be sold on this Aussie talent.