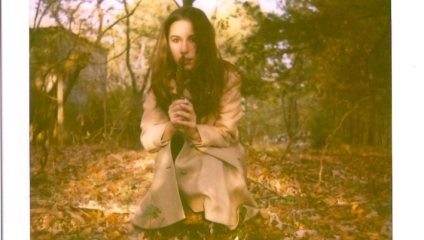 Bad Braids is a very intimate project, clearly intended to showcase the beautiful talents of Megan Biscieglia. Her talents as a guitarist, vocalist, and lyricist are on full display throughout Arrow and Orb, a fascinating and ingenious release that mixes gypsy-folk, psychedelia, and country-rock with awe-inspiring results. Biscieglia's voice has a sort of twang often present in Celtic tunes, and her quivering presence is a riveting cross between Marissa Nadler and 10,000 Maniacs' Natalie Merchant. "Oh Righteous One" is a perfect showcase of how Biscieglia needs nothing beyond her vocals and a guitar to craft a song reaping with intricacy and flow. She is in constant control of her accompanying vocal layers, which coo and reflect the lead vocal lines in a more subdued and hazy demeanor. Her sporadic chirps – like when she repeats "It's what you do, it's what you deserve" – also bring in a bit of Neko Case-like country-folk in the mix.
"I's Honey" is one of the lushest efforts on Arrow and Orb, featuring a slight organ that creaks its way under the guitar twangs – reminiscent in many ways of The Czars. The country-ish twangs contrast with a soft acoustic strum throughout the duration, and although it is less demonstrative of Biscieglia's impressive vocal range and techniques "I's Honey" serves as a nice example of Bad Braids' naturalistic and minimalist style, even if Biscieglia's interesting backing vocals and highly versatile guitar progressions avoid any sign of dullness even at their most restrained.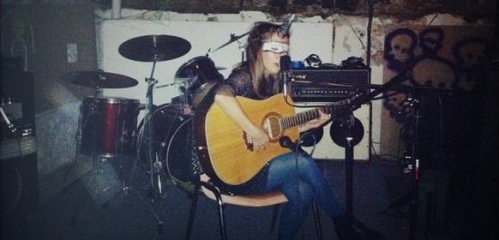 "When My Darling Turns to Dust (Pt. II and III)" takes about two minutes to develop satisfyingly, which is exactly when Biscieglia busts out a sonorous series of reverbed harmonies accentuated by an accordion-like lull. Stevie Nicks comparisons are evident here, and when the lazy organ takes over with Biscieglia's whistling the quickened pace is welcoming; it even provides an infectious hook once the bluesy organ-guitar combo finds complete comfort in Biscieglia's blinking vocal cues.
Megan Biscieglia – alongside multi-instrumentalist Jared Stafford-Hill – really should get attention with this project. The Brooklyn-based duo have put out a release bursting with originality, exposed with no bells and whistles. The only issue I have is that there is not enough on this six-song EP to judge Bad Braids further. From the short but satisfying samples I am hearing though, their upcoming full-length should create quite a stir.
RIYL: Marissa Nadler, The Czars, Neko Case, Natalie Merchant, Beach House, The National, Meg Baird, Josephine Foster, Rio en Medio, Vashti Bunyan
Bad Braids – When My Darling Turns to Dust (Pt II and III)