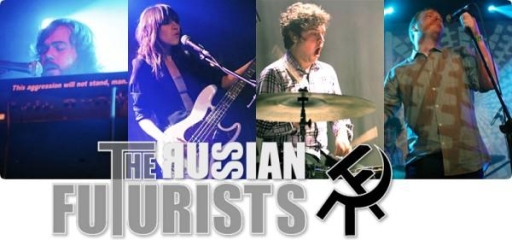 In 2006 it seemed like Matthew Adam Hart would soon reach prolific status. Hart's flurry of successful remixes and the release of The Russian Futurists' '05 gem, Our Thickness, suggested that he could become the next Matthew Herbert of sorts, a musical entrepreneur with refined innovation even beyond his specialized niche of electronica. Our Thickness had showcased his sugary pop sensibilities – well in line with Hall & Oates or Matthew Sweet – over a palette of lo-fi electro-pop goodness with comparisons to Pinback or Magnetic Fields. His work was more understated than either though, as one of Hart's strengths was that he epitomized quality bedroom-pop. Fortunately, his songs were not associated with kitschy lo-fi aspects like intentional vinyl cracking or mis-timed phasing. Hart was not posing as a bedroom-pop artist; his songs simply were a product of the times, before Hart could fund a more expansive effort. With his steady recognition over the past few years, not to mention a few nice promotional deals, it appears that time has finally come.
It has taken Hart a somewhat lengthy five years to follow up the twee-infused electro-pop of Our Thickness, though the appearance of his hit "Paul Simon" in NBA 2K11 and Samsung phone ads has maintained his sound's familiarity. The result of his newest is expectantly more grandiose – for better or for worse. The Weight's on the Wheels, Russian Futurists' fourth full-length, certainly has a theme to it. From the Revolution War-like cover to track titles like "Register My Firearms? No Way!", "Tripping Horses", and "Hoeing Weeds Sowing Seeds", many would likely generalize it sounding like The Decemberists, their fetishized anachronisms blending in appropriately with accordions, acoustics, and other indie-rock conventions. This would be a misconception though. The Weight's on the Wheels is actually a very polished electro-pop album, especially compared to the understated demeanor of Our Thickness.
This transition into a more professional-sounding arsenal is not at all that surprising considering the collaborators, a list that includes Michael Musmanno (Outkast, Lillys) and Michael Brauer (John Mayer, Coldplay, The Bravery). Some tracks like "One Night, One Kiss" – a tender duet with Heavy Blinkers' Ruth Minnikin – show influences distant to the sleek electro presentation that most of the album shows, but one must remember that Hart is still solely at the helm. It is apparent that he is undergoing an artistic transition based on a preference for expanding the polish and accessibility of his work. On The Weight's on the Wheels, this growing vision succeeds for the most part in a fun and loosely infectious form where hooks are plentiful.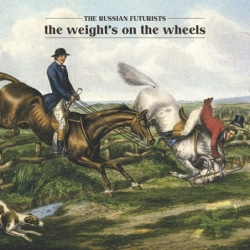 The enthusiastic brass, cheap synths, and twee-friendly combo of glockenspiels and xylophones on Our Thickness are generally swapped out in favor of more diverse synthesized arrangements and percussive fervor. The tinny sound of synths in "Plates" eventually is expanded by a sliding bass and twinkle of keys, and where a chorus usually is Hart opts for an extended instrumental re-vamp instead. The brassy elements of the synths come out in full force during the second half, combining infectiously with hip-hop percussion that makes for a great beat. It is here that we see Hart going back to the basics, back to his early days when he got started by making hip-hop beats. "Plates" is one of the album's highlights for showcasing an infectiously punchy effort indicative of Hart's admiration for both shimmering synth-pop and hip-hop beats, not to mention a bit of smooth sax-aided funk in the entertaining "100 Shopping Days 'Til Christmas", which resembles Of Montreal in its stylistic variety.
The album is strongest at "Plates" or "Register My Firearms? No Way!", the latter being somewhat repetitive but utilizing a clever vocal sample that prevails in crafting a triumphantly exuberant melody. This song has some pretty excellent production, and certainly towers over staler efforts like "Hoeing Weeds Sowing Seeds". Considering Brauer mixed this track, it is somewhat unexpected that the sound is wholly generic. Truth be told, Hart's songwriting is lazy here as well, but sadly the differentiation from bare-boned electro-pop weaklings like Owl City or Cash Cash is minimal since it sounds like a blur of repetition; its usefulness does not extend much beyond decent-sounding remixes. It sounds poised to be one of those songs on a car or phone commercial that annoys the hell out of you. This and the equally disappointing whininess of "To Be Honest" sound out of place on an album that is otherwise full of delightful enough efforts. I would have liked Hart to showcase the innovation he is so clearly capable of – especially after waiting five years – but at least an accessible pop album with a handful of highlights is better than nothing at all. Our Thickness still stands superior though.
RIYL: Hall & Oates, Beat Happening, Tiger Trap, Magnetic Fields, The Flaming Lips, Miracle Fortress, Apostle of Hustle, The Robot Ate Me, Immaculate Machine, Saturday Looks Good to Me, Of Montreal, The Legends, The Ruby Suns, Junior Boys
The Russian Futurists – Plates
The Russian Futurists – 100 Shopping Days 'Til Christmas

The Russian Futurists – Hoeing Weeds Sowing Seeds
The Russian Futurists – One Night, One Kiss
The Russian Futurists – Hoeing Weeds Sowing Seeds (Johan Sigerud Remix)
Official Site / MySpace / BUY