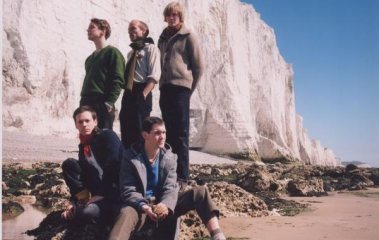 by Mike Mineo
Describing something as "epic" is generally trite in music criticism, with a few notable exceptions. British Sea Power are one of them. The English four-piece crafted one of the best debuts of the past decade with the raucously brilliant The Decline of British Sea Power, an album that did not surpass other classic debuting peers like Turn on the Bright Lights or Is This It in terms of sales but certainly contributed to the definition of indie-rock in the 2000s with comparable influence. British Sea Power's massive rock-heavy sound never had the radio-hit appeal of The Strokes or the over-saturated, PR-friendly gloominess of Interpol. Regardless, the lack of a viral centerpiece did not prevent The Decline of British Sea Power from being a gripping, one-of-a-kind masterpiece which featured a rookie band that mixed a laudable arsenal of nostalgic arena-rock influences with modern indie-rock trends to massive artistic success. So many bands attempted this the past decade, but only a handful succeeded like British Sea Power did with The Decline of British Sea Power .
The overwhelming critical acclaim that The Strokes, British Sea Power, and Interpol received for their debuts prompted a common question at the time: Where would they go from here? A decade or so later, their credibility remains intact, but not without a few hiccups along the way. All have released very respectable material since their debuts, pushing aside any notion of being a one-hit wonder. But miscues – like British Sea Power's Man of Aran, The Strokes' Room on Fire, and most of Interpol's recent material – are evident. They are not disasters by any means, but most would agree that these releases are the worst representations of each band's undeniable talent. 2011 will be quite an interesting year for all three, actually – particularly for British Sea Power and The Strokes, who have both confirmed full-lengths for 2011. The Strokes have said their newest will be their most comparable to Is This It in terms of production, which should delight many fans. The same could be said for British Sea Power's new album Valhalla Dancehall, which boasts similar throwback sentiments. It is one of the most accurate renderings of the distorted beauty in The Decline of British Sea Power thus far from the band, even if Do You Like Rock Music? comes very close or is equal in quality.
The grace of Valhalla Dancehall is prevalent in several ways. One is the gorgeous meshing of different tempos and ferocities, which varies from the hushed key-twinkle lullaby "Baby" to thunderously guitar-driven "Mongk II". The latter resonates with a piercing howl present in the guitars, contrasting with ferocity the heavy distortion and post-punk rhythms that fully envelop the track's thickness later on. Scott (Yan) Wilkinson's vocals become less intimidating after his "call the ambulance" line, transitioning to a more melodic delivery suited to the finalizing chord changes. Reminds me of that scene in Twister where the '80s rock riffs coincide with Philip Seymour Hoffman chasing the storm. Yes! This, along with the energetically paced "Stunde Null", is arguably the liveliest track on Valhalla Dancehall. "Stunde Null" goes from conventional BSP guitar-driven exclamations into a surprising series of verses reminiscent of Arctic Monkeys. Yes, those Arctic Monkeys. Wilkinson and backing accompaniments contain a snarl where their style of art-punk is the most familiar backdrop. Here, its place in British Sea Power's arena-friendly indie-rock is successful without any obstacles. The dynamic tendencies of the band provide such accommodations, as other efforts show as well.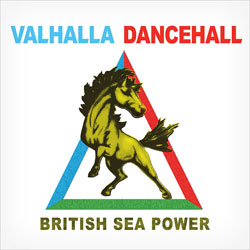 The rest of the album, much of it consisting of mid-tempo rockers like "Living Is So Easy" and hushed atmospherics in the vein of "Luna" and "Baby", consists of songs with their own unique charms. "Luna" has the sort of Sunday-afternoon-in-autumn feel that bands like The Clientele have perfected, with the squiggly electric guitar solos and macho-choir in the finale of the song comprising for several memorable moments. "Baby" is not as fleeting or memorable, but its presentation of breezy late-'60s pop with flimsy key, acoustic strums (think a subdued Nico or Marianne Faithfull), and a slight country-twang feel makes for a nice mid-album track that sandwiches "Baby" and the aforementioned "Living Is So Easy". The latter is the poppiest effort on Valhalla Dancehall, where Wilkinson speaks of everyone "going to the party" over a chimey set of keys, repeating guitars,, and chiptune-like synth line. The depth here is minimal and it treads on about a minute too long, but enjoyment is still to be hard from the infectious little chorus and variation of warbled synths in the bridge. It is a predictable first single as a result. My guess is that "Mongk II" and "We Are Sound" will compete to be the second single, with either bound to fare better.
Although some tracks on Valhalla Dancehall sound more like commercial spots than the epic-rock feel registered on previous releases, an effort like "Cleaning out the Rooms" will leave no questions in the matter. Neil Hamilton Wilkinson, the more subdued but equally talented brother of Scott (Yan), has showcased his penchant for writing songs with beautiful atmospheres before, but efforts like "Cleaning out the Rooms" and "Baby" are personal tops for him. The former works busily with Celtic-themed strings and budding orchestral tremolos, not to mention a series of beautifully interweaved guitars that maintain focus on the strings. Hamilton's voice is appropriately more quiet than his brother's, and somewhat resembles Billy Corgan's subdued nasal croon. It works extraordinarily here on one of the album's centerpieces. This would have fit seamlessly on any of the band's first three full-lengths, mainly because it perfectly represents how ambition contributes to their massively moving sound. This was missing on Man of Aran and has been promptly corrected here.
"We Are Sound" is quite a majestic effort as well. The heavy percussion and distorted guitar tremolos are hardly distinctive from other BSP songs, but the way Yan carries the track is unbelievable. This is an effort where energy and artistic delivery is an absolute necessity. Otherwise, wonderful moments like the two-minute mark where the brass, drum beat, and strings burst simultaneously to introduce a squelching guitar progression may not be relished as much. It should be easy for anyone to fall in love with "We Are Sound", but longtime fans of The Decline of British Sea Power especially will be reminded of how they fell in love with the band in the first place.
On several songs here, notably the ones mentioned above, British Sea Power once again calls upon the magic that made their debut one of the best this past decade. Valhalla Dancehall is not flawless – the overly boisterous "Thin Black Soul" relies too much on attempted eeriness instead of quality songwriting, and opener "Who's in Control" resembles Weezer too much for the band's arsenal; it is a somewhat deceiving and unfitting opener. But for devoted followers of British Sea Power, the criticism should generally stop there. Valhalla Dancehall is not a grand achievement like The Decline of British Sea Power, but it is certainly up there with Do You Like Rock Music? as one of the more impressive indie-rock releases of the past several years.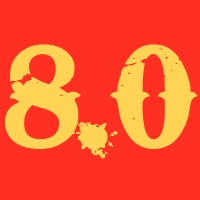 British Sea Power – Cleaning Out the Rooms
British Sea Power – Living Is So Easy
Official Site / MySpace / BUY