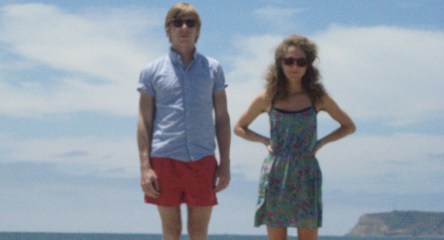 January rain is unbearable. Precipitation this month should involve snow… not freezing rain. This is the time of year where vacation days are farthest away, so having cold buckets of water dumped over your head with the looming prospect of once again repeating the same dull instances day after day is demoralizing. Returning from the solace of winter break emphasizes the somberness of this procession to work/school even more. As a result, it almost seems ironic that January is an appropriate time for a band that produces shimmering surf-pop. Instead of coming across like decorating a Christmas tree in July, the music of Tennis is a refreshing and apt reminder of anticipatory feelings that would usually take months to arrive from January. Thanks to the emotionally eclectic qualities of the husband-wife duo, Tennis are one of 2011's most buzzed-about bands thus far and their debut, Cape Dory, lives up to expectations.
Patrick Riley and Alaina Moore comprise the duo, and like many healthy musical couples the origin of their band's name stems from an inside joke: Alaina used to make fun of Patrick playing tennis in college because she considered an elitist sport for affluent men (though I would disagree with that; golf fits the stereotype more, but Golf would be a pretty bland-sounding band name). Marriage followed shortly after the two philosophy majors met at the University of Colorado Denver, but the couple soon found life in Denver to lack the adventure they were seeking. So naturally, they embarked on an eight-month sailing trip along the North Atlantic coast. The funniest part is that neither one knew the other had musical talent; Alaina had no clue Patrick could play the guitar, and Patrick never knew Alaina could sing so well. It almost sounds like the beginning of a quirky rom-com, except for a great soundtrack in lieu of a pathetic one.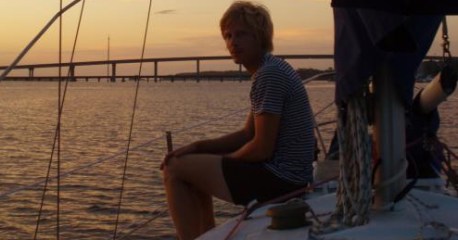 After deliberating what their prospective band should sound like, one thing was certain: nostalgia would be at the forefront. They wanted a '50s telecaster, '60s Fender Bassman, old organs, and low-grade tape — familiar equipment to any fan of vintage girl-pop and surf-rock attempting to replicate the sound today. Chemistry was certainly no issue, and once the songwriting began with the creativity and spontaneity present Tennis' work now it became evident that something real was taking shape. What began as music playtime on a boat rapidly progressed into a legitimate project, one that recruited drummer James Barone and signed to the same label as The Walkmen, The Black Keys, Andrew Bird, etc (Fat Possum).
While '60s girl-pop and surf-rock stand out as influences, Tennis are not a one-trick pony. Moore's vocal talents make Tennis' stylistic definition quite varied, ranging from the touch of '60s girl-pop in "Marathon" to the twangy indie-rock of "Cape Dory", where she sounds more Neko Case than Mary Weiss. Cape Dory is an album that excels at sugary pop, highlighting the swooning backing harmonies, bouncy bass lines, and scratchy electric guitars that help define the style. An immediate comparison to Cape Dory would be Little Joy's self-titled debut, which showcased similar influences and first-time effectiveness. The relation is particularly relevant on Binki Shapiro-voiced songs like "Unattainable". Shapiro shows less enthusiasm and variation vocally than Moore, but the feel-good vibes contrasted with the occasional dose of melancholic sentiments are equally presented. Cape Dory with a fresh take on girl-pop and surf-rock that make Tennis an act to look out for in 2011.
RIYL: Little Joy, Gauntlet Hair, Games, The Shangri-Las, Neko Case, Kisses, Active Child, Women, Weed Diamond, Male Bonding, Ducktails, Vanguart, Wavves