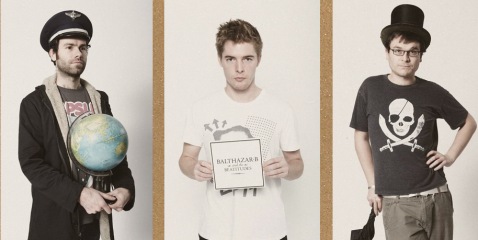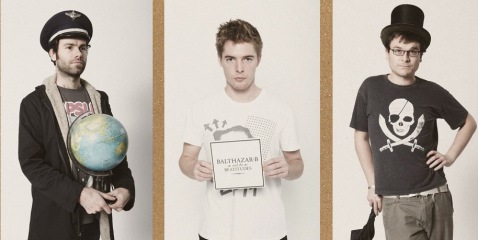 Balthazar B & The Beatitudes are an eclectic collective of musicians. The former name is a moniker for the Parisian artist Balthazar B. His collaborators, the Beatitudes, rotate between doctors, philosophers, and religious scholars. Maxwell and Ernest Beatitude are core contributors and childhood friends of Balthazar B. Each track on their new album, Like Shrapnel, is a unique experience offering listeners a large scope of enjoyable content.
"Like Shrapnel" kicks off the album in a calm yet intriguing manner. The song begins with engrossing vocals and a simple guitar accompaniment. Suddenly the violin enters, rendering the song somber. The melancholic feel does not result in a placid state of repetition, but rather a touch more complexity due to the added drums. A harmonic vocal arrangement separates the end from the beginning with the guitar quickly picking up as the tune ends with the vocals phasing out.
"Madagascar" is a light-headed tune with thought-provoking lyrics. The words convey love through scientific metaphors: "I first saw you in a science book about evolution and how long it took for us Homo sapiens to walk up straight and for our tiny brains to demonstrate… imagination." The ceaseless stream-of-conscious lyrical delivery is reminiscent of rock operas like Hedwig and the Angry Inch. The lyrics are always consuming, aiding to an overall great music experience when coupled with the delightful melody. It is a song that makes it hard for the listener to frown; it is catchy as well as airy, perfect for a sunny day.
"Snowden's Secret" is a fulfilling way to end Like Shrapnel. The lyrics are introspective and, again, very interesting in a literary sense. Music that makes us think and not passively listen is always commendable, and this collective are a studied example of that. The slow percussion and flowing guitar make this piece an easy-going joy ride. Whispery synth effects drag out the track to end the album. Like Shrapnel fades out quickly but softly. The album is never harsh on the ears.
Like Shrapnel is a very enjoyable listen. Songs like the title track are much more intense than the effervescent and accessible sound of "Madagascar", but the album contains a fun mixture of different moods. Albums that contain a wide range of emotion are easy to appreciate because it makes for a result that can be appreciated under many different circumstances. Whatever your feeling is today, give Balthazar B & The Beatitudes a try.
You can download Like Shrapnel for free here.
RIYL: Rufus Wainwright, Ed Harcourt, Patrick Wolf, Jason Mraz, Ryan Adams, Jeff Buckley, The Divine Comedy, Sufjan Stevens
Balthazar B & The Beatitudes – Like Shrapnel

Balthazar B & The Beatitudes – Madagascar

Balthazar B & The Beatitudes – Snowden's Secret