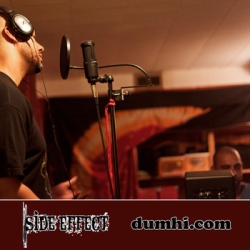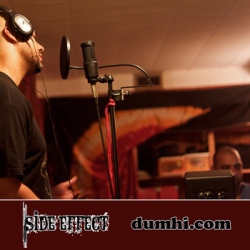 After a rising loop the record begins: "Yo it's therapy, most of us that I know got problems / Why you think we frowning when we puttin' out these albums?" It's an ideal manifesto for The Side Effect EP, a concise introduction to the potent concoction of misgivings, neuroses, anxieties and swagger to come. Though the unspoken specter hanging over the album is a commercial failure, certain effects still persist without intent long enough to develop into rich ironies. In that regard it remains artistically successful. That rapper Side Effect delivers that opening line with a slurred delivery and vocal timbre that could easily have been pulled from a G-Unit album is perhaps the richest of them.
In hip-hop records, the subject of ambitions is omnipresent… career ambitions, street ambitions, dashed ambitions. But never until this excellent EP by rapper Side Effect and production crew Dumhi have I ever encountered the flip-side of this: dealing with a lack of ambition, of trying to define limits to ambitions. This is a radical move to make in an art form built almost entirely on stretching the confines of hyperbole.
Dealing with failure so persistently and with such little bitterness, Side Effect becomes a vocal persona of endearingly small observations, little twists which surprise in the stream of lyrics continuing nearly unabated for the EP's duration. The production by Dumhi manages to be catchy but unobtrusive; it's a good bait to draw one into Side Effect's lyrical obsessions, but never aggressively enough to drown them out. Drum effects are used to interesting ends, particularly on "Murder Bot" when a modulated bass drum gives a sense of both continuity and disorientation.
The bells on the track are revealed at the end to have been a sped-up Jefferson Starship sample, a pretty thematically appropriate one, especially leading into standout track "Alive", wherein the conflict of the album is brought out most clearly.
"What you want to be?"
"Alive."
"You gotta want more than that out of life."
Maybe just believing in miracles isn't enough to get by…
RIYL: Dangerdoom, Kanye West, Dangermouse, Madlib, G-Unit, Ghostface Killah, Madvillain, Das Racist