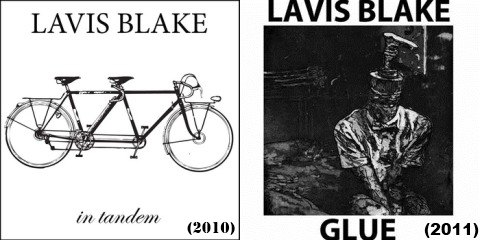 As an obsessive music collector, Lavis Blake hits two of my pet preoccupations: differentiating types of non-singing, and bands whose output ends up on a single disc padded out with demos on a "record label" that's usually just a record store in the town where the band came from. Who can argue with such stalwarts as The Vertebrats or The Pagans? Lavis Blake, who broke up in August and whose discography as best I can tell consists entirely of these two EPs, are surely candidates for this treatment. In Tandem was released in 2010, with Glue coming a year later.
As for the non-singing element, Blake is a pretty spirited and enervating non-singer. The non-singers and their rich tradition can be traced and categorized in terms of quality rather conveniently, and ranked pretty much in the same order of importance as whichever author they glommed onto most fervently. Robert Ashley, cosmic god, Unicron of the non-singers, tellingly takes cues from Gertrude Stein, an author many other authors haven't even read, let alone musicians, and one who deserves more reading. There's a rich untapped vein of inspiration in both Stein and Ashley's work for the aspiring non-singer. Then there's the primary source Beat-poet inspirations, at work in the songs of Tom Waits most prominently, and in the work of most other non-singers, at least most of the famous ones (Isaac Brock, Craig Finn, various vocalists for The Styrenes, etc.).
…And then there are the secondarily beat inspired. That's where we come to Lavis Blake, whose repertory "On the Road" or "Ginsberg" seems like an unhinged Rich Little attempt at remaking "The Lonesome Crowded West", Isaac Brock's ugly step-child strung out, three days in on blue meth. Though nothing he eclipses the realm of cleverness, into the more distant realms of the inspired or interesting, his frantic delivery takes on the peculiar interest of a botched translation (I mean this in as complimentary a fashion as is possible given the circumstances) and transcends its origins through a combination of varied intertwining guitar tones and occasional mad mantras such as "Birds of paradise will always steal our spotlight!" This scream can transform to a styling reminiscent of emo vocals, making me cringe, but when I remember Lavis and not I will be downing cough drops come the night's end, I'm more inclined to be forgiving.
Anyway, it has a beat! You can dance to it! It has enough suggestions of mental illness (don't worry, the moderate adorable kind!) to satisfy those whose compulsive desire for genuine folk culture intersects with a definition of folk culture based around infirmity! Not as much as Hasil Adkins but what can you do? Just listen to the damn thing already.
RIYL: Modest Mouse, Built to Spill, The Hold Steady, The Styrenes, The Pagans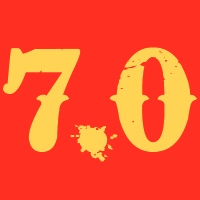 Lavis Blake – Era of Hopeful Monsters