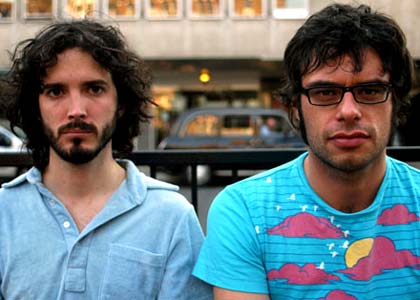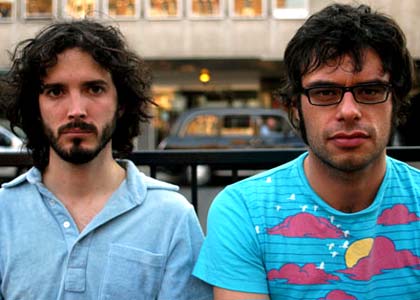 It has only been two years since the second (and abruptly final) season of HBO's Flight of the Conchords, but it feels longer than that. The New Zealand-based duo have separately appeared in several films since then, along with touring last year to support their sophomore album I Told You I Was Freaky, which was mainly a collection of songs from their second season released by Sub Pop.
Both Conchords, Jemaine Clement and Bret McKenzie, have kept mum on any chances of a third season or album, but McKenzie told Collider last week that a film is very possible. "We're gonna try and do a movie. We just need a story," he said.
The "fourth most popular guitar-based digi-bongo a cappella-rap-funk-comedy folk duo" have not announced the film's specifics, but McKenzie did also reveal he'll be cast in the upcoming Hobbit film as an elf. This, of course, should delight fans of his previous Lord of the Rings role. Figwit, part two?
MP3: Flight of the Conchords – Albi the Racist Dragon

Flight of the Conchords – Mutha'uckas

Flight of the Conchords – Sugalumps