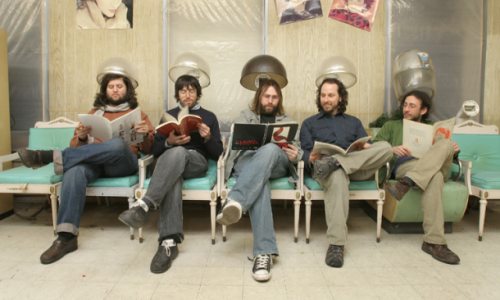 Of all the upstate NY bands to show promise in the last five years – only to fizzle out – did any show more promise than the Kamikaze Hearts? If there was, I didn't hear them. No other band quite captured the feel of the region quite as well.
See, I know upstate NY. I grew up there. It's a bit like the American South… more relaxed, but with a heavier edge of fatalism; electric instruments don't seem right in it. Distortion and noise there seems mostly like a younger brother imitating the NYC older brother. Punk there is mostly a chronicle of the minutia of local gossip. Yet acoustic groups also don't quite capture the feel of the area, though they come closer. Caffè Lena, where I frequented, and where the Kamikaze Hearts played several of their earliest and most memorable shows, is supposedly the oldest Caffè in America. Don McLean supposedly wrote "American Pie" in The Tin and Lint, a bar down the street (where I also met two very drunk Oxycontin dealers on one dollar draft night, a story for another occasion), then performed it for the first time at Lena's. A very young Bob Dylan was almost booed off the stage until an irate Lena Spencer supposedly yelled to the crowd to "SHUT THE FUCK UP!" between sets. Among the various couches on which the great Dave Van Ronk slept, it hosted one of the most prominent ones. The place is littered with ghosts and folklore which unfortunately took over the space after the battle for control over it that occurred after Lena's death.
The Caffè Lena I grew up near was one of the several hubs for Saratoga-based music, but it was also a graveyard of dried-up folk revivalists, who – because of the Caffe's non-profit charter – were carted up in a seemingly unending cycle as a way to show the country's culture or something. They played the same couple boring Dylan covers and traditional folk songs (never the juicy murder ballad stuff though) with the same boring Peter Paul & Mary harmonies, the sort of people who honestly saw a cultural line between Clarence Ashley and John Denver. It was embarrassing. America was a much more strange and dingy place than that. That wasn't our culture. That was the dessicated remains of a dead plagiarism culture, that of the folk revival of the 1960s.
The Kamikaze Hearts – taking liberally from the Neil Young tradition but with enough of their own swagger, craft, and dinginess to distinguish themselves – stood out brilliantly from their first and now impossible-to-find self-titled release. Each successive release grew stronger and stronger, their confidence behind the instruments and behind the board growing exponentially. A wonderful porch-rock sound cushioned the plaintive whines of singers Troy Pohl and Gaven Richard, who sang about common afflictions like pining after women, addiction, and long road trips, but added specifically upstate flavors; they often were couching narratives in civil war imagery, listing off local stalwarts without fanfare, all in a catalog-like fashion. A frequently performed song in live performances, but now only available on the solo Gaven Richard release Wayward Puritan, was "Mahogany Ridge". It highlighted a broken down bar near Delucia's Deli in Malta NY with very interesting prose; the narrative was not commemorative, but rather the specific setting simply positioned an internal narrative. People don't have conversations in Kamikaze Hearts songs, except with themselves.
Foxhole Prayers would not have been their greatest release if the group had continued and finished their final record. I remember a show I saw shortly after the release of Oneida Road; they were the best they'd ever been. The subdued sound of Oneida after I brought it home seemed a disappointment; the show had been more enervating and exciting, more uptempo than any I'd seen by a punk band in the area. Songs off later live recordings such as "Galaxy Room" and "Boston Wailer" offered a glimpse into what could have been.
But as it stands, it's a lovely release. A combination vinyl EP and mini-CD, the cover stencil of an old man would not have been out of place in John O'Brien's Vermont trilogy or the kitschy blarney paintings of The Parting Glass, a local bar. I remember working at WSPN Skidmore Radio and playing the songs off it before it was actually released for sale so I could use the recording of my radio show as a bootleg of the album. On a grainy Tascam cassette I sat rewinding "Cinnamon Life" over and over in the grey-silver boombox I'd taken to the backyard to be alone with my discovery.
Opener "Tennessee" has a slow shuffle and repeated guitar line that makes it a direct descendent and refinement of the similarly excellent album opener to their earlier Seven More Wonders of the World album, "Weekend in Western New York". Pohl's voice comes across soft with an edge, delivering matter-of-fact punches with such lines as "you always seemed to be that clever and able / to swallow the natural instinct to scream." The effect isn't chilling so much as oddly entrancing in its resignation, the workmanlike attention given no matter what one's station. Chilling, what Sufjan Stevens unsuccessfully strove toward in his strained and promiscuous regionalism.
"Lubbock, TX" is the EP's other gem, another narrative of people stuck in places. It is interacting with them, almost as much as the other characters in the narrative. In a tone of heartbreak so strained, so urgent, and so marked with déjà vu it approaches trailer park absurdities, the band reaches a pinnacle. The backing stops and starts, stops and starts, stops and starts…
Seven More Wonders of the World, also sometime mistakenly referred to as the self-titled album, is a wonder of vocal tensions and instrumental rejoinders, with strumming patterns tight as tied twine. This is the most emotionally volatile Hearts album, less tinged with regret than with the chaos of recollections and yelps of rationalization, especially on standout tracks "Accident", an account of a military massacre, and "War Horse".
Military imagery spots the albums like the fading discolorations of old stone buildings. "Grand Tactics", perhaps the album's greatest track, merges both the lovely slow harmonies the group executed so well with a rallying dynamic coda. A rare gospel influence works it's way into later tracks "Secret Handshake" and "In My Way".
The song links above are all clips. The following are full song MP3s courtesy of Kamikaze Hearts:
Kamikaze Hearts – Five Point Turn
Kamikaze Hearts – Beverly Hills
Kamikaze Hearts – Ash Wednesday
Kamikaze Hearts – No One Called You a Failure
RIYL: Neil Young, Ish Marquez, Wilco, Uncle Tupelo, Quichenight, Jayhawks, Grapes of Wrath