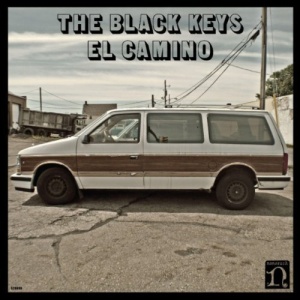 The Black Keys kind of lost their edge last year with Brothers. While it was a good album, it didn't reach the highs and lows that 2008's Attack & Release or even 2006's Magic Potion could hit. Instead, it opted to swim around and explore an odd middle ground. It was a good experiment, probably one they created to to see what they could do in that spectrum. This year, The Black Keys return to form with El Camino. This album presents everything Dan Auerbach and Patrick Carney have built as The Black Keys, just exemplified more; the blues are bluesier, the guitar solos are more energetic, the minimalism is more precise, and the lyrics are more carefully chosen. El Camino is greater than the sum of its parts.
Just a few weeks ago, the video for "Lonely Boy", the first single and album opener, went viral. The band's penchant for creating a world-slightly-warped is obvious, as the video features a nameless black fellow dancing along with the track as he obviously reads the lyrics from off-camera cue cards. And while the video inspired quite a few laughs, it was truly the music that created a new momentum not achieved by the band since 2008. With Auerbach's howling voice and Carney beating his drums senseless, the band finds the energy that radiated off of 2003's Thickfreakness.
Beyond the first single, Auerbach and Carney showcase a creative explosion that came together as El Camino; it's an album that feels like the next step in the Black Keys' growth as a band, while still paying homage to their already diverse discography. This is most apparent on "Little Black Submarines", a song nearly as double-sided as the entire album. The first half saunters about with a simple acoustic/tambourine melody that would be a fantastic song if stretched to a full four minutes. As it were, the two-minute mark sends the band into one of the heaviest, most powerful riffs I've ever heard.
"Dead and Gone" and "Gold on the Ceiling" evokes a Magic Potion-era sound, heavier on the distortion and murky guitar work overlaid with multi-track vocals. The latter could be the spiritual successor to "Your Touch", a song that the Keys have lent out to a plethora of worthy other media.
Taking a loftier approach, "Money Maker" is a comeback for the Rubber Factory sound, one that included more than the guitar/drum combo most prevalent on Keys recordings. And while there doesn't seem to be even a third instrument, this band has always been able to create a larger-than-life sound with six strings and some drums. Such is not the case on the disappointing "Sister", a song that sounds half-baked and skeleton-like. It's not much in the way of a meaty instrumental or vocal work, sounding as if the group is reaching a little too hard for an accessible hit. The track does eventually find a satisfactory groove, but it still sounds too hollow and repetitive. This and the generic "Stop Stop", which sounds too much like a Gnarls Barkley production, are rare missteps on an otherwise excellent album.
Sort of a "Lonely Boy" 2.0, "Hell of a Season" entertains a similar song structure and melody while taking a much more melancholy approach to the chords. It's darker, more slippery, and sultrier than "Lonely Boy", but trades the former's infectious energy to attain those characteristics. "Nova Baby" recalls the Keys' love of Buddy Holly, as evidenced by their cover of "Dearest" for Rave On Buddy Holly!, with a jaunty melody that's smoothed over to emulate the feeling of a late-'50s recording.
The album closes with "Mind Eraser", a fine track that finds the Keys exploring their soulful side. While soul has always been one of their influences, "Mind Eraser" sounds more akin to a Sharon Jones track than anything from Brothers or Attack & Release.
The Black Keys are an exceptional band that continually release quality material. Many bands and artists over the past ten years have found it increasingly difficult to adapt and grow without losing their original appeal. Auerbach and Carney have found a formula (and producer in Danger Mouse) that works for them. The continuous fruits of that formula are evident in each new release. El Camino is by far the best Black Keys album in the past five years, and possibly their best to date.
The Black Keys – Run Right Back