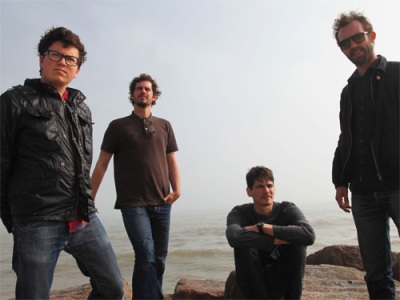 Austin-based White Denim are taking their hybird of blues and psychedelic-rock on tour again, this time with some Grammy winners. They will be opening for Wilco throughout their string of new US tour dates for 2012, which can be found below:
[toggle title="click for new White Denim tour dates"]
1/19   Fillmore Auditorium               Denver, CO
1/21   Gammage Auditorium           Tempe, AZ
1/22   Copley Symphony Hall          San Diego, CA
1/24   Hollywood Palladium             Los Angeles, CA
1/28   San Jose Civic Center          San Jose, CA
1/29   Warfield Theatre                   San Francisco, CA
1/31   Fox Theatre                         Oakland, CA
2/1     Mondavi Center                    Davis, CA
2/3     Hult Center for Perf. Arts       Eugene, OR
2/5     Orpheum Theater                  Vancouver, BC
2/6     INB PAC                              Spokane, WA
2/7     Paramount Ballroom              Seattle, WA
2/8     Arlene Schnitzer Hall             Portland, OR
2/10   Arlington Theatre                   Santa Barbara, CA
[/toggle]
White Denim have come quite a ways since we first featured them in 2008, noting their full-length debut Workout Holiday and excellent songs like "Sitting" and "I Can Tell You". 2009's Fits was just as good, and this year's release – D – brought the trio new levels of popularity. It's actually one of the most well-reviewed albums of 2011. Well, they're technically a quartet now, with the addition of second guitarist Austin Jenkins – whose play on D promotes a dual guitar attack that inspired more creative psych-rock instead of traditional blues (not that the latter is a bad thing).
Check out D now, and then (if you're on the West Coast) treat yourself to one of the shows above. On the East Coast or Midwest? Have no fear. White Denim are stopping by Boston, Chicago, Philly, DC, and many others on their current tour, with Manchester Orchestra.  Their live performances have quite the reputation; Gorilla vs. Bear has proclaimed them the best band at SXSW four years in a row.
Check out "No Real Reason" and "Cat City" from their new EP, Takes Place In Your Work Space, released a few weeks ago, along with a b-side "Hot Thought". You can really hear the dual guitar work on "Cat City", a perfect example of their ability to interchange acoustic and electric elements within a fluid and intricately woven psych-rock track.
MP3: The Walkmen – No Real Reason