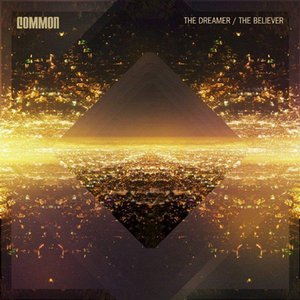 On his tenth studio album, nearly 20 years after he first hit the scene, Common is back with his best work since 2005's Be. Some weak acting gigs and the abysmal Universal Mind Control in 2008 put Common out of most people's musical sights and minds. Listening to these new tracks, it's as if Universal Mind Control never even happened. By invoking Common's own unique delivery, conjuring some awesome guest stars (Maya Angelou, John Legend, and Nas), and taking a more laid-back approach, The Dreamer / The Believer reminds its audiences that R&B doesn't have to be idiosyncratic (Janelle Monae) or pompous (Drake) to achieve success. All it needs is the talent of a truly gifted lyricist.
This album focuses on duality – most obvious through its title – and how the two states of mind, dreaming and believing, can share or differ on similarities. It's hard to believe in a dream before it becomes a reality. But if you don't believe, can you ever achieve your dreams? Philosophical quandaries such as this are rife throughout the album, helping to keep the music grounded in Common's penchant for asking philosophical questions. The album opener, "The Dreamer", features Maya Angelou and heavily plays on Common's signature vocal style; he sweetly and tenderly weaves words within a rather uplifting melody. The penultimate track is "The Dreamer"s foil: "The Believer", with John Legend on board. These two songs are meant to be connected and compared. Each track features an artist of the opposite sex, each has a distinctive tone and mood, and these partners in philosophical crime act as bookends to an album that highlights the best of what Common has to offer.
Of course, the award for best track on the album goes to "Blue Sky". Sampling Electric Light Orchestra is nothing new, but it's something so genuinely characteristic of Common it's almost too good to be true. And while modern technology allows us to bend and stretch samples to our liking (see Kanye's "Stronger"), Common's use of "Mr. Blue Sky" is elegant, minimal, and effective. Unlike some sampling work that falls flat or doesn't ever mesh with the intended vocalist, the simplicity of "Blue Sky" is its greatest strength.
The Dreamer / The Believer isn't perfect. "Sweet" is just too weird. If you've ever had a hankering to hear Common scream out "Fuck it, I'm the greatest!", then you may get some satisfaction out of these barbaric ramblings about how great he is. But even then, you'll probably want to skip this track. Common sounds so uncomfortable it's practically cringe-inducing. His normally smooth style is chopped up and smeared tirelessly across an overproduced beat.
"Cloth" most closely resembles tracks from Be, which is no small feat. The piano-driven melody, coupled with a notably catchy choral backing evokes the best emotions presented on Be, though it never feels like Common is trying to hard, a drawback rampant in today's hip-hop scene and on some tracks here.
It's been a few years since faith in Common could be justified. And frankly, it seems like Common lost faith in the game for those same few years. Obviously, he released material and performed, but the albums since Be have felt like extremely poor filler. The Dreamer / The Believer finds Common back in the space he's most comfortable, rhyming with confidence and crafting a polished and creative sound.
MP3: Common – Ghetto Dreams (ft NAS)


MP3: Common – Blue Sky