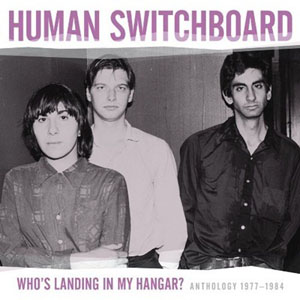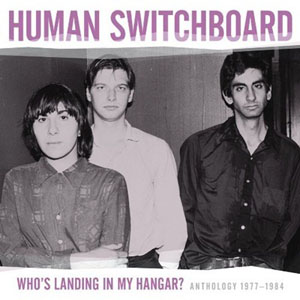 Human Switchboard's Who's Landing in My Hangar? is one of the few tenuously Cleveland connected punk/new wave classics to lack a proper reissues. Bar/None Records thankfully rescues this great album from a future of shitty YouTube vinyl rips. The reissue includes close to everything the band released. A droning John Cale type synth drones over tracks much more fleet-footed than anything the Velvets would dare to play.
Yet the sound is still distinctly Velvet-y, unlike some of the Velvet Underground speed-ups that came directly in their wake (here's looking at you, Mott the Hoople). Their keyboard, guitar and drums less build upon each other as awkwardly accumulate like acquaintances walking down a narrow sidewalk or young lovers who can't quite keep in step. Lots of toes are stepped on and correspondingly small apologies are given. There is something reminiscent of the Shaggs about the whole affair, and I mean that in the absolute best sense possible. The wobbly and off-kilter, if it's not all wobbly and off-kilter, is better than a prairie oyster to restore the drifting rock critic to some semblance of sensitivity to contour and nuance.
Having owned Who's Landing in My Hangar? for a while now, the main joy of this anthology is to see the loose ends and detours gently trod then forgotten. Who knew the Human Switchboard had made an attempt at alt-country? The anthology does, and puts it perhaps rightfully, at the end. Bob Pfeifer's voice is too wild and unhinged, think Chris Stamey after a couple Red Bulls, to convincingly pull off "Always Lonely For You".
However, at other points, Pfeifer and Myrna Marcarian use this genuine sense of the unhinged in their voices to great effect. Pfeifer is too anxious to be the Lou Reed doppelganger much of the rock press has attempted to paint him as. When the two of them figure out how to make their voices complement each other, either in non-harmonies or in snaking responses such as on the epic "Refrigerator Door", the results are stunning.
Marcarian is a grown up, assured Moe Tucker, without any of the fake 'feisty' posturing that is so endemic to these '80s records. "I Can Walk Alone", not the comment on muscular dystrophy it threatens to be, is in fact an anti-love song. Marcarian throws little details about wedding rings to heighten the drama and imply narrative. The song even has a sequel on the flip side, "Don't Follow Me Home".
Half the fun of Who's Landing in My Hangar? is in the dangling narrative loose ends. What other album would have a line like "I think I'll go back to dry humping cigarette machines"? For that line alone, "In My Room" would be a standout track, but it's got a bell groove too. Pfeifer dangles precariously from the top of the bell groove. The narrative of the lyrics suggests alcoholism, lost love, lost intellectual pursuits, improper use of the drop slot… pretty much everything a song needs.
It even has one of the few urban decay anthems to stack up with The Pagans' "Street Where Nobody Lives": "In This Town". While many records of the period have musical nods to traffic congestion and construction work, these two are among the only ones to directly address the issue.
This is a ready-made cult item, the missing item to complete what is, at least on my shelf, the Cleveland new-wave trifecta with Dub Housing and All the Wrong People Are Dying. Grab it before it slinks back out of print.
RIYL: Felt, The Velvet Underground, The Styrenes, Pere Ubu, Moe Tucker, Television, The Raincoats, The Shaggs, The Monks
MP3: Human Switchboard – In This Town
Human Switchboard – Refigerator Door

Human Switchboard – (Say No To) Saturday's Girl

Human Switchboard – Prime of My Life